One obvious theme I picked up in my Singularity research project is the fact that it seems like everyone is jumping into the electric car 'race'. By 2018, there will be 112 battery electric and 72 plug-in hybrid models available globally, says Bloomberg. That is up from 76 and 36 respectively just a year ago.
Adding to an already crowded field is Dyson. Yes, that Dyson from the U.K., founded by inventor James Dyson, that is best known for its vacuum cleaners. And no jokes please about how the Dyson electric car will be loud, made of cheap materials, underpowered and yet make Elon Musk blush with its exorbitant price.
The point you need to realize is that electric cars are beginning to reach the tipping point. My physics background tells me the tipping point is when a balanced object tips over after an additional weight was added to it.
But in societal terms, a tipping point is the point when a quick and dramatic shift in behavior occurs.
We're not there yet with electric vehicles, which account for only roughly two million of the two billion vehicles on the road in 2016. But the point is approaching, according to some surprising sources.
EVs Tipping Point?
One such source is the world's largest mining company, BHP Billiton (NYSE: BHP). Its chief commercial officer, Arnoud Balhuizen, said to Reuters: "I think if we look back in a few years we would call 2017 the tipping point of electric vehicles."
It's easy to see why BHP thinks 2017 is such an important year for the future of electric vehicles. There have been a number of very positive developments pushing forward EVs.
First, we have countries including France, Norway and the U.K. setting firm dates for when vehicles powered by fossil fuels would no longer be sold in their countries. India has taken similar action with a 2030 target date and China is working on setting a definite deadline for ending sales of internal combustion engine vehicles.
China's expected move is so important because of its size – it accounts for one-third of the entire global auto market. It is also the biggest electric car market, with 507,000 such vehicles produced domestically last year, a rise of over 50% from the prior year.
And keep in mind, still only one in five Chinese citizens own a vehicle!
The most likely date China will set is 2040. But the founder and head of BYD (OTC: BYDDY), Wang Chuanfu, is lobbying the government for a 2030 date.
He may not get his wish but the Chinese government is already helping companies like his. It plans to launch a carbon trading scheme, likely in 2019, whereby traditional automakers in China will have to produce a certain number of electric vehicles or else be forced to buy credits from electric car makers such as BYD.
For those of you not familiar with BYD, it is China's largest electric vehicle maker and the largest producer of lithium-ion batteries. It is bringing online an additional four gigawatts of battery-making capacity by year's end. That will make its annual battery output 12 times larger than the expected production from Tesla's Gigafactory. Warren Buffett owns 8.5% of the company.
Source: Investors Alley
Related: 3 Stocks to Profit from No-Profit Electric Cars
Bottom line – almost 80% of the global auto market is pushing toward the phase-out of fossil-fuel-powered vehicles and toward electric cars.
Why the Optimism
Of course, it isn't just government action that says we may be near a tipping point. It's also the economics of batteries.
Bloomberg New Energy Finance (BNEF) forecast that, in a mere eight years, electric vehicles will be as cheap as gasoline autos. All thanks to the plunging price of producing lithium-ion batteries.
These batteries have already fallen in cost by 73% since 2010. Batteries currently account for roughly 50% of the cost of an electric car, but BNEF says these costs will fall another 77% by 2030.
However, the BNEF scenario all depends on whether the battery makers can get their hands on the necessary metals and minerals – what I call the technology metals – in sufficient quantities. After all, there are expected to be built dozens of gigafactories (nearly all in Asia) in a forecast $240 billion battery industry within the next 20 years.
EVs and Copper
So what will be the effect on commodities?
My thinking is in line with that of BHP Billiton. . .that the impact for producers of raw materials would first be felt in the metals markets (positively) and then felt in the oil market (negatively). By the way, I talk about all sorts of technology related-commodities in my new newsletter – Growth Stock Confidential.
BHP expects there to be about 140 million electric vehicles on the road in 2035, or about 8% of the global fleet. If so, that is great for big copper mining companies like BHP since an electric car uses approximately four times as much copper as does a gasoline or diesel vehicle.
A report released this summer from the industry body, the International Copper Association (ICA), forecast demand from the auto sector for copper will increase nine-fold in a decade, from 185,000 metric tons this year to 1.74 million tons in 2027. That would be the equivalent of about 6% of global copper demand in 10 years.
Electric vehicles use a substantial amount of copper in their batteries and in the windings and copper rotors used in electric motors. A single car can contain over three miles of copper wiring, according to the ICA.
This presents an investment opportunity with rising demand meeting supplies that will struggle to keep up. That's due to the fact that current mines are aging (ore grades are dropping) and few major discoveries have occurred in the last two decades.
Three Copper Investments to Buy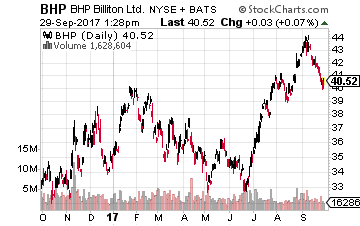 One company worth consideration to buy is the aforementioned diversified miner BHP Billiton (NYSE: BHP). It was the world's fourth largest producer of copper in 2016 at 1,113 kilotons. A kiloton is equal to about 1,120 of our U.S. tons. BHP's stock has risen 12% year-to-date and 17.6% over the last 12 months.
Its copper assets include the Escondida and the Spence mines in Chile and the Olympic Dam mine in Australia. BHP is investing into copper's future with the recent announcement of a $2.5 billion project to extend the life of the Spence mine by 50 years. There is expected to be an additional 185,000 tons extracted annually thanks to the investment.
The company is also spending $43 million on a new facility to produce 100,000 metric tons of nickel sulphate – a key component in lithium-ion batteries – annually. Production is expected to start by April 2019.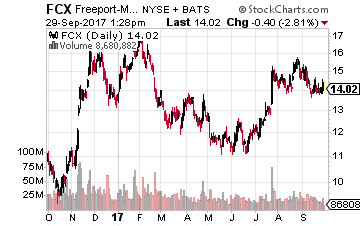 Next on the list is the world's largest publicly-traded (Chile's Codelco is government-owned) copper producer, Freeport-McMoran (NYSE: FCX), which trailed only Codelco in copper production last year (1,696 kilotons). Its stock is up 5.5% year-to-date and 27.5% over the past year.
It produces copper at seven mines in Arizona and New Mexico, as well as the El Abra mine in Chile and the Cerro Verde mine in Peru. And, of course, its crown jewel is the Grasberg mine in Indonesia, which is one of the world's largest deposits of copper and gold. A dispute with the Indonesian government over the mine was recently settled.
Like many miners, Freeport suffered under the burden of too much debt incurred during the commodity supercycle (2001-2014). But it has lowered its debt by $9.5 billion since the end of 2015, thanks to strong cash flow from its copper operations.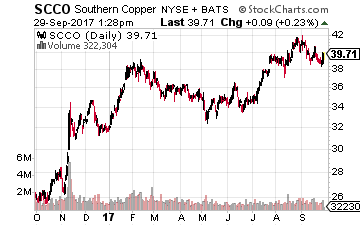 Another possibility is the fifth-biggest producer of copper in 2016, Southern Copper (NYSE: SCCO), which indirectly is part of Grupo Mexico and has operations in Peru and Mexico. Its stock rose 22% so far in 2017 and is up more than 46% over the past 52 weeks.
The company hit a record high for copper output in 2016, at 900 kilotons, which translates to a 21% year-on-year growth. That is really good news since it is the highest margin major copper producer globally with a cost of only $0.95 per pound. Copper is trading currently at about $2.95 a pound.
Southern Copper also happens to be sitting on the largest proven copper reserves in the industry. And its mines have an expected 90+ years of life, giving you a great long-term play on copper and the whole electric vehicle revolution.  
Buffett just went all-in on THIS new asset. Will you?
Buffett could see this new asset run 2,524% in 2018. And he's not the only one... Mark Cuban says "it's the most exciting thing I've ever seen." Mark Zuckerberg threw down $19 billion to get a piece... Bill Gates wagered $26 billion trying to control it...
What is it?
It's not gold, crypto or any mainstream investment. But these mega-billionaires have bet the farm it's about to be the most valuable asset on Earth. Wall Street and the financial media have no clue what's about to happen...And if you act fast, you could earn as much as 2,524% before the year is up.
Click here to find out what it is.

Source: Investors Alley