One certainty I discovered when conducting my Singularity research project is this. . .that new technologies will disrupt nearly every industry.
Take the stodgy airline industry. The Internet of Things (IoT) is about to make airlines more profitable than they've been in the past. I'm sure you wondering how this will be accomplished. Simple – instead of treating their passengers as travelers, consider them online consumers.
Before I go into more detail, let me fill you in on more background on the industry.
Low-Cost Carriers and Services
In this age of low-cost airlines, the days of when airlines made the majority of their money from airfares are largely gone.
Today, so-called ancillary services have become an important source of revenues. On average, airlines today earn about $17 per passenger from add-on services such as food and drink, and duty-free goods purchases. The estimated total for the entire industry is $60 billion from add-on services.
Looking more closely at the top 10 airlines (ranked by add-on services), just 10 years ago, they earned only $2.1 billion from ancillary services. But research from IdeaWorksCompany and CarTrawler found that last year these airlines earned $28 billion from add-on services.
However, the lure of buying duty-free goods on airlines has become stale for passengers. A 2016 report from m1nd-set Generation forecast such sales would experience an annual growth rate of minus 1.5% for airlines through 2025.
Another revenue source has to be found and quickly. And it's there. . .awaiting the airlines that adopt in-flight broadband and Wi-Fi – the Internet of Things in the air.
Passengers Want to Be Connected
Passengers' expectations of the in-flight experience have changing rapidly. They now expect the same level of connectivity at an altitude of 30,000 feet as they do on the ground.
That much was pretty clear in a study conducted by the market research firm GfK and Inmarsat PLC (OTC: IMASY), the world's leading provider of global mobile satellite communications. Here are the most interesting results:
60% of passengers believe in-flight WiFi is a necessity, not a luxury.
61% of passengers said Wi-Fi is more important than onboard entertainment.
45% of passengers said they would gladly pay for WiFi rather being stuck with the onboard entertainment options.
66% of passengers traveling with children would consider in-flight internet a "life saver".
Connectivity now ranks behind only ticket prices and flight slots as a priority for passengers. That could be seen when that same survey revealed 44% of passengers would switch airlines within a year if what they considered to be a minimal level of connectivity was available. This is especially true of business travelers, as 56% said they want the ability to work while in flight.
Shopping at 30,000 Feet
Yet, most airlines still lag in offering connectivity to their passengers. The aforementioned report from IdeaWorks found that a mere 53 of the world's estimated 5,000 airlines offer "in-flight broadband connectivity."
Many seem unaware that they now have access to a global, reliable broadband network in-flight. As David Coiley of Inmarsat Aviation told the Financial Times, "Airlines have to adapt to this new opportunity."
And it is an opportunity. Consider shopping an online store at 30,000 feet filled with everything from ground transport options to tours to other destination-related activities. Or returning passengers could do their grocery shopping while in-flight to have the groceries delivered when they arrive home. The possibilities are almost endless.
A study conducted by the London School of Economics and Inmarsat said that in-flight broadband – offering streaming and online shopping to passengers could create a $130 billion global market within the next 20 years. The study estimated that the airlines' share of that total could amount to $30 billion in 2035. That's quite a jump from the forecast $900 million in 2018.
Investing in Airlines
With this possibility of e-commerce revenue streams in the not too distant future, it may be time to look at the airlines. Even long-time skeptic Warren Buffett now owns airline stocks including Southwest Airlines (NYSE: LUV), American Airlines (Nasdaq: AAL), Delta Air Lines (NYSE: DAL) and United Continental Holdings (NYSE: UAL).
I would stick with the airlines that have the best Wi-Fi connectivity. Conde Nast Traveler magazine reports that a survey from Routehappy found that U.S. airlines are leading the way, with at least a chance of Wi-Fi on 83% of the total seating capacity.
Two of the top three airlines globally with the highest percentage of seats with Wi-Fi connectivity, according to the survey, are Delta Air Lines and United. Other smaller airlines with good connectivity are JetBlue (Nasdaq: JBLU)and Virgin America, which was sold to Alaska Air Group (NYSE: ALK). I would focus on Delta,United, and Alaska Air.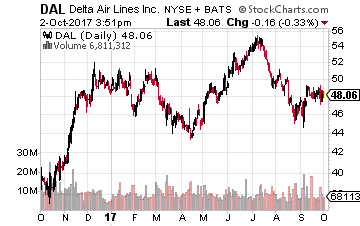 Delta operates a fleet of over 700 aircraft and serves more than 170 million customers annually. Its revenues fell 3% in 2016 to $39.64 billion, giving its efforts to reduce its debt levels more urgency. Its management is also maintaining capacity discipline while simultaneously trying to modernize its fleet and expand its operations.
The company is trying to enhance its shareholders' wealth through dividends and share buybacks. In May 2017, Delta announced that its board of directors approved a new share repurchase program worth $5 billion and raised its quarterly dividend by more than 50%.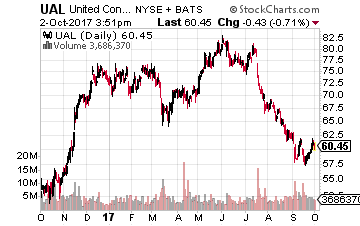 United is the world's largest airline, operating about 5,000 flights a day. However, the merger of UAL with Continental has left the merged company with a significant debt load. Its significant exposure to Houston also means it was greatly affected by Hurricane Harvey.
Its return on equity (ROE) is 29.5%, above the industry average of 27.6%, offering growth potential. And it is cheap. Its trailing 12-month enterprise value to earnings before interest, tax, depreciation and amortization ratio is only 3.9. That compares to the value for the S&P 500 of 11.1.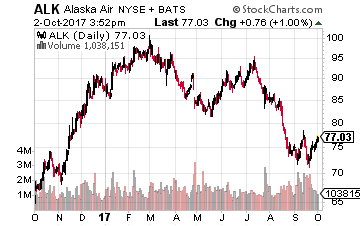 Alaska Air operations cover the western U.S., Canada and Mexico as well as, of course, Alaska. I like the purchase of Virgin America, despite the rise in the amount of debt it now has. The company's August traffic report showed that its load factor (percentage of seats filled by passengers) increased to 86.2% from 85.8% in the year ago period as traffic growth exceeded capacity expansion.
I think that is due to the company's expansion efforts. One example is the frequent-flyer partnership with the European airline Finnair, announced in May 2017. This customer friendly move aims to provide the members of the program, at Alaska Air Group as well as Finnair, the opportunity to earn miles/points on flights of either carrier.  
It has been a turbulent year for airline stocks as the combination of natural disasters and terrorist attacks have taken their toll. Not to mention overcapacity, high labor costs, and now rising fuel costs. That's largely why the three stocks are down respectively.
But now may be the time for contrarian investors to look past the short-term turbulence and take a small position in the airlines that are forward-looking. I fully expect we won't recognize the industry in a decade as technology disrupts it.
source: Investors Alley
Buffett just went all-in on THIS new asset. Will you?
Buffett could see this new asset run 2,524% in 2018. And he's not the only one... Mark Cuban says "it's the most exciting thing I've ever seen." Mark Zuckerberg threw down $19 billion to get a piece... Bill Gates wagered $26 billion trying to control it...
What is it?
It's not gold, crypto or any mainstream investment. But these mega-billionaires have bet the farm it's about to be the most valuable asset on Earth. Wall Street and the financial media have no clue what's about to happen...And if you act fast, you could earn as much as 2,524% before the year is up.
Click here to find out what it is.