While most investors are focused on the introduction of the iPhone8 and iPhone X from Apple (Nasdaq: AAPL), I am much more interested in other news the company is making. It is involved in the consortium that submitted the winning (for now) $14 billion bid for 60% of the semiconductor manufacturing business of struggling Japanese conglomerate Toshiba (OTC: TOSYY).
This move further highlights to me a major change underway at Apple. The company famously outsources almost its entire supply chain. But that seems set to change, especially with regard to semiconductors.
The reason is straightforward. . .as I discovered in my Singularity project research, semiconductors are the lifeblood of our technological world, including the iPhone.
Apple and Semiconductors
Apple and its rival, Korea's Samsung Electronics (OTC: SSNLF), remain the top two semiconductor buyers. Together, the two consumed $61.7 billion of semiconductors in 2016. Last year was the sixth consecutive year that the two companies led the way in usage of semiconductors.
But there is a difference between the two.
You see, Samsung is also a major manufacturer of semiconductors. So it consumes its own chips.
But Apple buys memory chips (and OLED screens) from Samsung for its iPhones. The Wall Street Journal reported that Samsung stands to make about $4 billion more in revenue from Apple's iPhone X components than from components made for its own Galaxy S8 in the 20 months following the iPhone release.
I'm sure that doesn't make Apple happy. But Samsung is one of the few firms globally that can make enough small chips packed with extra memory capacity (or enough OLED screens).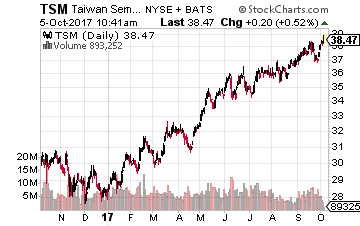 That is simply due to the exorbitant cost of building a new plant to make semiconductors, which are called foundries or fabs. Even back in 2010, a new foundry set Taiwan Semiconductor (NYSE: TSM) back $9.7 billion. Today, that cost is likely doubled.
That brings us back to Apple's interest in Toshiba's chip business. It is heavily involved in the manufacture of NAND memory chips similar to the ones that Apple is currently buying from rival Samsung.
Apple's Growing Chip Expertise
There is a lot more, however, to the story surrounding Apple and semiconductors.
The company has long been known in technology circles as having prowess in chip design. After all, it did build core processors for both the iPhone and iPad (manufactured by TSM). And it has created fingerprint chips as well as a unique chip for AirPods that allows seamless pairing with other Apple hardware.
Now, Apple is believed to be expanding efforts in developing proprietary semiconductors in artificial intelligence (AI chips). In mid-September, Apple revealed an AI chip that would power facial recognition for iPhone X.
And its plans don't stop there. Apple may also be interested in building designs for core processors for notebooks, modem chips for iPhones, and a chip that will integrate touch, fingerprint and display driver functions.
This should not come as a surprise to anyone. It has made six semiconductor-related acquisitions since 2008 and is also vacuuming up AI chip-related start-ups. And it poached a top modem chip engineer from Qualcomm (Nasdaq: QCOM) earlier this year as well as engineers from Taiwan's leading display-driver designer Novatek Microelectronics. And it also took talent from Broadcom (Nasdaq: AVGO) and Texas Instruments (Nasdaq: TXN)among others.
Related: Buy These 3 Hot Semiconductor Stocks for Long-Term Profits
According to research firm IC Insights, Apple ranked as the world's fourth biggest chip design firm as of the end of 2016. It trailed only Qualcomm, Broadcom and Taiwan's Mediatek (OTC: MDTKF) and was one spot ahead of semiconductor stock market darling Nvidia (Nasdaq: NVDA).
Investment Implications
The emphatic move by Apple into semiconductors is not good news for many of its suppliers. One example is Germany's Dialog Semiconductor (OTC: DLGNF), which had Apple poach many of its engineers and will design its own power management chip that Dialog was supplying to it.
Or the U.K.'s Imagination Technologies (OTC: IGNMF), after Apple said it would no longer use its intellectual property surrounding graphics processors. Imagination had to sell itself to a Chinese company in order to survive. Apple also took its chief operation officer before it announced it was building its own graphics processor.
The damage will not be restricted to less well-known overseas Apple suppliers. The damage will eventually spread to those suppliers that trade here in the U.S. too.
I believe at the top of Apple's 'hit list' are Qualcomm and Intel (Nasdaq: INTC). Both provide baseband modem chips responsible for mobile communications to Apple. The ongoing legal battle between Apple and Qualcomm over the latter's licensing fee model for the modem chip tells you all you need to know there. Qualcomm got 40% of its revenue last year from Apple and Samsung.
Intel, in addition, may be on the way out not only with regard to modem chips but also with chips for the iPad. Notebooks are becoming thinner and consumers are demanding longer battery lives. This tilts the playing field away from Intel chips and toward the architecture from ARM Holdings, which is now owned by Japan's Softbank (OTC: SFTBY).
Other companies possibly in Apple's firing line in the future are Analog Devices (Nasdaq: ADI) and Synaptics (Nasdaq: SYNA), which are Apple's key suppliers for touch sensors and display-driver integrated circuits currently.
And don't forget about Apple's radio frequency chip supplier, Skyworks Solutions (Nasdaq: SWKS), or its audio and voice chip provider, Cirrus Logic (Nasdaq: CRUS). They may also be at risk.
Are there any possible winners here from Apple's aggressive push into semiconductors?
Yes, I believe the foundry service providers that actually make the chips for Apple are safe for now since it has no plans at present to actually move into manufacturing.
That points to the company that currently dominates Apple's chip production – the world's largest contract semiconductor manufacturer, with 56% of the market – Taiwan Semiconductor. Apple became the company's biggest client in 2015 and it accounted for 17% of its revenues at just under $30 billion for 2016. This year, Apple should make up about 20% of TSM's revenues. And Apple has already engaged TSM to begin work on its core processor iPhone chips for 2018.
Taiwan Semiconductor's stock is up 33% year-to-date and 25% over the past year, and it has a dividend yield of 3%.
There is no doubt about Apple's new and almost ruthless aggressiveness regarding its supply chain. One of the very few beneficiaries will be Taiwan Semiconductor.
Buffett just went all-in on THIS new asset. Will you?
Buffett could see this new asset run 2,524% in 2018. And he's not the only one... Mark Cuban says "it's the most exciting thing I've ever seen." Mark Zuckerberg threw down $19 billion to get a piece... Bill Gates wagered $26 billion trying to control it...
What is it?
It's not gold, crypto or any mainstream investment. But these mega-billionaires have bet the farm it's about to be the most valuable asset on Earth. Wall Street and the financial media have no clue what's about to happen...And if you act fast, you could earn as much as 2,524% before the year is up.
Click here to find out what it is.

Source: Investors Alley