You often hear buzzwords like the Internet of Things (IoT), but may wonder what the heck it really means. Probably the simplest definition for it is that the IoT describes a growing network of connected "things" that contain sensors, chips, processors and the ability to interact with other "things" on a network.
With each day that passes, more and more "things" become connected to the internet. Today, these include not only your computer and smartphone, but very possibly your car and your home appliances. Last year, there were an estimated 18 billion devices capable of receiving and sending data. That number is expected to soar to more than 75 billion in 2025, according to research firm IHS.
In fact, the home market for smart devices is forecast to be a $125 billion one by 2022. But the much bigger opportunity for you as an investor will reside in the business applications of the Internet of Things, which goes by the name of the Industrial Internet of Things or Industry 4.0.
The number of connected devices here is growing exponentially. According to the research firm Gartner, there were 2.4 billion connected devices being used by businesses in 2016 and a forecast 3.1 billion in 2017. That number is expected to more than double by 2020, to 7.6 billion.
Industrial Internet
The reason behind the growth is simple. IoT sensors in devices constantly gather data, which businesses can crunch using machine learning to discover more about their customers, machines and supply chains. In theory, this should lead to better decisions and more efficiency and profits.
The pace of spending by businesses on IoT varies depending on whose research you read. Technavio believes the market value of the IoT will be $132 billion in 2020. Gartner says more than $440 billion will be spent on IoT in 2020. The Boston Consulting Group forecast that annual spending on IoT will hit nearly $300 billion by 2020. And IDC says global spending on IoT will reach $1.29 trillion in 2020.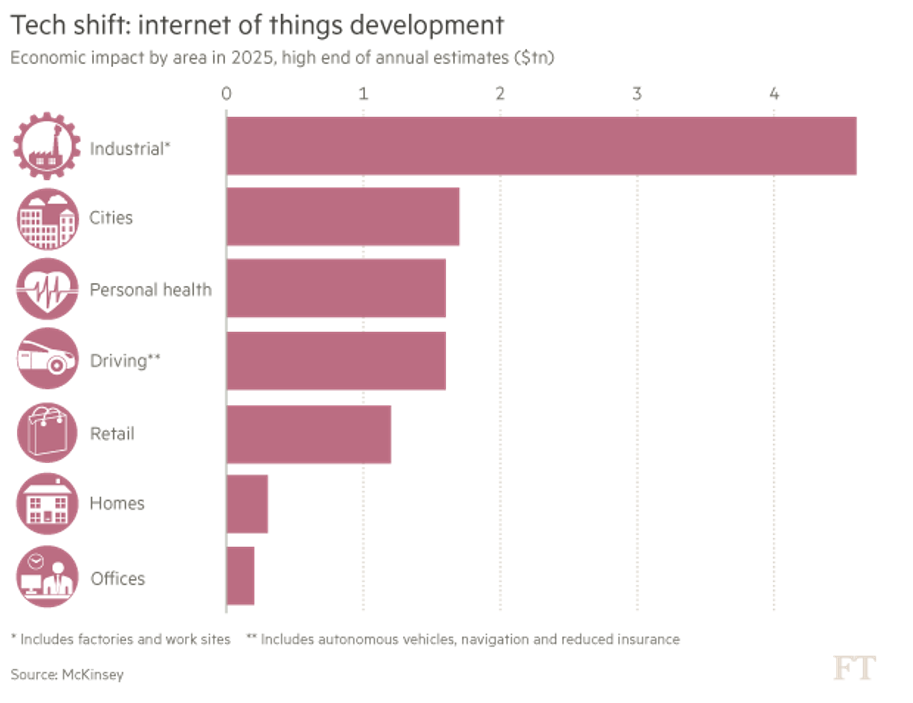 While the numbers vary widely, the takeaway is as Bill Ruh – chief digital officer for General Electric (NYSE: GE) – told the Financial Times, "It's a huge opportunity for all industrial companies."
It is also a huge opportunity for the established cloud computing giants like Amazon.com (Nasdaq: AMZN), Microsoft (Nasdaq: MSFT) and Alphabet (Nasdaq: GOOG). They are the biggest providers of Internet of Things platforms.
But I question whether industrial companies will want to become too dependent on the tech companies with whom they may become competitors someday soon. The auto companies are already in a battle with Silicon Valley for future control of the vehicle market.
And I'm sure companies like GE do not like the fact that tech firms are offering predictive maintenance technology that competes directly with its Predix Industrial Internet of Things platform designed specifically to interpret industrial data.
Choosing the Right 3 Stocks
There are a number of ways you can approach investing into the IIoT. Here are just three of them, approaching the future of the Industrial Internet of Things from three different angles.
First, of course, there is more to the Internet of Things story than all the good things. There is the dark underside of having billions of connected "things" – increased hacking and cyberattacks.
This past summer, there was a report about a casino that got hacked through a fish tank! Hackers gained access through an Internet-connected aquarium, which had sensors connected to a PC that regulated tank conditions such as temperature, the amount of food and cleanliness.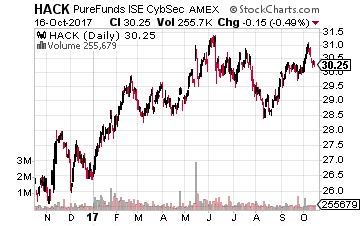 So at the top of my Internet of Things list to buy is something related to cybersecurity. A good, broad-based choice is the ETFMG Prime Cyber Security ETF (NYSE: HACK).The fund's portfolio consists of 35 stocks and an expense ratio of only 0.60%. The ETF is up nearly 15% year-to-date.
Among the top positions in HACK's portfolio are leading companies including FireEye (Nasdaq: FEYE), which is currently helping Equifax, Symantec (Nasdaq: SYMC) and Check Point Software Technologies (Nasdaq: CHKP).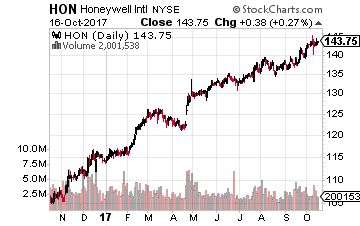 Next on my list is an industrial company that is hitting on all cylinders and a major player in the Industrial Internet of Things – Honeywell International (NYSE: HON). Its stock has climbed about 24% so far in 2017. While Honeywell recently announced the spinoff of its home heating and security business as well as its turbocharger unit, the company currently is divided into four divisions:
Aerospace (36.5% of revenues) is a major global provider of integrated avionics, engines, systems and service solutions for aircraft manufacturers, airlines, military, space and airport operations.
Performance Materials and Technologies (22.2%) offers technologies and high-performance materials such as hydrocarbon processing technologies, catalysts, adsorbents, equipment and services.
Home and Building Technologies (27.1%) offers environmental and energy solutions, security and fire, and building solutions.
Safety and Productivity Solutions (14.2%) includes sensing & productivity solutions and industrial safety, as well as the recently acquired Intelligrated business, leader in warehouse and supply chain automation.
Specifically related to IIoT, Honeywell offers sensors and automation control products as well as process solutions similar to GE's Predix. It is also working with companies like Intel (Nasdaq: INTC) to expand its IIoT offerings.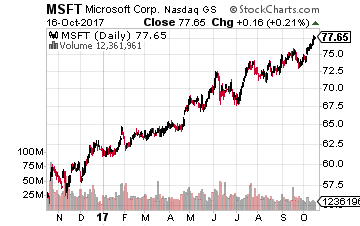 On the technology side, I'd feel comfortable owning another company hitting on all cylinders, Microsoft. Its stock has jumped 25% so far in 2017.
Its CEO, Satya Nadella, is well on the way to restoring its former glory. As mentioned before, it is a growing powerhouse in cloud computing and is deeply involved in the Internet of Things with its Azure IoT Edge for industrial applications. Its new technology delivers artificial intelligence (AI), machine learning and advanced data analytics via the cloud to local computing devices.
And Microsoft is among the early leaders in field of quantum computing. Nadella describes quantum computing this way in a Financial Times interview: If you think of computing problems as a corn maze, a conventional computer would tackle each possible path, turning back when blocked. A quantum computer will take all the paths at the same time, making even the most complex problem solvable quicker.
Whichever of three paths you choose to invest in the Industrial Internet of Things, I believe, will be a profitable one. But if you're interested in my top recommendations in the sector, I reveal those in Growth Stock Advisor.
You've probably already heard about the Internet of Things, however as we've discussed above it's the Industrial Internet of Things where the real investing opportunities are. Sure, networked fish tanks, baby monitors, and iPhone connected doorbells are interesting, but the truly groundbreaking – and profit making – application of the Internet of Things will happen in industry. In fact, it's already happening but if you don't work in a modern factory then you're probably not witnessing it. And that's where early investments can pay off… placing where most people aren't looking and getting in before the Wall Street crowd and financial news organizations start jawboning investors to pile in. And it's how my readers and I are already making money from our Industrial Internet of Things portfolio.
It's part of a bigger movement. One that will change how you work, where you live, what you eat, how you communicate, how you get from A to B, even how you sleep. And it will pressure governments and society to adapt quickly or fall by the wayside and risk irrelevance. I call this monumental shift "The Singularity": the convergence of everything – all driven by the rapid ascent of technology and profit motive.
The Singularity presents investors with the opportunity for a pieces of the over $100 trillion growth over the next seven years. Some of that will derive from the Internet of Things, some from other sectors. That's why I'm so actively uncovering every investment I can with this space. I've recently completed research on The Singularity that lays everything you need to know to get started… the technologies of the future, the pace of change, and the investments you can make right now – today – for a very profitable future. Click here now for access.
Author: Tony Daltorio.
Tony is a seasoned veteran of nearly all aspects of investing. From running his own advisory services to developing education materials to working with investors directly to help them achieve their long-term financial goals. Tony styles his investment strategy after on of the all-time best investors, Sir John Templeton, in that he always looks for growth, but at a reasonable price. Tony is the editor of Growth Stock Advisor. 
Buffett just went all-in on THIS new asset. Will you?
Buffett could see this new asset run 2,524% in 2018. And he's not the only one... Mark Cuban says "it's the most exciting thing I've ever seen." Mark Zuckerberg threw down $19 billion to get a piece... Bill Gates wagered $26 billion trying to control it...
What is it?
It's not gold, crypto or any mainstream investment. But these mega-billionaires have bet the farm it's about to be the most valuable asset on Earth. Wall Street and the financial media have no clue what's about to happen...And if you act fast, you could earn as much as 2,524% before the year is up.
Click here to find out what it is.