Before the passage of the Tax Cuts and Jobs Act qualified dividends paid by corporations had a perceived tax advantage over fully taxable dividends paid by pass-through businesses like real estate investment trusts (REITs). The new tax law levels the tax playing field for REIT dividends, putting the advantage for investors even more in the camp of the higher yield real estate investment trusts.
Under the old tax rules, REIT investors paid their marginal tax rate on dividends from their REIT shares. For the highest income investors this meant a 39.6% top marginal tax bracket and the 3.8% Medicare surtax. In contrast, qualified dividends paid by regular corporations were subject to a maximum 20% income tax, plus the Medicare surtax. At a glance, REIT investors in the top tax bracket were paying almost twice the tax rate on REIT dividends. What many investors fail to consider is that the net income a corporation generates to pay dividends was taxed at the 35% corporate tax rate, and whatever was left was the money the company had to pay dividends. REITs are pass-through entities for tax purposes, so do not pay corporate income taxes if 90% of net income is passed through to investors as dividends.
Under the new law, the top tax rate for qualified dividends remains at 20%. Corporations did get a tax rate reduction, dropping from 35% down to 21%. I hope that companies take some of those income tax savings and pass them along to investors as higher dividends. It's too early to tell if that will happen but knowing corporate management teams, I'm not holding my breath.
REIT investors first get new, lower tax brackets. The highest rate has been reduced to 37% from 39.6%. The threshold for the highest bracket has also increased from about $450,000 of income for a married couple to $600,000. Investors in lower tax brackets will also see lower marginal tax rates. In addition –and this is the big news for investors—REIT income gets a 20% deduction before the marginal tax rate is applied. This means a top tax bracket investor has a net 29.6% tax rate on REIT dividends. Married filing joint investors can have income up to $315,000 per year —the top of the 24% tax bracket—and end up with a net REIT dividend tax rate below 20%. Sweet!
If you are new or not highly informed about REITs, it is important to understand that this is not a monolith economic sector. The REIT subsectors cover almost all the different business sectors of the U.S. economy. You can find REITs that focus on properties in sectors such as telecommunications, high-tech data, housing, finance, e-commerce, finance and healthcare, to name a few. You can build a diversified REIT portfolio that will pay a very attractive dividend yield and provide economic diversification. To get you started, here are three REITs from very separate sectors.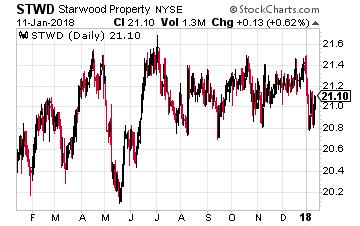 Starwood Property Trust, Inc. (NYSE: STWD) is a finance REIT, originates and holds a portfolio of commercial mortgage loans.
This is a stock you buy for the high dividend yield, but do not look for a lot of dividend growth.
STWD is one of the largest finance REITs, and from my research, the most conservatively managed, especially regarding protecting the quarterly dividend. This stock currently yields 9.1%.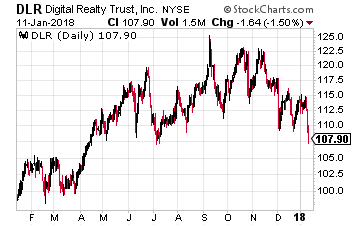 Digital Realty Trust, Inc. (NYSE: DLR) develops owns and operates data center properties. Data storage and management is a huge growth business and many companies prefer to lease space from a data center developer like Digital Realty to house their services and provide the necessary Internet and direct communication links.
Investors in DLR can look forward to double digit annual dividend growth for years, if not decades to come. Thus, unlike with STWD above where you're holding it of the high yield with DLR you're holding it for the high dividend growth. The shares currently yield 3.5%.
Related: 3 High Growth REITs for Profits in an Amazon World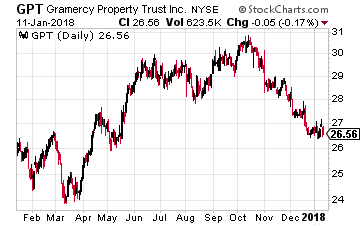 Gramercy Property Trust (NYSE: GPT) is in the process of shifting from a mix of office and industrial properties to focus on the industrial side of their portfolio. Good move! The industrial REIT sector provides necessary support to e-commerce sales, with warehouses and fulfillment centers… sector that grow even if the rest of the country is getting "Amazoned." For the same amount of sales, the warehouse needs of online retailing are triple the amount of space required by traditional brick and mortar retailers. Industrial real estate profits will grow right along with the growth in e-commerce retail sales. GPT current yields 5.6%.
Get up to 14 dividend paychecks per month from safe, reliable stocks with The Monthly Dividend Paycheck Calendar, an easy-to-use system that shows you which dividend stocks to pick, when to buy them, when you get paid your dividends, and how much.  All you have to do is buy the stocks you like and tell them where to send your dividend payments.
For more information Click Here.
Source:
Investors Alley