One of the early financial market themes for 2018 is the renewed interest in commodities.  We've seen early gains so far in gold, oil, and natural gas, to name a few.  At least one of the drivers behind the buying is the expected increase in interest rates.
As a reminder, commodities are usually priced in dollars on a global scale.  As such, when US interest rates go up, it generally pushes down the value of the dollar and makes commodities more affordable on a relative basis (in non-dollar currencies).
Because interest rates are set to go higher this year – perhaps more than initially expected – commodities are starting to attract buyers.  If inflation is finally starting to rear its head, it means the Fed could be forced to raise rates faster than planned.  Commodities prices may or may not add to the acceleration of inflation, but they definitely experience increasing demand in periods of rising inflation.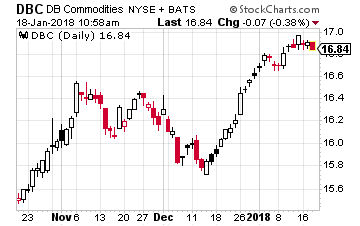 It's probably not a surprise, but traders may be positioning for a rise in commodities pricing.  The usually not-too-heavily-traded PowerShares DB Commodity Tracking Index (NYSE: DBC)had a fair amount of action last week, for example.
A trader looks to have purchased 10,000 April 17 calls for around $0.50, which the ETF trading just under $17 per share.  That's a $200,000 bet that DBC will be at least $17.50 by April expiration.  The trade will generate $1 million for every $1 above the breakeven point.
Here's the thing…
I'm not a big fan of DBC as a commodity tracking ETF and wouldn't recommend emulating this trade.  It's not that I disagree with the premise – in fact I do believe commodities are going to rally – but I'm not a fan of the instrument itself.
You see, DBC is supposed to track a broad-basket of commodities, but over 50% of the index weighting is based on energy commodities (mostly oil).  As such, the price of DBC is going to be heavily skewed by what happens in the energy markets.  My feeling is, if I want to have that much exposure to energy commodities, I'll use a targeted energy ETF.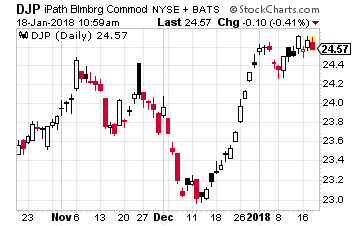 For a broad-based ETF, I actually want all the important commodities to be as equally weighted as is reasonable.  A much better product for this type of weighting is the iPath Bloomberg Commodity Total Return ETN (NYSE: DJP).
DJP doesn't trade a lot of options, but it's viewed as a good representative of the commodities market as a whole.  Energy commodities only have 30% weighting in DJP, which is in-line with the number of commodities it contributes to the index.  DJP does a better job of representing metals and agricultural products.
As I said, DJP doesn't trade a lot of options, but it does have options listed.  If you're bullish on commodities in general (as opposed to specific commodities) you could put on a DJP call spread in April for a reasonable price.
For example, the April 25-27 call spread (buying the 25, selling the 27) should only cost about $0.40 with the stock trading around $24.50.  That gives you a breakeven point of $25.40 with max gain of $1.60, and over 3 months of control.  With the options so cheap, you could conceivably generate returns of 300%.
[FREE REPORT] Options Income Blueprint: 3 Proven Strategies to Earn More Cash Today Discover how to grab $577 to $2,175 every 7 days even if you have a small brokerage account or little experience... And it's as simple as using these 3 proven trading strategies for earning extra cash. They're revealed in my new ebook, Options Income Blueprint: 3 Proven Strategies to Earn Extra Cash Today. You can get it right now absolutely FREE. Click here right now for your free copy and to start pulling in up to $2,175 in extra income every week.

Source: Investors Alley