Fear of Missing Out (FOMO) has become a psychological phenomenon mostly affecting younger generations. However, FOMO has become a driving force for many investors, and it is not a plan for long term success. You can save yourself a lot of mental anguish and investment losses by sticking with a fundamentals driven dividend focused investment strategy.
Here is one definition of FOMO: ''the uneasy and sometimes all-consuming feeling that you're missing out – that your peers are doing, in the know about, or in possession of more or something better than you''. For younger folks its this feeling that keeps them glued to their phones, constantly checking on their social media accounts. For investors, FOMO can be spotted by the habits of having one of the financial news networks running on a TV most of the day and by constantly checking brokerage account values and individual stock prices.
One sign I see from individual investors that they are in the clutches of FOMO is that each time one of their stocks drops by a few percent they must know the reason for the decline. The belief is that with a reason they will then know whether to keep the shares or sell. Since most stock market movement is not driven by actual news from the individual companies, these investors can let their fears take over and sell the stock positions for losses. The financial news puts out a lot of information that tries to explain why stock prices are moving. The explanations are just a way after the fact to try to explain the random movement of share prices in the short term. To be a successful long-term investor, it is a better practice to mostly or completely ignore the day to day news items that "experts" claim are moving the market.
To be a successful investor, instead of a short-term trader, you need to have a strategy based on the underlying fundamental financials of the companies in which you buy and own shares. There are different strategies to choose from including growth stocks where the companies are growing faster than the economy, value stocks where the market does not see the value of a company's assets, or bets on future technologies with stocks such as Tesla or drug stock IPOs.
The strategy I employ and share with my Dividend Hunter readers is to earn dividend income from companies with stable and growing per share cash flows. I search the stock market universe for those companies whose shares have attractive yields, current dividends are well covered by free cash flow, and there is a plan or potential for continued cash flow growth.
With these companies you don't need to check share prices every day. Once a quarter when earnings come out, you check the cash flow per share, the dividend announcement, and the income statement to see if the company is staying on plan. If that is the case, you continue to own the shares. This strategy lets you stay invested through the ups and downs of the stock market. When share prices do drop, your knowledge of the companies' underlying financial strengths allows you to confidently purchase more shares. You get to adhere to the rarely followed investing rule to buy low and earn more dividends.
Here are two stocks that just released their 2017 earnings result that illustrate the dividend growth investing strategy.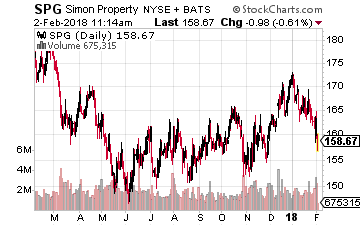 Simon Property Group Inc. (NYSE: SPG) is an owner of Class A and outlet center type of malls. With a $51 billion market cap, SPG is the largest publicly traded REIT. When evaluating a REIT, funds from operations (FFO) is the metric the shows dividend paying ability. For 2017, Simon reported FFO of $11.21 per share. This was up 6.4% over 2016. Management provides 2018 FFO guidance of $11.96 per share at the midpoint. If guidance is met, the cash flow per share will grow by 6.7% this year. With the 2017 fourth quarter earnings, the quarterly dividend was increased by 11.4% to $1.95 per share. The annual dividend rate of $7.80 per share is handily covered by almost $12 of FFO cash flow. This is a stock that is growing free cash flow and growing the dividend. An investor just needs to check in once a quarter to make sure the numbers are on track.
On Wednesday management declared a dividend of $1.95. The payout date is February 28th with an ex-dividend date of February 13th. SPG yields 4.5%.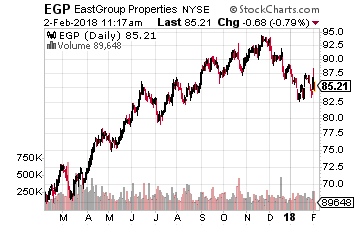 Eastgroup Properties (NYSE: EGP) is a $3 billion market cap industrial properties REIT. For 2017 this company saw FFO increase by 6% to $4.26 per share. Industrial properties are the commercial property segment most benefitting from the shift to e-commerce retail sales. It takes three times as much warehouse space to fulfil e-commerce orders compared to traditional brick and mortar retail warehouse needs. Eastgroup increased its dividend by 3.2% in 2017 and the current dividend rate is just 59% of FFO. The company has paid dividends for 25 consecutive years, increasing the dividend in 22 of those years. This is an income stock you can count on to pay and grow the dividends. Current yield is 2.9%.
Get up to 14 dividend paychecks per month from safe, reliable stocks with The Monthly Dividend Paycheck Calendar, an easy-to-use system that shows you which dividend stocks to pick, when to buy them, when you get paid your dividends, and how much.  All you have to do is buy the stocks you like and tell them where to send your dividend payments.
For more information Click Here.
Source:
Investors Alley