Let's talk about big, long-term trends.
You know, those relentless economic and technological movements that promise to endure, no matter what's happening in the stock market.
I'm talking about things that we can't live without – like water or electricity – as well as fast-developing socio-economic trends like the shift towards greater use of robotics and automation.
I bring this up today because – as was inevitable – the markets are experiencing a sudden bout of serious volatility.
Following a whipping at the end of last week, the major indexes suffered a bloodbath to kick off this week, with the Dow shedding 1,175 points on Monday. It was the index's biggest one-day points loss in history and the strong start to 2018 has been wiped out in the blink of an eye.
If you're prone to panic… don't.
Such volatility is something I've forewarned about a few times in recent articles – and I've given you a variety of investments to consider that are well-positioned to weather such storms.
But I've also highlighted companies that aren't just defensive. They're ones that should rise over the long term regardless – and are capitalizing on the robotics trend that I mentioned above.
These Two 'Bots Are Rising
Specifically, I'm referring to ABB Ltd. (NYSE: ABB), which I profiled on November 30, and Brooks Automation(Nasdaq: BRKS), which I wrote about on December 14. Both stocks are up since I wrote about them.
As I noted in my original ABB piece, almost one-third of the firm's annual sales come from its robotics business. And Frost & Sullivan recently recognized its prowess in this area with the 2017 Global Company of the Year Award for innovation in automation systems. The award was based on ABB's industry-leading work in the Distributed Control Systems (DCS) industry. ABB connects 70 million smart devices via 70,000 automated control systems.
With Brooks, the company reported strong fiscal first-quarter earnings last week, with revenue totaling $189.3 million – up 18% over Q1 2017. Non-GAAP net income also rose by 35% over Q1 2017 to $35 million. That resulted in $0.32 EPS – up 25% and beating estimates by a penny.
For the current quarter, revenue is projected to hit $195 million to 205 million, with EPS between $0.33 and $0.41.
On a wider industry scale, the verdict is clear: The robotics and automation trend is growing. Fast.
The International Data Corp (IDC) projects robotics spending to surge to $230.7 billion in the five-year period to 2021 – with a CAGR of 22.8%.
The International Federation of Robots (IFR) says 1.3 million industrial robots will enter the global factory "workforce" this year. The figure will rise to 1.7 million by 2020.
The IFR projects even bigger growth for the service robot industry, with 32 million units in operation between this year and 2020. That will bring the market value to $11.7 billion.
As John Santagate, research manager at IDC Manufacturing Insights' Supply Chain, says, "We continue to see strong demand for robotics across a wide range of industries."
And as technology and innovation improves, the reach is spreading beyond just industrial and manufacturing, too. Dr. Jing Bing Zhang, research director at IDC Manufacturing Insights' Robotics division, says. "The convergence of robotics, artificial intelligence, and machine learning are driving the development of the next generation of intelligent robots for industrial, commercial, and consumer applications. Robots with innovative capabilities such as ease of use, self-diagnosis, zero downtime, learning and adaptation, and cognitive interaction are emerging and driving wider adoption of robotics and enabling new uses in healthcare, insurance, education, and retail."
He's right. Growth here will continue for years to come – and I'm still positive on ABB and Brooks.
The past week's market downturn also gives you a great chance to buy another investment on the cheap.
Go Robo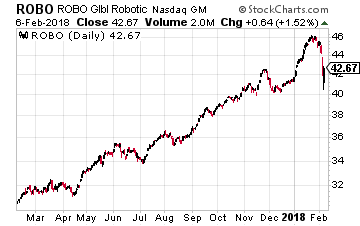 With volatility currently cranking higher, if you're looking for a more diversified way to play this trend, take a look at the ROBO Global Robotics and Automation ETF (Nasdaq: ROBO).
Launched in October 2013, the actively managed fund (which includes both investment managers and industry experts) was the first to track global robotics, automation, and AI. It holds 89 stocks – including stalwarts like iRobot (Nasdaq: IRBT)and Rockwell Automation (NYSE: ROK) – with the $2.4 billion in assets divided equally among them.
In a testament to the strength of the industry, ROBO is coming off a stellar 2017, in which it gained 40%. It's up 68% since inception.
With "lots of people looking at what's going to happen over the next 5, 10, 20 years," according to Global X Funds director of research Jay Jacobs, the robotics and automation trend is most definitely one place they're looking. And as the industries continue to expand, heavily diversified funds like ROBO are right in the sweet spot of the growth.
Not only that, the market's current downturn means you can buy shares for around 8.5% cheaper than a couple of weeks ago.
Buffett just went all-in on THIS new asset. Will you?
Buffett could see this new asset run 2,524% in 2018. And he's not the only one... Mark Cuban says "it's the most exciting thing I've ever seen." Mark Zuckerberg threw down $19 billion to get a piece... Bill Gates wagered $26 billion trying to control it...
What is it?
It's not gold, crypto or any mainstream investment. But these mega-billionaires have bet the farm it's about to be the most valuable asset on Earth. Wall Street and the financial media have no clue what's about to happen...And if you act fast, you could earn as much as 2,524% before the year is up.
Click here to find out what it is.

Source: Investors Alley