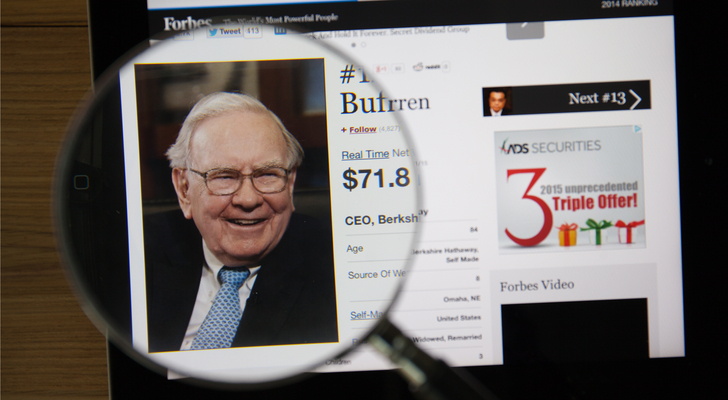 If you're looking for good Warren Buffett stocks to buy, there's no better option than Buffett's former money guy. I'm talking, of course, about Lou Simpson, the long-time Geico portfolio manager, who retired at the end of 2010 after 31 years at the company, more than a third of them spent under Berkshire Hathaway Inc. (NYSE:BRK.A, NYSE:BRK.B) ownership.
It's hard to believe that the legendary investment manager, who outperformed the S&P 500 in 18 out of 25 years between 1980 and 2004, has been retired for more than seven years. Boy does time fly.
Simpson grew bored of retirement very quickly, so the veteran money set up SQ Advisors, an investment advisory firm with $200 million in assets under management that would handle money for friends, family and some charities.
Charging 1% annually with no performance fees, Simpson was just happy to have something to do every day that he enjoyed and could help people. Fast forward to the end of 2017 and Simpson's managing $3.1 billion in assets invested in just 14 stocks.
Although all 14 companies in SQ Advisors' portfolio are good investments, here are what I think are the seven stocks to buy from Lou Simpson's portfolio:
Buffett Stocks to Buy: Brookfield Asset Management (BAM)
This alternative asset manager is easily one of my favorite stocks anywhere in the world. Up until mid-2017, long-time Brookfield Asset Management Inc (NYSE:BAM) CEO Bruce Flatt flew under the radar of most investors.
However, it decided it needed to tell its story to more people, and so the company went on a bit of a PR tour that culminated in Flatt appearing on the cover of Forbes magazine's May issue.
Most people probably couldn't pick Flatt out of a police lineup but Simpson could.
Brookfield is SQ Advisors' largest holding at $335 million, or 10.9% of its multi-billion portfolio. He knows that delivering a cumulative return of 1,350% over the last 15 years, as Flatt and company have done — more than seven times the S&P 500 — is no easy feat.
Lou Simpson investing in Brookfield, especially in such a focused portfolio, is the ultimate form of flattery. If you can only own one of these stocks, I'd make it Brookfield.
Buffett Stocks to Buy: Liberty Global (LBTYK)
Liberty Global PLC (NASDAQ:LBTYK) is one of John Malone's many interests. Malone holds 25.7% of Liberty Global, the world's largest international TV and broadband company with $15.5 billion in annual revenue operating in 12 European countries under brands such as Virgin Media and Unitymedia.
In case you're wondering, Warren Buffett's company controls 5.4% of Liberty Global's votes; SQ Advisors about half that amount. Simpson acquired his position in the second half of 2014 at prices between $40 and $43. Today, it trades around $32.
But before you question my sanity, it's important to remember that Liberty Global spun off its Latin American business — operations in Chile, Puerto Rico, the Caribbean and other parts of Latin America — in early January.
Shareholders got one share in the newly independent business for each Liberty Global share. Together, they're worth $55.
Simpson holds his businesses for the long haul, so unless the story drastically changes I'd expect him to continue to make Liberty Global one of his biggest positions.
Buffett Stocks to Buy: Berkshire Hathaway (BRK)
It would be darn near impossible not to include the stock of Simpson's former boss on my list of seven stocks to buy.
Interestingly, Berkshire Hathaway is not one of SQ Advisors' top five holdings. In fact, Simpson only owns a little over one million Class B shares, which represent 6.7% of the $3.1-billion portfolio.
Although Buffett and Simpson have a similar investing style, the former Geico money manager is far more likely to invest in smaller companies than Buffett, making a more significant position in Berkshire Hathaway an unlikely occurrence.
"What we do is run a long-time-horizon portfolio comprised of ten to fifteen stocks. Most of them are U.S.-based, and they all have similar characteristics. Basically, they're good businesses," saidSimpson in a rare 2017 interview. "They have a high return on capital, consistently good returns, and they're run by leaders who want to create long-term value for shareholders while also treating their stakeholders right."
That sounds an awful lot like Berkshire Hathaway, doesn't it?
Simpson bought a big chunk of BRK stock back in early 2012 at prices between $76 and $82, an annualized return of 17.1% over six years.
Buffett Stocks to Buy: Tyler Technologies (TYL)
While this is one of Simpson's smaller holdings representing just 5.2% of SQ Advisors' portfolio, I just love the niche aspect of its business. Tyler Technologies, Inc. (NYSE:TYL) focusesexclusively on the public sector providing a wide range of software and solutions to local governments and schools.
It might not be glamorous, but providing the tools needed by public sector operations pays the bills; more importantly, it keeps America moving. A storied history that dates back to 1938, Tyler committed to serving the public sector in 1997; it's been uphill ever since.
The company finished 1997 with a profit of $1.2 million on $76.4 million in revenue. Nineteen years later, in its most recent fiscal year ended Dec. 31, 2016, it generated net income of $109.9 million on $756.0 million in revenue.
A $100 investment at the end of 2011 was worth $474.16 five years later, more than double the performance of the S&P 500 in the same period.
It's not a fast-growing business but it sure is consistent, increasing revenues in nine out of the last ten years. No wonder Simpson likes it.

Buffett Stocks to Buy: Cable One (CABO)
One of the portfolio's smallest holdings by market cap, Simpson added 125,094 shares of Cable One Inc (NYSE:CABO) in Q4 2017, boosting it from the tenth-largest position in the previous quarter, to the fifth largest by the end of the year.
Representing 8.2% of the portfolio, Cable One is one of the ten largest cable companies in the U.S. with more than 800,000 residential and business customers across 21 states. 
Why Cable One?
It's got a simple business plan that focuses on higher-growth, higher-margin products that generate positive cash flow while keeping a lid on costs. It doesn't want the most customers; it wants the most profitable ones.
Looking to find more profitable customers, Cable One acquired NewWave Communications in 2017 for $735 million. NewWave was the 19th largest cable company in the U.S. with customers in seven states. Still, in growth mode, Cable One's focus on the profit and loss statement will deliver higher returns from NewWave under its management.
Simpson likes owning good businesses. Cable One fits that to a tee.
Buffett Stocks to Buy:
 Charles Schwab (SCHW)

Except for the recent return of volatility, the nine-year bull market has been good news for Charles Schwab Corporation (NYSE:SCHW), who've seen operating profits grow from $1.1 billion at the end of 2009 to $3.7 billion this past year while operating margins increased 16 percentage points to 43%.
The wealth management industry's been good to Schwab and Schwab shareholders. Over the past five years, SCHW stock's delivered an annualized total return of 26.3% to shareholders.
Now Simpson's third-largest holding, it's clear he's not afraid to buy and sell Schwab stock, as the number of shares held has ebbed and flowed since first buying in 2011.
Currently trading near $53, Schwab had a very healthy 2017, with revenues and income up 15% and 25%, respectively. An amazing stat highlighted in its Q4 2017 press release gives you an idea of the runway it has heading into 2018 and beyond:
"Schwab's Retail business rose by 49% versus 2016; 54% of these households were age 40 or younger."
Need I say more?
Buffett Stocks to Buy:
 Allison Transmission (ALSN)
 Allison Transmission Holdings Inc (NYSE:ALSN) might be the ultimate Warren Buffett stock if it were only a little bigger.
 Simpson's fourth-largest holding at 10.0% of the portfolio. While the money manager trimmed SQ Advisors' holdings slightly in Q4 2017, the manufacturer of heavy-duty commercial vehicle transmissions and hybrid-propulsion systems for city buses is a relatively new purchase for Simpson; he first acquired shares in 2016.
As long as the U.S. economy continues to chug along, investors can expect Allison Transmission to continue to do well. In Q4 2017, the company increased its North America On-Highway revenue by 24% to $270 million. Outside North America, Allison's On-Highway business increased sales by 18% year over year to $98 million.
In fiscal 2017, revenues and operating profits increased by 22.9% and 44.3%, respectively. The company expects 2018 net sales to increase by as much as 7% on strong On-Highway results.
Unless something happens to the economy, this guidance seems conservative. I see good things in store for Allison in 2018.
Buffett just went all-in on THIS new asset. Will you?
Buffett could see this new asset run 2,524% in 2018. And he's not the only one... Mark Cuban says "it's the most exciting thing I've ever seen." Mark Zuckerberg threw down $19 billion to get a piece... Bill Gates wagered $26 billion trying to control it...
What is it?
It's not gold, crypto or any mainstream investment. But these mega-billionaires have bet the farm it's about to be the most valuable asset on Earth. Wall Street and the financial media have no clue what's about to happen...And if you act fast, you could earn as much as 2,524% before the year is up.
Click here to find out what it is.

Source: Investor Place