Apple's annual developers conference kicks off on June 4. Apple watchers always keep a close eye on the conference for a sense of the company's priorities for the next year. In the past, Apple has used the conference to roll out new products for developers to build augmented reality applications, medical research apps and more.
So what can we expect this year?
I think there will be a lot of news surrounding the true growth area of Apple's business – the company's software and services segment. There may be a new version of the software that runs the iPhone and iPad (iOS 12?). And a new version of the operating system for MAC is also likely as well as new software for the Apple Watch and Apple TV. Hopefully, there will be an upgrade to Siri's intelligence – it is so much 'dumber' than Alexa right now.
Apple's Growth Driver – Services
While most on Wall Street are focused on iPhone sales, I'm much more interested in Apple's "Services" business which has become the company's second-largest source of revenues. Businesses such as the App Store, Apple Music and iCloud storage brought in more than $9 billion last quarter, a 31% year-on-year gain. CEO Tim Cook has set a target for the business of $50 billion in annual revenues by the end of 2020.
Unlike the volatility surrounding iPhone sales, Apple's services business has been a model of consistency, averaging a year-on-year growth rate since 2006 of 23%. It is interesting to note that according to Gene Munster – the former Apple analyst turned tech investor through Loup Ventures – that if Apple's services businesses were valued like other SaaS (software as a service) companies, it would have a valuation of about $380 billion!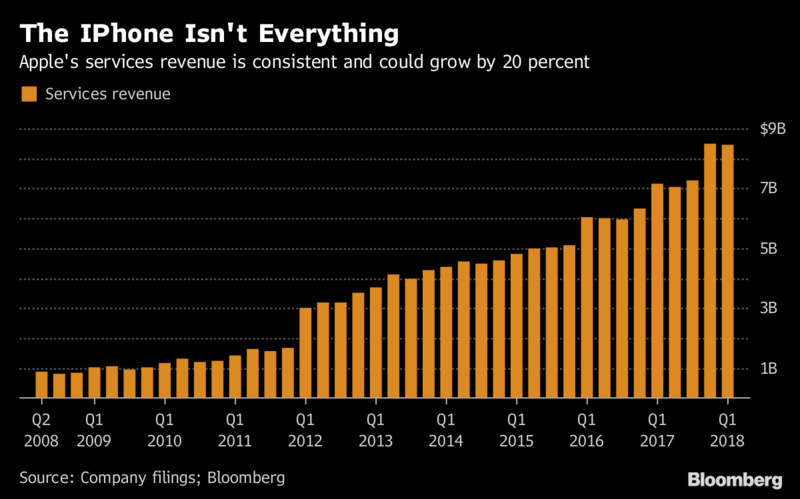 The reason why revenues at Apple's services business has doubled in four years is straightforward – it has an installed base of more than 1.3 billion devices worldwide, up from one billion devices at the end of 2015. Tim Cook said, "With that kind of change in the installed base, with the services we have now and others that we are working on, I think this is just a huge opportunity for us."
And it is, as Apple joins in on the fast-growing 'subscription economy'. Subscriptions are a big part of the services business predictability. The number of paid subscriptions to Apple's own services, including Music, as well as third-party apps that charge through the App Store (such as Netflix and Spotify), has grown to 270 million. That total has soared by 100 million in the last year alone!. Apple gets a cut of subscriptions sold through its App Store.
The Future for Apple's Services Business
Some on Wall Street believe the current growth spurt in services will not last much longer, as growth in the installed base flattens out.
I disagree… I think Apple has more "tricks up its sleeve." In other words, more levers to pull to grow in services. One of these is 'Project Titan'…
Wall Street may be disappointed that Apple has toned down its ambitions with regard to self-driving vehicles (Project Titan). I am not… it's not easy building cars from scratch… just ask Elon Musk and Tesla about that.
Instead, Apple is focusing on providing software to vehicle makers – it is currently working with Volkswagen – to give riders an 'Apple experience'.  Apple also now has the second-biggest fleet (55) of autonomous vehicles that is being tested on California roads. Apple's fleet has expanded quickly over recent months. After first receiving a permit to test just three autonomous vehicles in April 2017, the number of vehicles jumped to 27 in January. It has more than doubled since then to 55 vehicles. That leaves Apple second only to General Motors' Cruise, which has 110 cars testing on California's roads.
I find myself in agreement with a recent note to clients from Morgan Stanley that said Wall Street is undervaluing Apple's services business that includes healthcare, augmented reality and original content too. It called services Apple's "primary growth engine", predicting the company's services business will represent 67% of Apple's sale growth over the next five years.
Morgan Stanley added that "We don't see services growth slowing anytime soon." And they're right – it won't be the iPhone that pushes the company through the $1 trillion valuation, it will Apple's fast-growing services business.
Plan B Investing: Mark Zuckerberg's Secret Plan to Make 2,524%
Famed Facebook founder and CEO Mark Zuckerberg has been in the hot seat over privacy issues. First the U.S. Congress and now European regulators.
He's been telling them anything they want to hear because he's already got Plan B in place and it's promising to be even bigger than Facebook.
He's already put $19 billion into and has been joined by some of America's wealthiest people including Warren Buffett, Bill Gates, Michael Dell, and Mark Cuban.
Just what is Plan B?
It's not gold, crypto or any mainstream investment but it's set to be the most valuable asset on Earth. And if you act fast, you could earn as much as 2,524% before the year is up.
Buffett just went all-in on THIS new asset. Will you?
Buffett could see this new asset run 2,524% in 2018. And he's not the only one... Mark Cuban says "it's the most exciting thing I've ever seen." Mark Zuckerberg threw down $19 billion to get a piece... Bill Gates wagered $26 billion trying to control it...
What is it?
It's not gold, crypto or any mainstream investment. But these mega-billionaires have bet the farm it's about to be the most valuable asset on Earth. Wall Street and the financial media have no clue what's about to happen...And if you act fast, you could earn as much as 2,524% before the year is up.
Click here to find out what it is.