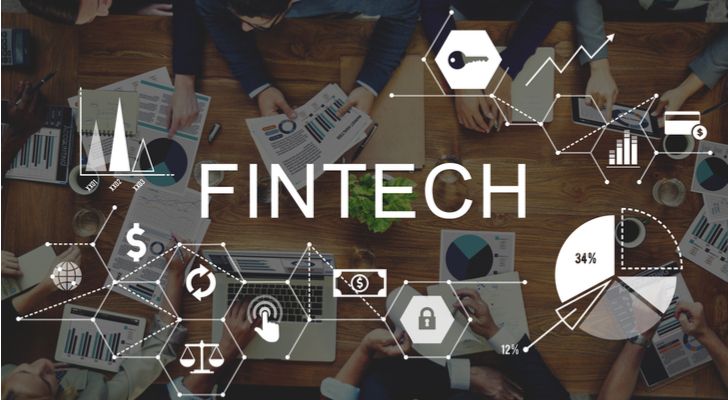 Fintech is one of the hottest buzz words in the market. Say "fintech stocks", and suddenly, investors get excited.
But what exactly is fintech? It is a broad term, and essentially, fintech is just the morphing of technology and financial services. In other words, fintech stocks are the class of companies which are using technology to innovate in the traditional financial services space.
Seems pretty straight forward, right?
Right. And because the fintech space is relatively nascent, everyone is winning. Over the past year, GLB X FUNDS/FINTECH THEMATIC ETF (NASDAQ:FINX) is up 40%, versus a mere 12% gain for the S&P 500.
So far, then, betting on the whole fintech sector has been a winning strategy. But over the next several years, this strategy might not work as well. As the nascent fintech field matures, competition will intensify and there will be a clear separation of winners and losers.
Who will the winners be? Nobody knows for sure. But here is a list of my 3 favorite fintech stocks to own for the next several years:
Fintech Stocks for the Next 5 Years: Square Inc (SQ)
My favorite fintech stock is Square Inc (NYSE:SQ), owing to the company's robust exposure to and dominant positioning in secular growth markets.
At its core, Square is a pure-play on the secular growth in mobile, card and digital payments. The company has emerged as a go-to enabler of non-cash payments for merchants of all sizes.
Why? The company's commerce solutions are strikingly simple, convenient, and easy to use.
It used to be that accepting digital payments at some locations was a hit or miss due to the complexity of it. But today, as opposed to requiring several moving parts to support digital payments, all retailers need to complete essentially any transaction is a phone and Square technology.
Because of this enhanced convenience and the massive shift away from cash, Square has benefited from explosive growth. Revenues rose by more than 50% last quarter.
This big growth isn't going anywhere anytime soon. Payments processing is a $26-billion-and-growing market. With the addition of ancillary markets like small-business loans and food delivery (Square's subscription and services businesses), Square believes its total addressable market is around $60 billion.
Revenues this year are expected to be just over $1.4 billion. Clearly, the growth runway is quite big and long for SQ stock.
The only thing to worry about here is valuation. SQ stock does trade at a rather rich 130-times forward earnings multiple, and the stock's latest move up to $60 does imply some cryptocurrency hype baked into the valuation. But while near-term valuation friction remains a concern, longer-term, SQ stock will grind higher as cash becomes a thing of the past.
Fintech Stocks for the Next 5 Years: Paypal Holdings (PYPL)
Much like Square, Paypal Holdings Inc (NASDAQ:PYPL) is another fintech stock that is a pure-play on the transition away from cash. But whereas Square enables non-cash payments for retailers in the brick-and-mortar format, Paypal is more of an e-commerce play on non-cash transactions.
Not surprisingly, as cash payment volume has decreased, e-commerce sales have surged. After all, you can't pay with cash online. Thus, digital payment methods are the only options in the red-hot e-commerce space.
Paypal is behind one of the most robust and widely used digital payment methods in the world. Thus, considering how digital payments and e-commerce are inextricably linked, Paypal will remain a strong growth stock so long as e-commerce sales volume grows. E-commerce sales growth in the U.S. has only accelerated over the past year (from 15% to 16%), meaning that the e-commerce growth narrative isn't showing any signs of being knocked off course any time soon.
As a result, the Paypal growth narrative looks quite promising in a multi-year window.
As far as the stock is concerned, the valuation is actually quite reasonable for the fintech space (35-times forward earnings) and against the backdrop of 24% revenue growth and 29% earnings growth last quarter.
Overall, then, PYPL stock looks like a good buy here and now.
Fintech Stocks for the Next 5 Years: Amazon.com (AMZN)
This one is a bit trickier than the previous two fintech stocks.
Square and Paypal are traditional fintech stocks that are pure plays on the transition away from cash-less payments and towards digital payments. Indeed, their whole business models are based on that transition.
But Amazon.com, Inc. (NASDAQ:AMZN) operates as an e-commerce and cloud giant. While both of those components are big-growth components in their own nature, they don't inherently fall under the fintech umbrella.
But make no mistake. Amazon will lever its massive e-commerce business to make a big jump into the fintech space.
There has been a lot talk about this recently. The idea is that Amazon has a whole bunch of consumer purchasing data, the sum of which can be used to offer optimized and highly-personalized banking services. Moreover, the company has over 100 million Prime members, presumably implying that more than 100 million consumers frequently shop on Amazon, so an in-house payment method work make sense for uniformity and convenience sake.
Even further, among tech companies, Amazon ranks highly as a company that consumers would trust with their money.
In the big picture, it seems like Amazon launching a fintech service is a matter of when, not if. This fintech component will be yet another huge growth driver alongside the company's already red-hot e-commerce and cloud growth drivers. Put all three of those together, and it is easy to see not only why AMZN has a big valuation, but also why that valuation could be even bigger.
Get up to 14 dividend paychecks per month from safe, reliable stocks with The Monthly Dividend Paycheck Calendar, an easy-to-use system that shows you which dividend stocks to pick, when to buy them, when you get paid your dividends, and how much.  All you have to do is buy the stocks you like and tell them where to send your dividend payments.
For more information Click Here.