Please don't tell President Trump about this article – I don't want to be the subject of an angry tweet from him!
But the future of transportation lies in China, whether we're talking about conventional fossil-fuel vehicles or electric vehicles. Let me explain. . . . .
China is the world's biggest automobile market, both in terms of supply and demand, having surpassed the U.S. almost a decade ago, in 2009. In 2017, China produced about 25 million passenger cars and four million commercial vehicles. It is the global driver of the demand side too with expected demand in 2020 to hit nearly 35 million vehicles.
Estimates are that, by 2020, there will be 200 million vehicles on China's roads. That is less than one vehicle for every five people. In the U.S., there were 829 vehicles per 1,000 people in 2015. And many of these vehicles will be electric.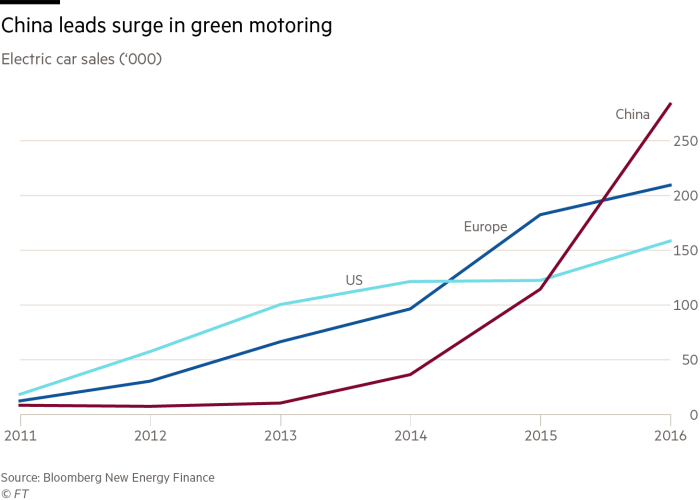 China already is the world's largest electric vehicle market too. But before I tell you about that, let me first talk about the global future for electric vehicles.
The Electric Future for Automobiles
According to a report from the International Energy Agency (IEA) released on May 30, the global fleet of electric vehicles will likely more than triple to 13 million by the end of the decade from just 3.7 million in 2017. The IEA went on to say electric vehicle sales may soar 24% annually through 2030.

If that occurs, the IEA estimates that will lower demand for oil by 2.57 million barrels per day in 2030. There is a similar estimate from Bloomberg New Energy Finance (BNEF) that says electric vehicle adoption will lower oil demand in 2030 by 2.23 million barrels per day and by 7.3 million barrels a day by 2040.
And not surprisingly, electric vehicles are expected to account for just over a quarter of vehicles sold in China by 2030, up from 2.2 percent last year, according to the IEA's estimates. More than half of global electric vehicle sales in 2017 were in China, followed by the U.S. The pace of sales has continued into 2018. . .for example, in April, almost 72,000 electric passenger cars were sold, up 136% from a year earlier and almost four times as many as were sold in the U.S.
The crucial point for the electric vehicle market will be when the growth in sales of electric vehicles accounts for all of the growth in the global vehicle market. Obviously, we are nowhere near that point at the moment.
But an indication as to when that will happen can be gleaned from looking at projections from BNEF. Their 2017 outlook said the crucial date would be sometime in 2026, but the 2018 outlook moved that date up by three years to 2023.
And the reason was China. . . . .
China's Electric Future
China's electric market is strongly supported by both the government and the citizenry. The government wants to have the country be the leaders in this new transportation technology while cutting its dependence on foreign oil imports. The average Chinese person likes electric vehicles because it will help alleviate the country's massive pollution problem – it will be nice to walk around a major city like Beijing without having to wear a mask to keep out the air pollution.
Bloomberg New Energy Finance believes these policies will mean that sales of conventional automobiles in China will peak in 2020, two years ahead of the rest of the world. And their forecast for electric vehicles sales in China is something to think about for a minute. . .BNEF says of all the electric vehicles (including hybrids) between now and 2040, one out of every three will be sold in China!
That would not surprise me since China is already the most competitive electric vehicle market in the world with about 30 companies (including joint ventures) selling EVs in China currently, more than double the number here in the U.S.
Electric Vehicle Investments
So how can you play this boom in electric vehicles in China?
First, do NOT buy any of the three ETFs focused on electric vehicles: Global X Autonomous & Electric Vehicles ETF (DRIV), Innovation Shares NextGen Vehicles & Technology ETF (EKAR) and Kraneshares Electric Vehicles & Future Mobility ETF (KARS). All of these ETFs are loaded mainly with U.S. firms that have little exposure to the Chinese vehicle market.  
Instead, if you have even a slight tolerance for higher risk, I would rather own the current leaders in China in the sector. Both companies trade here in the U.S. in the over-the-counter market, but with a high degree of liquidity (lots of shares trade every day).
Related: The Hidden Beneficiary of the Electric Car Revolution
The first is the company that Warren Buffett invested $230 million into in 2008. That translates today to an 8.25% ownership stake in BYD (OTC: BYDYY). Since then, his investment has grown about fivefold.  Buffett is likely to make even more from his investment because BYD is sitting in an enviable position being both the world's largest electric maker and biggest producer of electric car batteries.
While Tesla investors are breathlessly awaiting the company's Gigafactory to crank up annual production of batteries to one gigawatt, BYD passed that mark about four years ago. BYD is bringing online an additional four gigawatts of battery-making capacity that makes its annual battery output 12 times larger than Tesla's!
BYD will also benefit from those quotas for electric cars in the country. If companies don't meet the requirements, they will be forced to buy credits from automakers that do. And preeminent among these will be BYD. Some estimates are that the company will earn over $2 billion from the sale of credits in just the first three years.
BYD's stock is cheap at the moment, having fallen about 20% year-to-date (it's still up 17% over the past year) because of stiff Chinese competition such as from the next company.
Related: 3 Electric Car Winners That Don't Sell Electric Cars… Or Batteries Either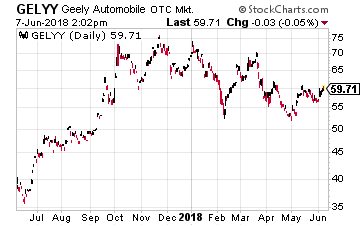 Another quality Chinese vehicle company is Geely Automobile Holdings (OTC: GELYY), which is also down 13% year-to-date, but is up 66% over the past year.
Geely has learned a lot about manufacturing quality automobiles from its sister company – the Swedish car company, Volvo. Both companies have the same mainland China parent.
Geely said it will increase the proportion of new energy vehicles it sells in 2018 by adding new energy versions of "most of its major models". It also plans to launch more SUVs. And importantly, its target is that, by 2020, 90% of its vehicles will be electric.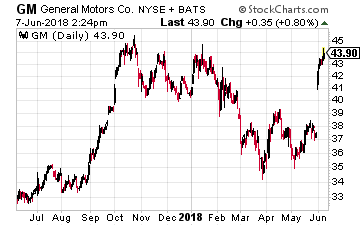 Finally, how about the old American standard, General Motors (NYSE: GM)?
The company is delivering a million cars a year in China, its largest market. Its is setting records with sales of its Buick, Cadillac and Baojun brands. But GM knows the future in China is electric. . . . .
So CEO Mary Barra has set a goal that, by 2025, GM will offer a range of electrification technology in nearly all its models in China. GM plans to have 10 new-energy vehicles and annual sales of 150,000 units by 2020 in China across its Chevrolet, Buick and Cadillac brands. GM's 2025 target is for 500,000 units.
To meet the new Chinese standards (and avoid paying companies like BYD), GM will rely more on vehicles like its E100, which it sells under the Baojun brand. It is ramping up production of this compact electric vehicle that it launched in July in conjunction with local partners.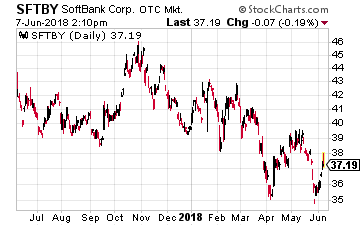 And GM looks to be one of the leaders in autonomous vehicles worldwide too. It got a major vote of confidence from Softbank's (OTC: SFTBY) $100 billion fund, which said it would invest $2.25 billion into GM's self-driving car unit, Cruise Holdings. The investment values Cruise at $11.5 billion and will give Softbank a 19.6% stake in Cruise.
The SoftBank funding will be split into two parts, with $900 million provided at the closing of the transaction. The remaining $1.35 billion will be injected once the autonomous cars are ready to be deployed commercially. GM has said it will launch a commercial ride-hailing service in 2019 using the Cruise technology, and is viewed as having an edge over many of its rivals.
The founder of Softbank, Masayoshi Son, is no fool and I feel his investment into GM instead of say Tesla speaks volumes.
Buffett just went all-in on THIS new asset. Will you?
Buffett could see this new asset run 2,524% in 2018. And he's not the only one... Mark Cuban says "it's the most exciting thing I've ever seen." Mark Zuckerberg threw down $19 billion to get a piece... Bill Gates wagered $26 billion trying to control it...
What is it?
It's not gold, crypto or any mainstream investment. But these mega-billionaires have bet the farm it's about to be the most valuable asset on Earth. Wall Street and the financial media have no clue what's about to happen...And if you act fast, you could earn as much as 2,524% before the year is up.
Click here to find out what it is.