There is a general misconception that rising interest rates are always bad for real estate investment trust (REIT) values. However, history shows that REITs have outperformed 75% of the time during the last 16 periods of rising interest rates. One reason is that quality REITs will grow their dividends, and if the dividend increases keep up or exceed the interest rate increases, you are better off owning the REIT shares.
Buying shares in the month before a dividend announcement is one strategy that can produce a quick start to a new for you REIT investment. Most REITs increase their dividend rate once a year, and then pay that new rate for the next four quarters. From the way share prices change, it is apparent the investing world is not aware of the timing of dividend boosts in the REIT world. I maintain a database of about 130 REITs and include which month each usually announces its dividend hikes.
Summer is one season with the fewest number of increase announcements. However, it can also be an opportunity because the market is not looking for higher dividend rate announcements. There are three REITs that should announce higher payouts in July. You can pick up shares now, and when a new higher dividend is announced you get the double bonus of a possible share price increase on the news and the guaranteed benefit of a higher yield than the current quoted rate. Here are three stocks to consider buying in June for a July dividend increase.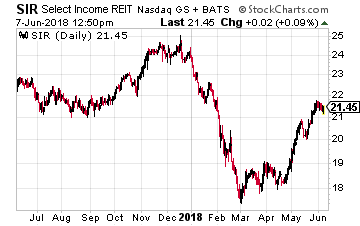 Select Income REIT (Nasdaq: SIR) owns 100 buildings, containing 17 million square feet that are 88.7% leased. In January the company spun off its 266 industrial properties into a new REIT, Industrial Logistics Properties Trust (NYSE: ILPT). SIR retained 69% ownership in the new REIT and consolidates the industrial company results to its income statement. Revenue growth is generated by built in rent escalators and the development of raw land industrial properties at ILPT.
Select Income has steadily increased its dividend since the company's IPO in early 2012. However, last year, there was not an increase. FFO per share has continued to grow and it is probable that SIR will get back on the dividend growth track this year. The next dividend announcement will be in mid-July, with a record date a week later and payment in mid-August. SIR currently yields 9.5%.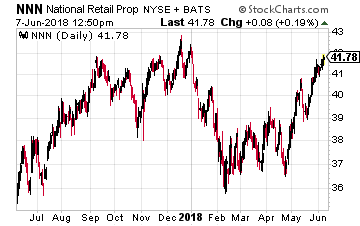 National Retail Properties, Inc. (NYSE: NNN) is a traditional triple-net lease REIT. The company owns over 2,800 (up by 300 in the last year) free-standing, single tenant retail properties. most of the REIT's tenants are in business that cannot be hurt or replaced by online sellers. The top types of businesses are convenience stores, casual and fast food restaurants, auto service shops, fitness outlets, movie theaters and auto parts stores. When acquiring new properties NNN focuses on buying stores with great locations over high quality tenants. The good locations mean that the tenants will be successful and be able to pay the rents. Also, if a tenant does leave, it will be easier to re-lease a property in a great location.
NNN is a Dividend Aristocrat and has increased its dividend for 28 consecutive years. The current dividend is 71% of FFO. NNN will announce its next dividend boost in mid-July with record date at the end of the month and payment in mid-August.
Dividend growth has been about 4% per year and the current yield is 4.5%.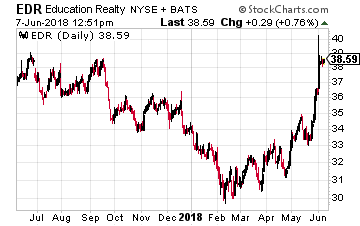 EdR, Inc. (NYSE: EDR) develops, acquires, owns and manages collegiate housing communities located near university campuses. Currently the company owns 79 (up 13 in the last year) communities in 50 different university communities. These communities are located 1/10th to 1/3rd of a mile from the campuses. The college housing business model has produced stable revenue growth, averaging 3.7% per year same store gains. Development and acquisitions boost that core growth rate.
Last year, EDR increased its dividend by 2.6%. Recently, the company sold a handful of older properties and will invest the proceeds into new development. FFO for 2018 will be flat compared to last year. I expect a dividend increase in the 2.0% to 2.5% range. EDR will announce its next dividend boost in mid-July with record date at the end of the month and payment in mid-August. The stock currently yields 4.1%.
Get up to 14 dividend paychecks per month from safe, reliable stocks with The Monthly Dividend Paycheck Calendar, an easy-to-use system that shows you which dividend stocks to pick, when to buy them, when you get paid your dividends, and how much.  All you have to do is buy the stocks you like and tell them where to send your dividend payments.
For more information Click Here.