So far in 2018, cryptocurrencies, such as bitcoin, have been nothing more than a way to lose a lot of money. But that doesn't mean that the technology behind bitcoin – blockchain – should be the 'baby' that is thrown out with the 'bath water'.
That is why I want to bring you a series of articles, of which this is the first, where I show you some of the leading firms that are making blockchain technologies a part of their everyday business operations, benefiting both the companies and consumers.
A 2017 survey from Juniper Research of 400 executives, managers and tech staff found that almost 60% of large corporations are considering using blockchain. Corporate spending on blockchain software is expected to reach $2.1 billion this year, up from $945 million in 2017, according to the research firm International Data Corp (IDC).
IDC added that distribution, retail and manufacturing are among the industries due to ramp up blockchain spending in 2018. This coincides with what I've noticed – that companies are looking to apply ledger technology to aid in the streamlining of their supply chains.
Using current technology, it is difficult to trace every item through every step of a supply chain that often very lengthy and complex, involving multiple parties and multiple jurisdictions. But distributed ledger technology changes the equation.
As to why, let me again give you a very brief explanation of what happens, courtesy of the Wall Street Journal:
"A blockchain ledger allows participants to add blocks of information after each party runs algorithms to evaluate a proposed transaction. If the parties agree that the transaction looks valid — identifying information matches the blockchain's history and follows the rules created by the participants — then it will be approved, time-stamped and added to the chain. The data, encrypted and unchangeable, is always up-to-date on all participants' systems."
 Using Blockchain in the Food Supply Chain
One area that certainly needs technology that will trace an item through every step of the supply chain is food. There have been health scares related to food in almost every country on Earth.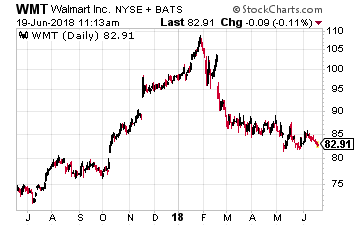 So it is comforting to see that one of the largest food retailers in the U.S. – Walmart (NYSE: WMT) – is beginning to adopt blockchain technology in its food supply chain. Since 2016, Walmart has been working with IBM (NYSE: IBM) to develop software that uses blockchain to track products through its supply chain.
The company was among the early adopters of blockchain, with its operations in China. It deployed blockchain to ensure the place of origin and quality of pork in China, a country that has been plagued by food-safety scandals.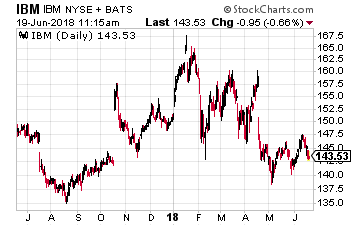 In December, Walmart teamed up with IBM and Tsinghua University in China to create a blockchain food safety alliance. The goal is to create a standards-based way of collecting data about the origin, safety and authenticity of food, using blockchain technology to track food items in real time through the supply chain.
Walmart believes blockchain can increase accountability and transparency among its multiple suppliers and middlemen. When something goes wrong, the point in the supply chain — and the participant that is at fault — can immediately be identified and verified. Blockchain also allows all the parties to see the extent of any damage to goods. For instance, if there was a case of tampering, it is likely that the specific warehouse where the tampering occurred could be pinpointed and any recall can be restricted to products that passed through there.
Walmart's U.S. Food-Safety Blockchain
 The company has also begun to use blockchain technology here in the U.S. to trace food products through its supply chain. A blockchain will manage supply-chain data for about 30 products this year, after Walmart ran a major test of the technology in conjunction with IBM for several months in its mango supply chain between the U.S., Mexico and some South American countries.
After a mango is picked from a tree, it makes many stops before getting to your local Walmart. In fact, 16 farms, two packing houses, three brokers, two import warehouses and one processing facility were involved with the test. They all used a mobile app from Walmart to send details such as harvest dates, locations and images of their fruit to the retailer's blockchain. The company says this process is simpler and more secure than the array of barcodes, scanners, paper forms, etc. that it used previously.
And Walmart found that using blockchain can reduce tracking times dramatically. . .it takes only about two seconds to trace a package of mangoes at any point from the farm to the store. Previously, it could take days or even weeks to work through the paper chain.
This could prove to be a life saver in the event of tainted food sickening people. With the speed and accuracy of Walmart's blockchain, health officials could immediately be directed to the point of the contamination. And Walmart will save money since stores will only have to pull the mangoes off shelves from one location and not all mangoes.
I believe adoption of this technology can only help Walmart in its battle against others in the grocery business, including Amazon, and improve its profitability.
What Walmart is doing is only one example of blockchain being adapted for use by major corporations.
Buffett just went all-in on THIS new asset. Will you?
Buffett could see this new asset run 2,524% in 2018. And he's not the only one... Mark Cuban says "it's the most exciting thing I've ever seen." Mark Zuckerberg threw down $19 billion to get a piece... Bill Gates wagered $26 billion trying to control it...
What is it?
It's not gold, crypto or any mainstream investment. But these mega-billionaires have bet the farm it's about to be the most valuable asset on Earth. Wall Street and the financial media have no clue what's about to happen...And if you act fast, you could earn as much as 2,524% before the year is up.
Click here to find out what it is.