In last week's article, I told you that some of the world's leading firms that are making blockchain technologies a part of their everyday business operations, benefiting both the companies and consumers. And how, using current technology, it is difficult to trace every item through every step of a supply chain that is often very lengthy and complex, involving multiple parties and multiple jurisdictions.
Let me give you a brief glimpse at shipping a product. The very long paper trail begins when a cargo owner books space on a ship to move goods. Documents need to be filled in and approved before cargo can enter or leave a port. A single shipment may require hundreds of pages that need to be physically delivered to dozens of different agencies, banks, customs bureaus, etc.
And make no mistake – shipping is the very core of global trade…
The cost and size of the world's trading ecosystems continue to grow exponentially. More than $4 trillion in goods, including 80% of consumer goods, are carried by the ocean shipping industry. Just about every item in your home today arrived there via a vast network that transports everything from food and medicine to apparel and electronics from around the world. Total trade represents 60% of the world's GDP, and yet global supply chains are clogged with inefficiencies and heavily reliant on complex paper-based systems that I described above.
Related: Free Gold-Plated Bitcoins Available to the First 100 Investors
However, distributed ledger technology is changing the equation. For example, even Brexit Britain is looking at how the technology makes Brexit a smoother process.
You see, certificates of origin, typically provided by chambers of commerce, are needed to prove where goods were made for customs purposes. If the U.K. after Brexit is no longer in a customs union with the EU, it will be subject to complex "rules of origin" and companies will need to show which part of which product was made where in order to benefit from preferential trade deals.
The number of certificates of origin needed will likely rise sharply after Brexit. Such documents, and the many other requirements for exporting goods, could be digitized and shared through a blockchain. A standardized process could simplify and make it easier to check many parts of the supply chain including customs declarations, bills of lading [certifications of ship loads] and letters of credit. Shipments entered in a blockchain will remain there forever and can be tracked via a QR code.
Even if Britain does not go down this path, there are companies are the forefront of using blockchain to track shipments around the world.
IBM and Maersk Partner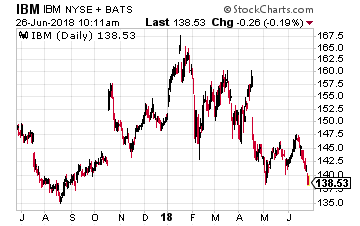 One company leading the way in practical applications of blockchain technology is IBM (NYSE: IBM). It is teaming up with the world's largest container shipping company A.P. Moller-Maersk (OTC: AMKBY) to help make companies' supply chain more efficient and safer through the use of blockchain. The joint venture – 51% owned by Maersk and 49% by IBM – also hopes to automate and digitize the filing of paperwork for shipping cargoes.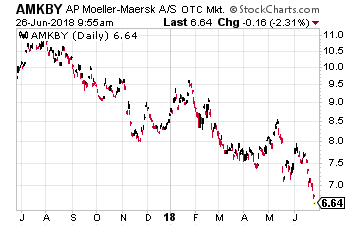 The goal is to use distributed ledger technology to create an unchangeable record of transactions along a supply chain that can be shared in real time with whichever companies are necessary. The technology would allow companies at different stages of the supply chain to see the information they need about each transaction in one flow of information.
The two companies began testing the system as early as 2016 and ran a pilot program in 2017, which involved major businesses such as DowDuPont, the ports of Houston and Rotterdam, and the US and Dutch customs authorities. Other companies that are very interested in this new platform include the likes of General Motors and Procter & Gamble, as well as the port operator in Singapore, PSA International and the port operator based in the Netherlands, APM Terminals. The new venture may begin full operations later in 2018 and, on its first day, it will be tracking 18% of containerized sea trade.
A Revolution in Shipping
While there are competing platforms being developed, this is a real opportunity for IBM and Maersk since it is estimated that businesses spend up to 20% of the cost to transport their goods on processing documents and administration. The cost savings, of up to 15% says IBM, for companies should show up on their financial statements within two years.
The adoption of blockchain technology in shipping will reshape the the industry as it has not been since the move to standard containers in the 1960s. But to make it work, dozens of shipping lines and thousands of related businesses around the world — including manufacturers, banks, insurers, brokers and port authorities — will have to agree to standards and work out a protocol that can integrate all the new systems onto one vast platform.
Related: Buy These 3 Leading Blockchain Technology Stocks
When this eventually does happen, documentation that takes days will eventually be done in minutes, much of it without the need for human input. And the cost of moving goods across the world would likely drop dramatically, adding fresh impetus to the globalization that President Trump is fighting so hard against.
The adoption of blockchain in trade would do so much more too. The World Economic Forum estimated that just improving communications and border administration using blockchain could generate an additional $1 trillion in global trade. IBM and Maersk believe global trade volumes would rise by 15% when blockchain becomes the norm in the industry.
Change in the shipping industry is inevitable and is coming quickly. IBM and Maersk should be two of the main beneficiaries. Next week, I will bring you more companies developing practical uses for blockchain technology.
Free Gold-Plated Bitcoin to the First 100 Respondents
I've recently gotten my hands on 100 gold-plated commemorative Bitcoins like the one pictured below.
I'd like to send you one as part of my newly published research on investing in "Bitcoin Dividends"… one of the safest ways to profit from the Blockchain revolution.
It's a revolution that's moved beyond just Bitcoin and cryptos and into corporate boardrooms and IT departments at companies like Walmart, British Airways, FedEx, American Express and many more Fortune 500 companies.
And I discovered a way that you can collect dividends from this all without having to own or mine or even think about Bitcoin.
There are only a few of these coins left so if you're even remotely interested I suggest you check out my exclusive briefing on how to earn dividends from Bitcoin.
Get up to 14 dividend paychecks per month from safe, reliable stocks with The Monthly Dividend Paycheck Calendar, an easy-to-use system that shows you which dividend stocks to pick, when to buy them, when you get paid your dividends, and how much.  All you have to do is buy the stocks you like and tell them where to send your dividend payments.
For more information Click Here.