Once again, stock market jitters worldwide have emerged in August when trading desks are thinly manned with junior staff. This year, the worries emanated from the self-inflicted economic woes in Turkey brought on by its leader, President Recip Tayyip Erdogan.
He thinks he knows more than markets and has taken full control of the Turkish economy. Even though its economy needs much higher interest rates and tough austerity measures, he will not hear of that and is leading his country down the path of Venezuela toward economic oblivion.
Turkey's troubles then spread to much of the emerging world even though many countries hit by selling (by those junior staffers) have solid fundamentals. I cover all the details for you in an article that will appear on Monday at the Investors Alley website.
Why do I say the selloff in emerging markets was not justified? Because Turkey is 'small potatoes'.
The country is not a significant player in the global economy. Last year its GDP was $900 billion, or about 1% of global GDP at market exchange rates. And when it comes to foreign exposure to Turkish assets, the impact is equally limited. Non-residents hold 20% of Turkey's equity market, which has a market capitalization less than 2% the size of the U.K. stock market. In terms of debt, foreigners hold about 40% of Turkish government bonds – and Turkey's public debt is quite low, at 30% of its GDP.
There's been much talk about the exposure of certain European banks to Turkey. But even there, the exposure is quite limited. Of the Eurozone's roughly €175bn claims on Turkish assets, Spanish banks have the largest exposure, with one of the country's biggest, BBVA, having the most at risk. French and Italian banks are next, a very distant second. Korea barely slides into the top ten, and no other Asian country has any significant exposure to Turkey.
Market Effects
Emerging market stocks last Wednesday that their worst day in six months, sending the FTSE Emerging Index to a decline of more than 20% from its January 26 peak – a classic definition of a bear market.
The decline was exacerbated by a plunge in one of China's tech giants, Tencent, as pressure from the Chinese government on video games and e-sports led to the company reporting its first quarterly drop in profits in over a decade.
The selloff also spread to developed markets on Wednesday, with Wall Street experiencing its steep decline since late June. And more importantly, a widely watched measure of the yield curve briefly dipped to a new decade low on Wednesday morning, as the fallout from Turkey's escalating economic crisis ricocheted around the world.
The difference between two- and 10-year yields on U.S. Treasuries dropped to only 23.4 basis points. That was below its previous low of 23.6 basis points reached in mid-July. This spread is important because of its reliability as an economic indicator. It has turned negative, with the yield curve inverting, before every recession of the past 50 years.
Related: Buy These ETFs Setting Up for Profit's from a Strong U.S. Dollar
Markets did stabilize and enjoy a robust rally on Thursday though after word that the U.S. and China are to resume formal trade talks in late August.
Time to Play Defense?
One interesting item I want to bring to your attention has been happening even before the Turkish turmoil. . .that is that investors around the world have turned more defensive. Some investors seem to be bracing themselves for some sort of economic slowdown or financial stress.
That can be seen in the recent outperformance of healthcare stocks. Globally, healthcare stocks have outperformed the technology sector to the greatest extent since mid-2016. Healthcare stocks have gained 8.5% in the three months through mid-August, according to data from Thomson Reuters. In comparison, the former leaders – global tech stocks –  rose only 4.1%. This is a classic sign of portfolio re-positioning to a more defensive posture.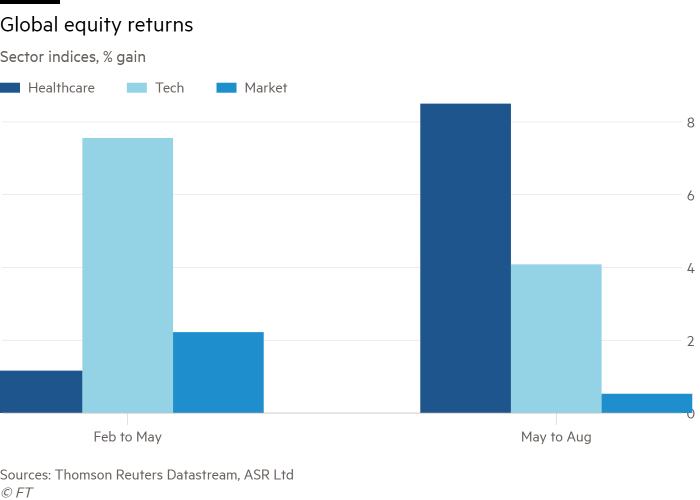 This is good news if you're invested in the sector. I've seen in my personal portfolio some European healthcare stock ADRs that have hit all-time highs recently.
Related: Dump These Healthcare Stocks Getting Amazoned
It looks like prolonged trade war talk is unfortunately slowing the global economy. "We are seeing a lot of leading indicators already starting to turn down; year-on-year trade growth is now decelerating quite rapidly and we are starting to see a rotation within markets," said Ian Harnett, chief strategist at Absolute Strategy Research to the Financial Times.
And indeed, the rate of growth in world trade is slowing. The volume of world trade increased a mere 0.4% in the six months to May, according to the latest figures from CPB, the Netherlands Bureau for Economic Policy Analysis — down month on month from 2.8%. It was the slowest growth rate since the six months to October 2016.
Hints of slowing can be seen here in the U.S. too, if you know where to look. If the economy starts to grow more slowly, the impact will show up first in the price of refined fuels such as road diesel, marine gasoil and jet fuel that play a central role in the freight transport system.
These middle distillate fuels are principally burned in the high-powered engines used in trucks, ships, railroads, barges and aircraft to move freight around the world, as well as in factories, on farms and at mines and oilfields. Mid-distillates actually account for more than a third of the oil used around the world every day, and are the single-largest category of refined products.
In other words, distillate fuels are closely correlated with the global economic and trade cycle, and at the moment they confirm other indications the rate of growth is slowing. Even here in the U.S., distillate stocks, which had been drawing down faster than usual during the first four months of 2018, have now been building faster than normal since late May.
Even the mighty U.S. tech sector could become more and more vulnerable to the rising geopolitical and trade tensions. As Mr. Hartnett said to the Financial Times, "Trade wars could morph into tech wars, with a lot more talk about the tech sector and whether the U.S. administration will remain relaxed about how tech companies are fostering the globalization that it seems Trump is looking to reverse."
Even if that doesn't happen, I will be looking for more high-quality companies in the healthcare sector to add to the Growth Stock Advisor portfolio in the months ahead. In the meantime, stay tuned for more volatility – the historically volatile period of August, September and October is far from over.
Buffett just went all-in on THIS new asset. Will you?
Buffett could see this new asset run 2,524% in 2018. And he's not the only one... Mark Cuban says "it's the most exciting thing I've ever seen." Mark Zuckerberg threw down $19 billion to get a piece... Bill Gates wagered $26 billion trying to control it...
What is it?
It's not gold, crypto or any mainstream investment. But these mega-billionaires have bet the farm it's about to be the most valuable asset on Earth. Wall Street and the financial media have no clue what's about to happen...And if you act fast, you could earn as much as 2,524% before the year is up.
Click here to find out what it is.