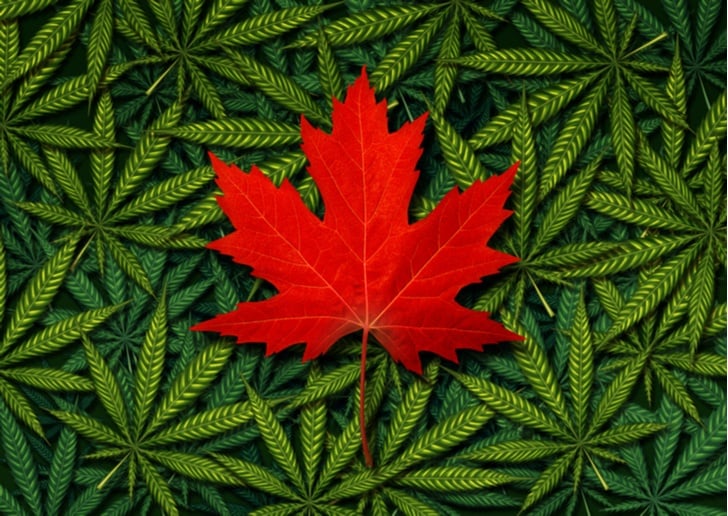 Aurora Cannabis (NYSE:ACB) has continued its downtrend. Following its principal product achieving legal status across Canada, ACB stock and its peers have seen a brutal selloff.
With ACB losing about 50% of its value over the last six weeks, feelings of hunger for marijuana stocks have given way to paranoia. Legalization might have killed the buzz in Canada. Still, other countries appear poised to loosen their cannabis laws. With that, Aurora could benefit from new rounds of reefer stock madness, particularly if the United States rescinds marijuana's Schedule I designation.
Legalization Killed the Buzz on ACB Stock
To be sure, official legal status in Canada has become a classic "sell the news" occurrence for ACB stock. ACB along with peers such as Canopy Growth (NYSE:CGC) and Tilray(NASDAQ:TLRY) have sold off over the last six weeks.
This makes little sense on some levels. Canada finds itself in the midst of a shortage of weed that could last months. Interest has also emerged in unexpected places such as the cosmetics industry. Yet, these normally bullish signs have not stopped ACB from falling. As a result, ACB stock has begun to flirt with its 52-week lows.
This offers both good and bad news for owners of cannabis stocks. Investors need to accept the reality that marijuana hype for Canada has ended. Moreover, as more countries loosen regulations on cannabis, more marijuana stocks will emerge. With a greater supply of marijuana stocks, demand for the same few Canadian marijuana equities naturally falls.
Investors should also remember that legalization will make marijuana stocks boring. Their long-term future will probably resemble that of tobacco or alcohol stocks such as Altria (NYSE:MO) or Canopy-investor Constellation Brands (NYSE:STZ). Such a future will likely consist of dividends, slow but steady profit growth and unremarkable price-to-earnings (P/E) ratios.
Countries Like the U.S. Could Bring Back the Hype
That said, every developed country has to first get to this point of legal status. I believe full legalization will sweep the developed world, including the U.S. I also expect this period will inspire a new wave of hype similar to what we saw in Canada before mid-October.
A removal of marijuana's Schedule I designation in the United States could set that trend afire. Such a move coming from its neighbor to the south would offer a particular benefit to ACB stock and its Canadian peers. With that federal roadblock removed, foreign companies, such as Aurora could participate. This, of course, would probably inspire the interest needed to bring investors back into ACB stock.
So the question becomes when to buy? With the stock still trending downward, now may not serve as the best time. ACB stock currently trades at around $5.50 per share. With 11 Canadian cents (8.3 cents) per share in profit for this year, the stock may appear expensive. Still, the profits speak to the stability of Aurora Cannabis stock.
Also, Wall Street forecasts a profit growth rate of 145.8% for this fiscal year (2019) and 27.3% in 2020. This massive rate of increase lessens the risk of paying a high multiple. Once ACB stops selling off, it should position itself to benefit from the next wave of marijuana hype.
The Bottom Line on ACB Stock
Stock price growth could easily return to ACB stock, especially if the United States chills out on their strict marijuana laws. The massive drop in ACB and other Canadian cannabis stocks following legalization indicates that the stock growth in its home market has lost its buzz. While legalization tends to make cannabis stocks boring across the board, most countries have not yet achieved full legal status.
This brings opportunities for new rounds of reefer stock madness in other countries. With Aurora's proximity to the U.S. market, this becomes especially true south of the Canadian border. A removal of Schedule I status in the U.S. would open up new production and sales in a nearby market nearly ten times its size. This could set up ACB stock for new highs.
As the stock continues to fall, investors need to watch and wait. However, if ACB forms a floor, or if the U.S. opens up on the federal level, prepare for new highs.
Buffett just went all-in on THIS new asset. Will you?
Buffett could see this new asset run 2,524% in 2018. And he's not the only one... Mark Cuban says "it's the most exciting thing I've ever seen." Mark Zuckerberg threw down $19 billion to get a piece... Bill Gates wagered $26 billion trying to control it...
What is it?
It's not gold, crypto or any mainstream investment. But these mega-billionaires have bet the farm it's about to be the most valuable asset on Earth. Wall Street and the financial media have no clue what's about to happen...And if you act fast, you could earn as much as 2,524% before the year is up.
Click here to find out what it is.

Source: Investor Place