I'll be the first to admit, when I went looking for stocks that would not be impacted by the trade war between the U.S. and China, or a flip-flopping interest rate policy, I did not think I would end up in the for-profit education sector. I viewed the sector as plagued by shaky financials and remember clearly the bubble and relatively recent collapse of many stocks in the for-profit education space.
The U.S. government's policy of an "education for everyone" brought out bad actors in the sector who were more than willing to take advantage of the government's largesse, and enroll students that had very little chance of paying back their educational debt. The resultant shakeout, when the government realized what was happening and pulled back on the lending reigns, left the most aggressive companies, like Corinthian Colleges and ITT, bankrupt.
So why look at these companies now? I found two catalysts as I began to research the companies. First, in the U.S., a more friendly government is in place after what I view as the correct crackdown of the previous administration. And second, the shakeout in the industry appears almost complete with several of the remaining companies touting solid financials and solid growth prospects due to economic and demographic changes.
In the U.S., Education Secretary Betsy DeVos has begun what NPR calls a "regulatory reset on Obama-era for-profit regulations". One of the most onerous rules on the for-profit institutions in the U.S. is known as the "gainful employment" rule.
The rule in essence requires a for-profit institution to prove the students they enroll can be gainfully employed following graduation. The gainful employment policy is set to expire July 1, 2019, and Secretary DeVos has clearly indicated the Department of Education will not seek to extend the policy. This policy shift should benefit the for-profit education companies.
The companies I believe you should look at, which I list below, also have solid financials in place and are expected to grow substantially. There are two factors driving this growth. First, the companies are increasingly relying on technology, such as artificial intelligence, to educate more people using fewer and more efficient resources. And second, the move to a gig-economy means workers need more education throughout their career than they did even a few years ago. And, in countries like China, the gig-economy, combined with a move away from agriculture, is fueling rapid growth.
Karl McDonnell, CEO of Strategic Education (Nasdaq: STRA) (in early 2018 Strayer Education merged with Capella Education to form Strategic Education) recently said Strategic is, "using technologies like artificial intelligence and predictive analytics today to teach vastly more students with fewer humans and yet, better outcomes." As this technology gets better, the efficiency should continue to drive cost out of the business model.
A few months ago Forbes reported that by 2020 fully half of U.S. employees will be engaged in freelance work. A McKinsey study examining the same issue, says that also by 2020, the U.S. will need 1.5 million more college educated workers than are available. And it's not just a U.S. problem, as France is projected to have a shortfall of 2.2 million college educated workers with the European Union expected to have major shortfall issues due to both education and complicated hiring laws.
It's my view that the for-profit educational institutions, with expertise in distance learning and educating adults who need to upgrade skills, will benefit from this changing job landscape and skills gap.
Here are a few of the companies I believe you should look at for your portfolio.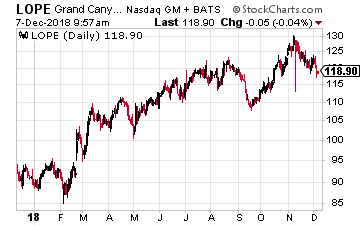 Grand Canyon Education (Nasdaq: LOPE)
The first thing to strike me about Grand Canyon is the positively sloping operating and profit margins the company has posted. In one year profit margins have risen to 23.6% in the latest reported quarter from 19.3%.
Grand Canyon is also very interesting because of a recent change in its business model. The company split off the "school" into a nonprofit and now Grand Canyon gives investors a services company that provides technology, counseling and a variety of other services to the school.
The services company receives 60% of the tuition from the nonprofit, and importantly can offer the services it provides to other institutions. This should allow the company to grow beyond the confines of being tied to one institution and provide substantially more market to address.
Grand Canyon is projected to grow earnings this year almost 27% and is projected to have a 17% growth rate over the next five years. The company has only a .05 debt to equity ratio and trading around $120 has a book value of almost $24 per share.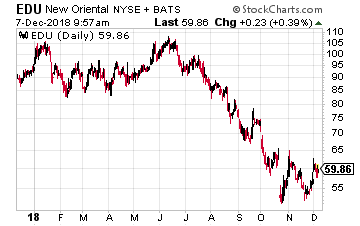 New Oriental Education & Technology Group (NYSE: EDU)
The for-profit education market is booming in China. In 2016 40% of the Chinese population was engaged in farming. In the U.S. and Germany, that number is 2% and 10% respectively. As China's agriculture sector becomes more efficient, a major government initiative, it is projected that 250 million Chinese will leave agriculture and move to jobs requiring a higher education skill set.
As the education market grows in China for-profit institutions are also taking share from public schools. Revenue from 2012 through 2020 for private educational institutions is expected to grow at a compound annual growth rate of approximately 12%. New Oriental Education is poised to take advantage of these favorable demographics and growing market.
In October the company reported a 49% year-over-year revenue increase and a 13% year-over-year increase in student enrollments. The company has no long term debt and expects to increase earnings next year by over 34%.
What is impressive about the company is that it is both expanding rapidly, opening 18 new facilities last quarter, and is also earnings positive during this growth period. As CFO Stephen Yang described in the company's latest earnings call, New Oriental uses a low cost promotional experiential course offering in the summer to bring in new students and then moves, as of the latest quarter, over 54% of those promotional students into full course offerings.
The stock has pulled back this year after becoming somewhat overheated and now trades at a PE of 36. But, based on the projected earnings growth, the forward PE is projected to be cut in half to just over 18.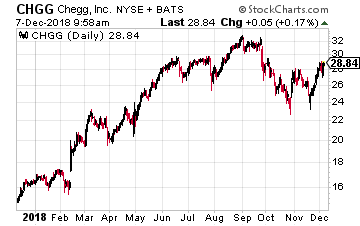 Chegg, Inc. (Nasdaq: CHGG)
Chegg focuses on homework help, online tutoring, and scholarships and internship matching. The company is expanding rapidly, and is expected to grow earnings next year over 25%.
The company has been steadily increasing margins with gross margins coming in at just over 74% last quarter. The company appears to be on the cusp of profitability, and is just moving into a more efficient operating model through technology implementations.
CEO Dan Rosensweig discussed the company's move to a chat-based platform, which allows fewer employees to service more students, in their last earnings call. Rosensweig stated, "With over 40% of college students requiring remediation in Math, English, or both, these are key subjects where we are starting to leverage A.I. and machine learning to expand our product offerings and provide greater support to a broader range of students."
Employing a business model with a mix of human interaction provided by tutors, combined with a growing reliance on increasingly efficient technology, increases Chegg's total addressable market as it expands its service offerings.
With a rapidly increasing market, due to the changing way people work and the increasing industrialization of growing economies, for-profit education companies like Grand Canyon, New Oriental and Chegg deserve a closer look. These companies have made it through the recent for-profit education shakeout and are rapidly earning their way back to a spot in your portfolio.
A Pizza Company More Profitable Than Amazon?
Forget Tesla, Amazon, Netflix and Google! A Pizza Company has beat every single one of these tech giants... and made its investors over 2,500% since 2010.
It's all thanks to a $100 Trillion 'Digital Helix' and it could make YOU 2,537% profits if you act before November 29.
Click here to find out more...

Source: Investors Alley