Each year I read about the promise of virtual reality / augmented reality (VR/AR) and how this is THE year for the technology to take hold. Most of these predictions center around either gaming or the ability to watch live sporting events in a VR/AR environment. In other words, you can sit at home on your couch, but also be courtside at a Lakers game, and at halftime you can play Fortnite in a VR environment with friends around the world.
And, while I believe the technology, as well as the supporting marketing, infrastructure, and necessary consumer buy-in, will eventually converge and become a major industry, as they say, the key is in the timing. 5G will be a major boon to this industry, and as the new network technology rolls out in the next few years, VR/AR will be one of the major beneficiaries.
When most investors think of VR/AR the first thing that comes to mind is Facebook (Nasdaq: FB) and its Oculus Rift, or newer Oculus Go. Or, Lenovo (NYSE: LNVGY) the world's largest AR headset maker. But, there is another ecosystem of VR/AR that is flying largely under the mainstream investment community radar with its focus on gaming.
Industry 4.0, shorthand for the connectivity and digitization of manufacturing, which includes increased use of digital tools for manufacturing, training, and marketing, is one area where VR/AR is making an impact. Another is the use of VR/AR to enhance capabilities in high pressure, high stakes professions, such as doctors, pilots, and soldiers. And in yet one more part of this ecosystem, are VR/AR capabilities to enhance safety and security for consumers. An example being the use of VR/AR in autonomous vehicles.
Each of these fast growing areas are already being aided by VR/AR technology to either enhance current systems, provide institutional memory and training for an increasingly nomadic workforce (see my previous article on the gig economy), or to increase the safety of the public and our military. These are a few of the companies that are employing a VR/AR solution today, and not waiting for next year.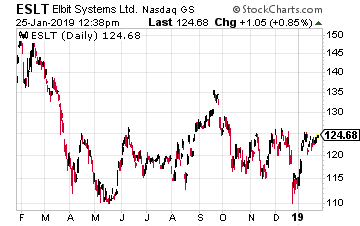 Elbit Systems (Nasdaq: ESLT)
Elbit Systems is an Israeli based aerospace and defense company which has been working on an AR cockpit for both commercial and military use. Elbit, known for its HUD (head-up display), which can display flight information to the pilot without the need to look down, purchased Universal Avionics last year. Universal brought a flight management system (FMS) to the merger.
Late last year, Elbit introduced a new product, combining the HUD with the functionality to operate the FMS. This was truly science fiction type technology only a few years ago. The fully functional product can be both retrofitted to older aircraft, without a complete rewiring of the aircraft, as well as built into new aircraft.
Using the system, a pilot can program and change their flight path, select or change a runway, and select and update waypoints, all with just their eyes. The system is also integrated with technology mounted on the outside of the aircraft, which allows for a virtual projection of terrain onto the cockpit window. This makes for a safer and more accurate depiction of reality in bad weather or low altitude flying.
Elbit is using AR not only in the air, but on the ground as well. One of the dangers faced by tactical spotter teams, forward observers that locate and identify military targets, is that an enemy will be able to see and counter their moves when they use a laser to "paint" a target. Using a combination of AR and other technologies, late in 2018 Elbit introduced the HattoriX system, which provides an AR overlay providing command and control capabilities (C2). This allows the forward spotter team to identify a target and feed coordinates to the necessary team delivering a payload on the target, without endangering the forward team by using a laser to paint the target.
Both of these technologies, the HUD VR cockpit, and the ground based forward spotter HattoriX system, make the jobs of their users safer and more efficient. They provide great examples of using VR technology in combination with platforms that are already in place. And, give an idea of what an acceleration in VR use is capable of. I fully expect Elbit to introduce more and more VR based products, and believe now is the time to buy the stock.
Elbit is a solid company expected to grow earnings next year over 14%, with a long term 5 year projection of an average 11% earnings growth per year. And, the company currently pays a 1.42% dividend.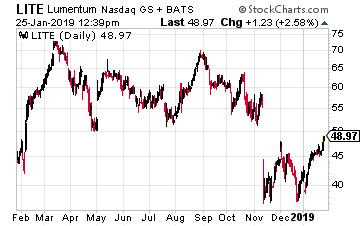 Lumentum (Nasdaq: LITE)
Lumentum has three main areas of business. First, their photonic division works to move the growing amount of data generated each day more efficiently over networks. Second, they produce lasers which are used in precision manufacturing to make sure parts are manufactured to exacting specifications.
And third, and the area I'm interested in today, is a 3D sensing technology that can be placed in mobile devices and autonomous vehicles to provide a virtual reality picture. Lumentum is the largest supplier of 3D laser sensors globally.
These 3D diode lasers produced by Lumentum are more accurate and reliable than radar and camera based technologies, which still play a role in producing a 360 degree picture around an autonomous vehicle. As I've pointed out in a few different articles over the past month, a regulatory structure is of paramount importance to the autonomous vehicle market. To enact this structure, vehicles must have extremely reliable and accurate instrumentation with the ability to measure and predict the movement of objects around the car.
Related: Buy These 3 Driverless Car Stocks
In mobile applications, 3D sensors are used for facial recognition, robotic sensing, and IoT (Internet of Things) applications, to name a few. Lumentum provides not only the lasers to perform 3D sensing, but a complete turnkey solution which can be placed in any manufacturer's mobile device. With a likely expansion into most, if not all future smartphones, robotics, the IoT, and autonomous vehicles, Lumentum may be on the cusp of an earnings explosion. Lumentum occupies a great position at the convergence of emerging 5G networks, with smartphones and the IoT.
Lumentum currently has a PE of 7.88 and is projected to grow earnings in the coming year at over 21%. And, with cash on hand of almost $12 a share, the company has the necessary capital to build out production in an expanding market. Lumentum was caught up in the issues with Apple (Nasdaq: AAPL) last quarter, which resulted in a drop in the stock. But, I believe slowing iPhone sales could accelerate an expansion in its customer base, which would be in addition to the customer base expansion from autonomous vehicles, IoT, and robotics. This pullback could represent a great buying opportunity in the stock.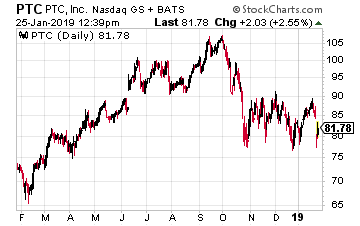 PTC Inc. (NYSE: PTC)
PTC is on the cutting edge of helping industrial companies convert to digital. With an array of offerings in AR, 3D printing, IoT, and industry 4.0, the company is moving large industrial giants into the future.
Using their Vuforia virtual reality platform the company provides the tools and software to record a manufacturing or business process. The software then creates an AR view of that process that can be used to teach new employees, provide the best training possible around the world, or have established experts within or outside the company review and improve the process without ever entering the manufacturing facility.
"We delivered another strong [quarter of] growth with AR bookings growth," stated Jim Heppelmann, PTC CEO in its latest conference call last week. "Another strong quarter with AR bookings growth of over 75% versus Q1 of 2018. The main use cases for AR in the industrial world are service and maintenance work instructions, factory operator Instructions, and virtual product demonstrations. While it's still early, AR commercial adoption within the industrial market is broadening."
Unlike in the gaming world, where VR is still largely a gimmick, in the industrial world real products are being used by massive companies to drive productivity growth. PTC is well positioned, and now is a great time to get in on this burgeoning trend. PTC's customers include John Deere (NYSE: DE), British based BAE Systems (NYSE: BAE), Sinotruk (OTCMKTS: SHKLY) automotive in China, and Sony (NYSE: SNE) in Japan. The addressable market for PTC products is basically any company that manufactures or sells products, or provides a service which can be demonstrated via AR.
PTC stock pulled back slightly last week when Mr. Heppelmann said they were seeing some softness globally, but not enough to lower 2019 estimates. This pullback offers a better entry into the stock, which is expecting over 50% earnings growth in the upcoming year, and is projected to grow earnings over the next 5 years at an average 36%.
Growth in the AR/VR market is already taking place. Whether it is in aerospace and defense with Elbit, in safety and security with Lumenum, or in manufacturing with PTC, you can take advantage of the growth in this market today by adding these names to your portfolio.
Source: Investors Alley