Today I'm going to show you the one market indicator you can use to grab gains as high as 70% in nine months (or less!), plus dividends growing double-digits, too.
It's a measure of market panic you've probably heard about, but here's the funny thing: everyone is looking at this indicator backwards.
Let me explain.
First, I'm talking about the CBOE S&P 500 Volatility Index, or VIX for short. You've probably heard of the VIX: dubbed the market's "fear gauge," it's a measure of how volatile traders see stocks in the next 30 days.
In other words, when investors are twitchy, the VIX rises—and when they're confident, it trends down. But to reallyprofit off this measure of terror, you have to be a gutsy contrarian and buy when fear shoots up.
It's one of the most reliable buy indicators there is! Take a look: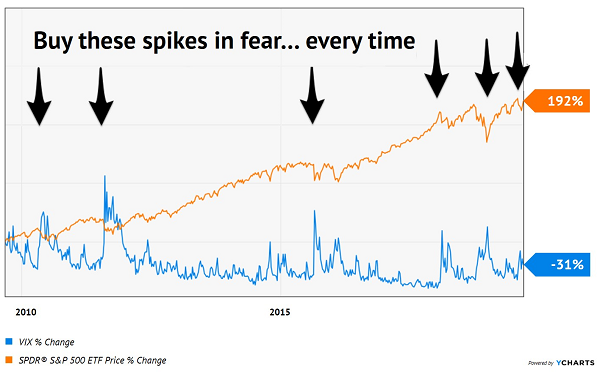 VIX Up, Stocks Up

As you can see, every time the VIX spikes, the market takes off soon after. Take a look at the end of that chart: you can see that the VIX is a bit higher than it's been for most of 2019.
That means our buy window is easing open once again.
And if history is any guide, our opportunity will soon get better. That's because September is one of the more volatile months, according to Yardeni Research, and typically turns in the worst performance.
And with profits and sales still strong, unemployment low and wages rising, any pullback (and spike in the VIX) this month would be a great buying opportunity.
But we're not going to settle for ho-hum dividends from darlings like McDonald's (MCD) or Coca-Cola (KO). To ride our "fear gauge" to market-beating gains, we need stocks whose dividends are not only growing but accelerating.
Last week, in "3 Dividend Stocks That Are Near-Perfect for High Volatility," I showed you how a rising dividend is a magnet, pulling a company's share price higher as the payout grows. And the lure of a rising dividend is very strong now, with the yield on the 10-year Treasury note plunging below the yield on the typical S&P 500 stock.
To show you how potent buying a rising dividend against a spiking VIX can be, let me take you back to December 21, 2018, when the "fear gauge" hit 30—the highest level in nearly five years.
That prompted me to do something unusual in my Hidden Yields advisory.
You see, Hidden Yields comes out monthly, and every issue brings you one new dividend-growth pick. But in December, with my favorite contrarian indicator going wild, I decided the time was right to pound the table on not one but two dividend-growth picks.
How Fear Drove a 70% Gain
The first was NRC Health (NRC), a low-key maker of "back-end" systems for the healthcare industry, specifically surveys that solicit patient feedback on doctors, nurses and staff.
It's a low-key firm with a smart business model: it's free for patients to use but charges thousands of dollars a year to cash-rich healthcare providers! That gave it:
Recurring annual payments from customers with
Recession-proof businesses.
I also liked the fact that NRC had plenty of room to grow by building customized systems for clients and cross-selling its other products. It nearly tripled its "regular" dividend since 2014 and was kicking out regular special dividends, too:
NRC's Dividend Grows 2 Ways

How did that buy turn out? Fast-forward nine months, and NRC had soared 70%!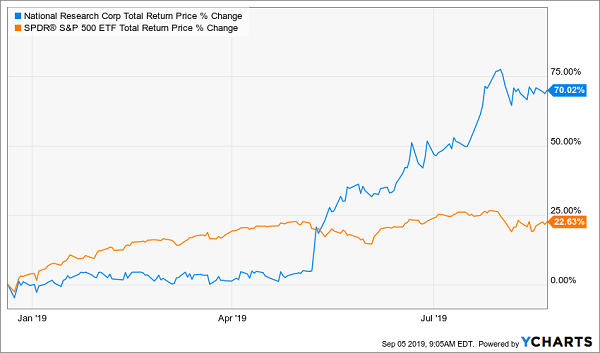 NRC Triples the Market's Gain

We weren't done.
Because with my "fear gauge" still redlining back in December, I added a second dividend grower I'd been watching to our Hidden Yields stable.
That would be NexStar (NXST), a midcap stock that had been dragged down by a misunderstanding of its business: NexStar is one of the biggest local-TV operators in the country, reaching an impressive 38% of US households.
This was a classic "disrespected dividend," trading at 6.5-times earnings when I recommended it. But here's what most folks missed:
NexStar's retransmission revenue—the money it collects from broadcasters for the local content it provides—was growing quickly. Plus,
Its digital-media revenue (from its 114 local websites, 202 local mobile apps and online videos) was growing even faster.
Add these channels together and you had a company growing profits, sales and dividends at an amazing clip: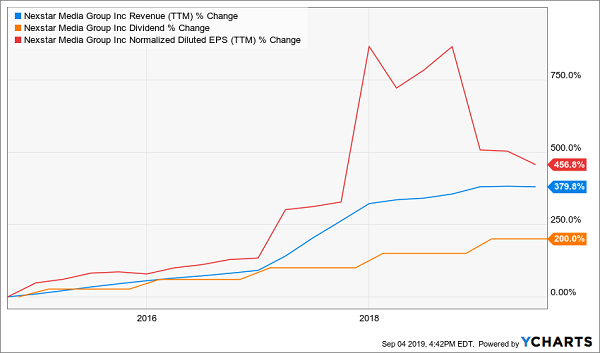 We Bought This for Just 6.5X Earnings

Over the following nine months, NXST handed us a fast 31% return, easily eclipsing the market!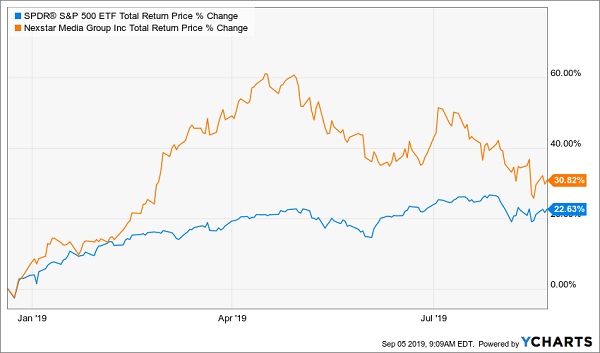 "Fear Gauge" Ignites Another Market-Beating Return

Now let's turn our attention to 7 of my very best dividend-growth picks. They're perfect for the markets we're in right now.
7 Buys to DOUBLE Your Money Every 5 Years (High VIX or Low)
I can't wait to tell you about these off-the-radar buys, which are poised to throw off strong double-digit gains—year in and year out—with much of that return coming your way in cash dividends!
So what kind of upside am I talking about?
Enough to DOUBLE your money every 5 years—and likely less time than that!
Imagine turning a retirement "pot" of $250,000 into $500,000, or $500,000 into $1 million. That's the kind of upside I'm talking about here.
And you don't have to wait for the VIX to spike to buy them. These 7 dividend wonders are cheap NOW—and like NexStar and NRC, they're growing payouts at an accelerating pace.
Editor's Note: The stock market is way up – and that's terrible news for us dividend investors. Yields haven't been this low in decades! But there are still plenty of great opportunities to secure meaningful income if you know where to look. Brett Owens' latest report reveals how you can easily (and safely) rake in 8%+ dividends and never worry about drawing down your capital again. Click here for full details!

Source: Contrarian Outlook