Death, taxes, and Facebook (NASDAQ: FB) user growth… it should be the new saying. Social media giant Facebook continues to grow its user base quarter after quarter with almost military-like discipline. It seems like the only thing that could halt the growth is the limited population of the planet. Eventually, FB will run out of users, but does it even really matter once you have an audience of over 2 billion people to market to?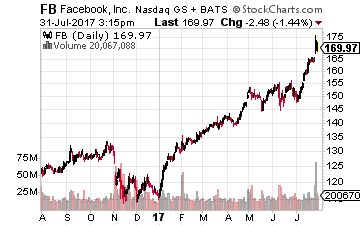 More importantly, user growth is clearly resulting in robust ad revenues. Last quarter, FB generated $9.2 billion in ad revenue, 87% coming from mobile ads. Quarter over quarter, FB's monthly active users jumped 3.4% to over 2 billion. Daily active users came in at 1.3 billion – a stunning amount of people if you think about it. Remember, that's daily users. No wonder FB's ad platform is so dang popular.
What's more, earnings far exceeded Wall Street's expectations, coming in at $3.9 billion or $1.32 per share. Analysts had expected a $1.13 EPS. By the way, that profit number was even bigger than Alphabet's (NASDAQ: GOOGL) this past quarter.
But here's the thing…
Despite overall amazing numbers this past quarter, there is one weak link in FB's impressive armor. Ad revenue growth is slowing. There simply isn't enough real estate on mobile devices to offer any more ads. And, ads in the website's timeline (the main spot for news and info) are already maxed out. While it's really through no fault of Facebook, it's a big deal for a company which generates the vast majority of its revenue through ad sales.
However, as you can clearly see in the chart, investors don't seem in the last bit concerned about FB's ad space dilemma. After earnings, the stock shot up to new highs. Yes, FB did post excellent numbers, but investors also tend to be very forward looking.
Fortunately for FB, management is also very forward looking. Mark Zuckerberg and the executive team realized a long time ago in order to continue growing, the company was going to have to diversify its revenue sources. That's the reason they shelled out big bucks for products like Instagram and WhatsApp.
While FB's legacy product may be running out of ad space, there is still plenty of opportunity with the company's other products. WhatsApp has a user base of one billion users and sports 250 million daily users to boot. Instagram has 700 million users. Moreover, FB will soon be rolling out an enterprise messaging product to compete with Slack. Business software is a whole new realm of potential revenues.
As such, it doesn't seem like FB is going to run out of new revenue channels anytime soon. Obviously, investors agree, judging by the buying occurring post earnings. So, what's the best way for options traders to trade FB?
If you are a fan of FB but are concerned about buying the stock after a big run up, one strategy you could use is selling cash secured puts. By selling a put at the price you want to buy the stock at, you can earn income while you wait for the stock to pull back to your price. (Keep in mind, you need to have enough money in your account to cover owning 100 shares of the stock per options contract.)
For example, let's say you'd like to purchase FB shares at $165, about $7 lower than where we are at the time of this writing. September 15th 165 puts could be sold for about $2.25. That means you'd collect $225 per contract in premium by selling the put.
If FB doesn't drop below $165 by expiration, you get to keep the money and simply repeat the process (selling another put expiring in a month or two). However, if the stock does drop below the strike, you'll get assigned the shares on expiration, thus getting long at the price you want. Either way you win. That's why cash secured puts can be a great way to get long a stock at the price you desire.