Today I'm going to show you nothing less than a "dividend unicorn": a closed-end fund (CEF) yielding 8.8% that's raised its payout 24% in just the last six months. (And yes, it's primed for many more hikes, too.)
Get this: because of the weirdness of the CEF market, this cash machine is still cheap today—trading at 13% off its "retail" price!
Let's dive in.
I'm talking about the PGIM High Yield Bond Fund (ISD). It's a smaller CEF (with just $552 million in assets). That small size helps set up our chance to buy cheap—and I'll say more about why this deal exists in just a moment.
First, though, if you've been reading my columns on Contrarian Outlook, ISD's name might sound familiar: two weeks ago, I highlighted a buying opportunity in the fund, writing that its huge discount is "going to disappear soon." The reason? Its "improving dividend-growth potential."
As if on cue, Prudential, the fund's managers, announced less than a week later that ISD would hike its dividend—part of a recent trend that's seen the fund raise its payout 24% this year alone:
8.8% Dividends and 24% Payout Growth—in 1 Buy

Heck, we'd be happy if ISD kept its 8.8% dividend where it is. But an 8.8% yielder with a payout growing this fast is unheard of.
And those hikes will likely keep on coming, for one reason: the Federal Reserve.
Management Reads the Fed Like a Book
Let's quickly go back a few years. In 2015, when the Federal Reserve started raising interest rates, ISD had a strategy specifically designed to profit from the Fed's hikes. At the time, ISD specialized in buying short-term corporate bonds, which are less sensitive to rate hikes than longer-term bonds.
That strategy helped ISD's net asset value (NAV, or the value of its underlying portfolio) top the high-yield bond index, shown below by the SPDR Bloomberg Barclays High Yield Bond ETF (JNK):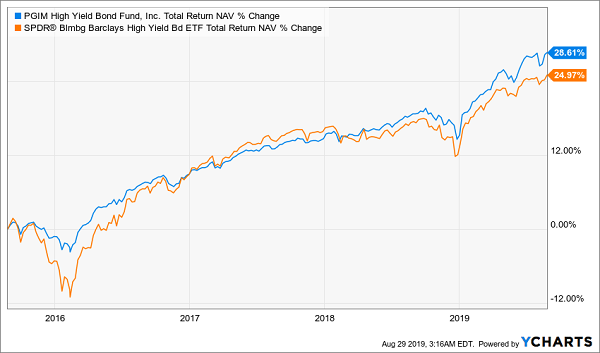 ISD Taps the Fed for Benchmark-Beating Returns

Not only did ISD investors get corporate-bond exposure, they also snagged bigger gains and bigger dividends than they would have with JNK, which only yields 5.6%. The result was a larger total return and a bigger income stream.
"Powell Pivot" Leads to a Strategy Shift—and More Gains
Then, in early 2019, ISD changed its name and its mandate. As the Fed made clear at the start of the year, the central bank would pivot from raising rates to cutting them. The first cut came in July, and the market is expecting another later this year, with the possibility of two or more over the next 12 months.
In response, ISD pulled a 180. In March of this year, Prudential announced that the fund would abandon its focus on short-term corporate bonds and become a broader high-yield bond fund. The reason is simple: in a market where interest rates are going down, long-term high-yield bonds tend to go up in value.
And ISD is taking advantage, riding its new strategy to market-beating returns, with much less volatility than stocks: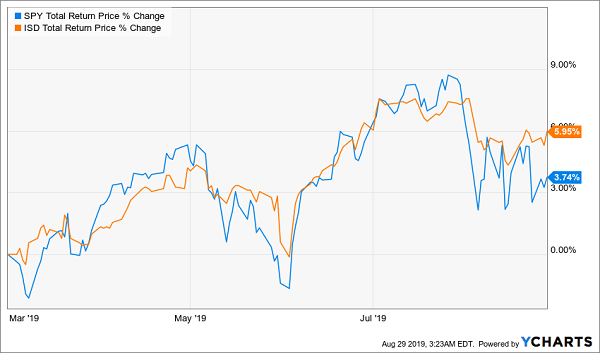 New Strategy Ignites ISD

About That 13% Discount …
By now you might be wondering about that 13% discount I mentioned earlier, and how it can exist on a fund that yields 8.8%, has hiked its payout twice in six months and is whipping the index.
Part of the reason is the market jitters of the past few months, which have helped push ISD's discount about as wide as it's been since the fund's new investment policy began:
A Buying Opportunity Appears

But that's not the only reason. Another one is the fund's small size.
As I said earlier, ISD only has $552 million in assets. That makes it too small for most big investors—the multi-billion-dollar hedge funds and investment banks—to take advantage of. The fund is just too tiny for them to make noticeable profits, and that's led to a lack of coverage of ISD. And that means plenty of folks have missed the big shift in the fund's mandate.
That inefficiency is an opportunity for CEF investors, because it won't last forever. While some CEFs can have their discounts last for years, well-performing and high-yielding funds like ISD will more often than not see investors rush in. That means grabbing a position now will likely pay off handsomely in gains, dividends and payout hikes in short order.
4 More Safe 8.7%+ Dividends (with 20% Upside) Waiting for You Here
Here's the best news: there are dozens more smaller CEFs that, like ISD, offer fast-growing dividends and smooth, steady gains.
But because small CEFs get so little coverage, hardly anyone knows! (Though in today's world, where Treasuries yield less than 1.6%, more folks are starting to catch on.)
That makes now a great time to buy ISD, but there's no reason to stop there when there are so many more high—and growing—dividends available. Like the 4 CEFs I'll share with you right here. They pay 8.7% dividends as I write, their payouts are growing and, yes, these "stealth" funds are terrific bargains!
So much so that I'm calling for 20%+ price upside from each of them in the next 12 months.
The 4th fund on my list is a great example: it yields an incredible 10.7% and, like ISD, its payout is growing—up 150% in the past decade!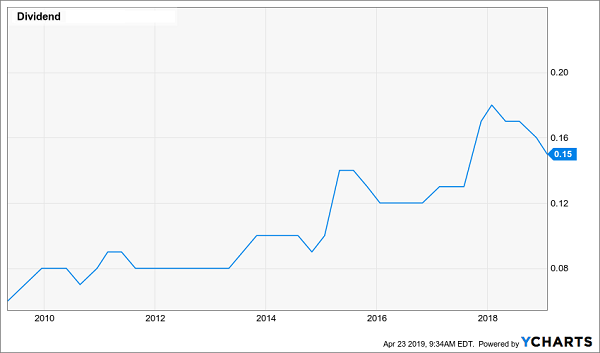 A Rare 10.7% Dividend That Soars

More folks are starting to catch on—which is why this fund has clobbered the market so far in 2019: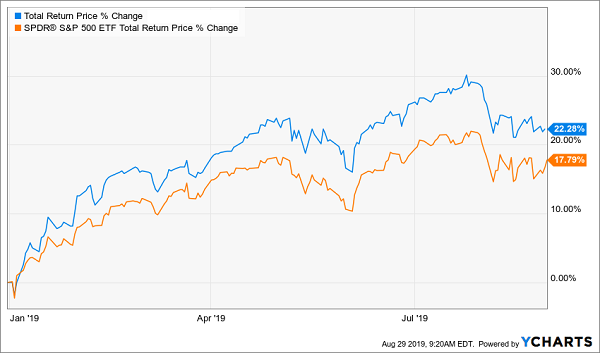 Income-Starved Hordes Pile In

The funny thing is, even though this fund should be trading at a big premium, you can still grab it at a discount! And with interest rates headed lower (making its huge payout even more appealing), its gains are just getting started.
But even if I'm wrong and it just trades flat from here, you're still beating the market's average yearly return in dividends alone, thanks to this fund's outsized 10.7% dividend yield!
If that's not the definition of a win-win, I don't know what is.
Full details on all 4 of these income (and growth) powerhouses are waiting for you now, and, as with ISD, this is the very best time to buy them.
Michael Foster has just uncovered 4 funds that tick off ALL his boxes for the perfect investment: a 7.4% average payout, steady dividend growth and 20%+ price upside. — but that won't last long! Grab a piece of the action now, before the market comes to its senses.
CLICK HERE and he'll tell you all about his top 4 high-yield picks.