[stock_ticker symbols="AAPL" show="symbol" static="true"]
When interest rates start to go up, investors worry about the value of their higher yield dividend stocks. A defense against higher interest rates is to own dividend stocks that will grow the dividend payments. The secret is to know which stocks will make a higher dividend announcement before the rest of the market finds out.
Many real estate investment trusts (REITs) pay attractive current yields and regularly increase their dividend rates. I maintain a database of about 140 REITs, out of which about 100 have histories of dividend growth. Most of these companies increase the quarterly dividend once a year, and then pay the new rate for the next four quarters. Even though individual REITs increase their dividends once a year, those announcements are spread across almost every month of the year. To capture those share price gains, you want to buy shares a few weeks to a month before the next dividend announcement is published. Now in mid-July, it is a great time to look at those REITs that should increase dividends in August. Here are four REITs from my database that historically have boosted their payouts in August.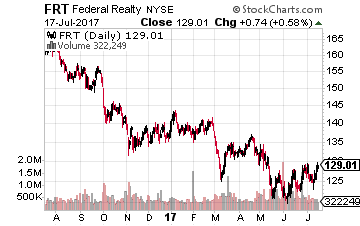 Federal Realty Investment Trust (NYSE:FRT) is a $9 billion market cap REIT that owns, operates, and redevelops high quality retail real estate in the country's best markets. FRT has increased its dividend for 49 consecutive years, the longest growth streak of any REIT. Over the last 10 years, the average annual dividend increase has been about 5%. Last year the dividend was increased by 4.3%. Based on management guidance, an increase close to the 5% annual average is in the cards for this year. The company announces its new dividend rate in early August. The ex-dividend date will be in mid-September with payment about a week later. The FRT share price is down by 22% over the last year. This is a very high-quality REIT currently on sale. The stock yields 3.1%.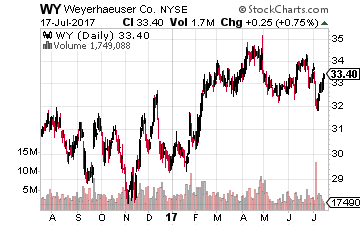 Timberlands owner and wood products producer Weyerhaeuser Co (NYSE:WY) converted to REIT status in 2010. Since then the company has more than doubled its quarterly dividend rate. However, last year, the company did not increase the dividend. Weyerhaeuser completed a merger with Plum Creek Timber in February 2016, so it's likely that the consolidation costs kept the company from announcing a higher dividend. Business results are off to a very strong start in 2017 compared to 2016. This points to a resumption of dividend growth this year. Historically, Weyerhaeuser announces a new dividend rate in the second half of August, with payment dates in September or November. The next dividend declaration date is August 24th with the next payment dates on September 22nd and December 15th. WY yields 3.7%.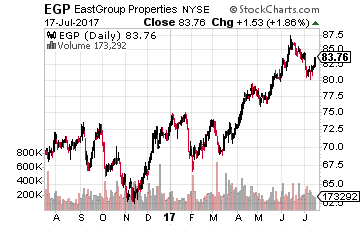 Eastgroup Properties Inc (NYSE:EGP) is a $2.8 billion market value REIT that focuses on development, acquisition and operation of industrial properties in major Sunbelt markets throughout the United States with an emphasis on the states of Florida, Texas, Arizona, California and North Carolina. The industrial properties segment is currently one of the best performing real estate sectors. The company has increased its dividend for 21 of the last 24 years, including the last five in a row. Last year the payout was increased by 3.3%. This year my forecast is for a 5% to 7% increase. The new dividend rate should be announced in late August or early September, with a mid-September ex-dividend date and end of the month payment date. EGP yields 3.0%.
Bonus Stock to Watch in Early August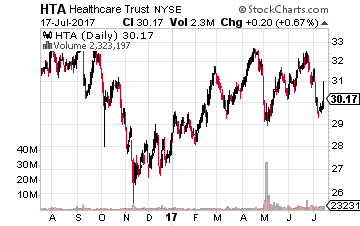 Healthcare Trust of America, Inc. (NYSE: HTA) is a $5.8 billion REIT that acquires, owns and operates medical office buildings. The company reduced its dividend in 2012 and 2013, which was followed by small increases in each of the next three years. Last year the dividend was bumped up by 1.7%, double the increase of the previous year. In 2016, the funds available for distribution per share increased by 12%, and for the 2016 first quarter, FAD per share was up 8.8% compared to a year earlier. Management has been very conservative with the dividend growth, but this year's dividend increase may be significantly greater than the change of the past two years. Last year the new dividend rate was announced in early August, with an end of September ex-dividend date and early October payment date.
Turning your retirement savings into a consistent stream of income is no easy task. You might spend hours researching what stocks to buy, only to end up with three seemingly attractive stocks like the three above.
[FREE REPORT] Options Income Blueprint: 3 Proven Strategies to Earn More Cash Today
Discover how to grab $577 to $2,175 every 7 days even if you have a small brokerage account or little experience... And it's as simple as using these 3 proven trading strategies for earning extra cash. They're revealed in my new ebook,
Options Income Blueprint: 3 Proven Strategies to Earn Extra Cash Today.
You can get it right now absolutely FREE.
Click here right now for your free copy and to start pulling in up to $2,175 in extra income every week.