The Thanksgiving weekend marks the official start to the Christmas buying season. There is Black Friday on the day after and now Cyber Monday on the following Monday. The Black Friday to Cyber Monday weekend is one of the biggest shopping events of the year and each year online sales take a larger portion of the take. According to Forbes in 2016, online sales for the weekend increased by 16.4%. Also, according to a Forbes article, this year total retail Thanksgiving weekend sales are forecast to increase by 47% with online sales grabbing a 40% share.
The point to remember is that when a shopper buys something online, the Internet does not magically delivery it to the buyer's home. There is an extensive infrastructure network that makes sure an online sale is filled and delivered. There is a chain of types of commercial real estate involved from the time an online order to buy is placed until that item is delivered to the buyer.
If you are like me, you might have trouble with buying shares of Amazon.com, Inc. (Nasdaq: AMZN), which trades at a P/E of near 300 and the company's business model seems focused on how low they can cut profit margins to steal no-profit sales from other retailers.
An alternative way to invest and profit from Amazon and the growth in online sales is to own shares of the real estate investment trusts (REITs) that provide the warehouse space needed to fill and deliver online orders. These REITs can grow right along with the growth in online sales regardless of who is doing the selling. The difference is they can do it profitably, pay attractive dividends to investors and grow those dividends over time. Here are three REITs that directly benefit from the growth in online retail sales.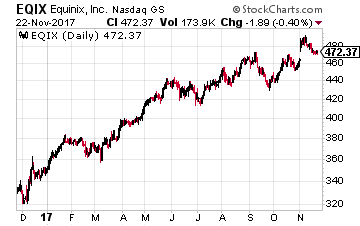 Equinix, Inc. (Nasdaq: EQIX) owns and leases spaces in the datacenter properties it owns. The company has a global footprint with 180 data centers located on every populated continent. Equinix converted to REIT status in late 2014 and started paying dividends for the first quarter of 2015.
Growth is derived from the need for more Internet communications and data computing power. This is directly tied to the growth in online retail sales. Free cash flow reported as funds from operations (FFO) and the dividend are expected to grow at a low teens rate.
Data center and growth focused REIT expert Bill Stoller rates EQIX as his highest conviction REIT for 2018. The stock currently yields 1.7%.
Related: 5 REITs Raising Dividends in December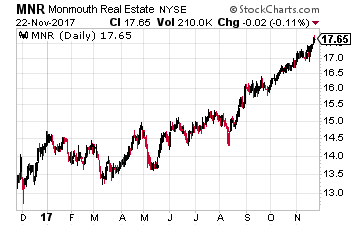 Monmouth Real Estate Investment Corp (NYSE: MNR) is an industrial property REIT that owns 108 warehouse and logistics properties. Monmouth is unique in that 54.5% of its revenue comes from lease contracts with leases from FedEx Ground, FedEx Express, and FedEx Supply Chain Services. To be blunter, Monmouth Real Estate is a significant landlord for FedEx. FedEx has evolved into a dominant logistics company including delivery of online sales purchases. Monmouth's industrial properties are "mission critical" for the processing and delivery of online retail sales. The company recently boosted its quarterly dividend by 6.25%. The stock yields 3.9%.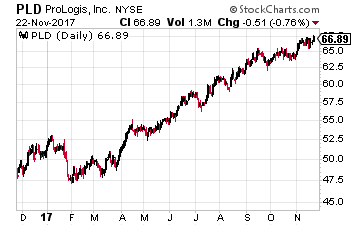 With a $35 billion market cap, Prologis Inc (NYSE: PLD) is the largest industrial REIT. The company is the world's leading owner, operator and developer of logistics real estate. It is likely that almost every product sold by online retailers passes once or more through a Prologis owned property.
The company forecasts a 162% projected growth of e-commerce sales from 2015-2020. Company presentations point out that e-commerce business requires approximately three times the warehouse floor space compared to brick and mortar retailers. Online sales do not have stores, but they still require a lot of commercial real estate space to operate their businesses. The difference is that space is in industrial warehouses instead of stores.
For Prologis, the growth in e-commerce and the other logistics businesses it supports with allow the company to growth profits, FFO and dividends at a low mid-teens growth rate. The stock yields 2.6%.
Get up to 14 dividend paychecks per month from safe, reliable stocks with The Monthly Dividend Paycheck Calendar, an easy-to-use system that shows you which dividend stocks to pick, when to buy them, when you get paid your dividends, and how much.  All you have to do is buy the stocks you like and tell them where to send your dividend payments.
For more information Click Here.
Source:
Investors Alley