There was a real race going on at this year's annual mid-September Frankfurt Motor Show in Germany. Not an actual race, of course. But a race among automakers' executives to see who could promise the greatest number of future electric vehicles.
This makes sense as government policymakers around the world push hard for a move away from combustion engine cars and toward battery-powered electric vehicles. France and the U.K. have a 2040 target to have that changeover happen. Norway's target is 2030.
And as I recently highlighted in a recent article, China – home to one-third of the world's car market – is also working on a timetable to end completely the sales of fossil-fuel-based vehicles. Its largest electric vehicle maker, BYD (OTC: BYDYY), is urging the government to set a target date of 2030.
The sentiment among auto company executives toward electric vehicles has certainly changed from nine years ago. That was when the first Roadster from Tesla Motors (Nasdaq: TSLA) went on sale. Before that, the only major automaker that was serious about electric cars was Japan's Mitsubishi Motors (OTC: MMTPF).
Related: 3 Electric Car Stocks to Crush Elon Musk and Tesla
Profits Anyone?
While some U.S. investors act as if Tesla is the only company that will be making electric vehicles, the sector is rapidly becoming very crowded. Auto companies from Europe to Japan and Korea to our domestic automakers – General Motors (NYSE: GM), Ford Motors (NYSE: F) and Chrysler Fiat Automobiles NV (NYSE: FCAU) – are all piling into selling battery-powered vehicles to the public.
This raises a big question for investors in the sector — will the automakers have to sacrifice margins and possibly even profitability in this race to, as the CEO of German carmaker BMW (OTC: BMWYY) Harold Krüger called it, "electric mobility."
The CEO of Japan's Honda Motor (NYSE: HMC), Takahiro Hachigō, spoke bluntly to the Financial Times about what everyone is the sector is facing at the moment, "Until we reach certain volume, the profitability will not be as great [as compared to conventional vehicles]."
In many cases, profit margins at automakers are already stretched. Margins will only worsen in this transition period to electric vehicles as investments into research and development rise and component costs do as well. All the while electric vehicle sales are still not at the profitability tipping point.
Even ignoring money-burning Tesla, other vehicle manufacturers are feeling the jolt from the move toward electric vehicles. Germany's Daimler AG (OTC: DDAIY) said its margins could fall by two percentage points (despite a cost-cutting program) thanks to the costs associated with getting batteries and redesigning cars. One such cost is the $1 billion Daimler plans to invest in its Alabama plant to produce electric cars in the U.S.
Turning our attention to domestic automakers, analysts at BCA Research estimate that GM loses about $9,000 for every Chevy Bolt it sells. In order to get the "average" corporate profitability from the Bolt, BCA says General Motors would have to raise the price on each car by $26,900. Obviously, GM isn't going to do that.
Much of the added costs for electric vehicles comes from the battery. And a lot of this cost comes from the necessary metals and minerals that make the battery work.
The 'Picks & Shovel' Winners
The good news for the automakers is that battery costs are falling. But instead of buying a car company, you should take a look at investing into the makers of electronic components that will go into future electric vehicles.
At that very same Frankfurt Motor Show, the ebullience of the auto components makers was evident. They were kids in a candy store. It's easy to see why. . .
Right now, the vehicle manufacturers control design, and nearly every other important aspect of vehicle production. But that is slipping away from them as the wave of the future is more electrical systems and electronics and not mechanical systems.
Estimates are that 50% to 70% of the value of a car will lie in those electronic components, which the automakers purchase from other companies. Companies, ironically enough, that U.S. carmakers spun off years ago because they were thought to be low-margin businesses.
However, as with all investments, you have to pick and choose among the companies in the sector. Some auto parts companies still have their hand in the sand, saying that the changeover to an electric car future may never happen.
Here are three stocks for you to consider where management 'gets it'.
Stock #1 – Delphi Automotive PLC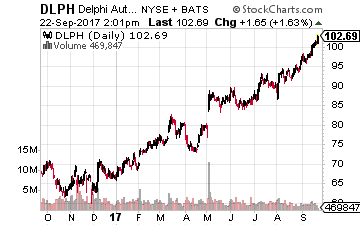 At the top of the list is a company that was once part of General Motors (NYSE: GM), Delphi Automotive PLC (NYSE: DLPH).  The spinoff was completed in 1999, as sadly, GM management listened to Wall Street advice about streamlining operations by getting rid of a business "going nowhere."  
But now, it's Delphi that's in the fast lane. That will be even more true once it completes its own spinoff – of the powertrain business – that will be completed in March 2018.
The spinoff will allow Delphi to focus the remainder of itself (about ¾ of the current company) on self-driving, connected and electric cars. Delphi is heavily involved in components for hybrid vehicles and its $12 billion advanced electronics business is the company's top revenue generator.
The reason behind the split was given by CEO Kevin Clark: "The pace of change in our industry is accelerating." That move has pleased shareholders, adding about 28% on to the value of its stock, putting it up 50% year-to-date. Delphi is moving right along with that "pace of change" in the industry.
The company continues to innovate in all sorts of new vehicle technologies. . . . .
It teamed up with Frances' Transdev on operating Europe's first self-driving vehicle service and with BMW (OTC:BMWYY) on developing a self-driving car. It also partnered with Israel's Innoviz Technologies on providing high-performance LiDAR solutions for autonomous vehicles and with Blackberry (Nasdaq: BBRY) on an autonomous driving operating system platform.
Stock #2 – Visteon Corporation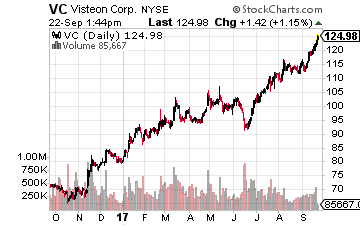 The next company to consider was also a spinoff – this time from Ford in 2000 – Visteon (NYSE: VC). The reasons were similar to those of General Motors.
Visteon designs and manufactures electronics products for automakers. Visteon provides everything from standard gauges to high resolution, reconfigurable digital 2D and 3D displays to infotainment and audio systems.
It is turning out to be a big winner as the automakers and Silicon Valley battle to see who will control the cockpit electronics inside your vehicle. Visteon is agnostic and winning sales from carmakers whether they are using their own systems or those of some tech company's systems.
The vehicle display market is expected to reach $21 billion by 2022 and Visteon is sitting in the catbird seat. It already has a record $17.3 billion order backlog. That trend should keep the stock motoring ahead, adding to the more than 51% year-to-date gain.
Stock #3 – Autoliv Inc.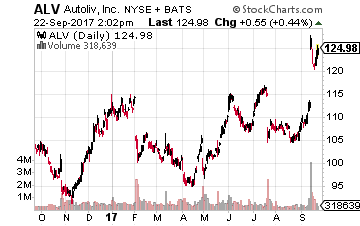 The third company has been a relative laggard, with its stock only up about 8.5% so far in 2017, the Swedish auto parts giant Autoliv (NYSE: ALV). Most of that upward movement in the stock price happened after a recent announcement.
Its management said it is currently considering whether to follow the path taken by Delphi and splitting itself in two, separating its fast-growing electronics business from the parts of the company that makes things like seat belts and air bags.
Autoliv's electronics components business consists of things like radars used in autonomous vehicles and positioning systems. It expects the market for electronic safety products to more than double over the next several years, from $20 billion this year to $40 billion in 2025. Autoliv management is targeting $3 billion in such sales in 2020, up from $2.216 billion in 2016.
So there you have it – a choice between fast-growing auto parts companies or automakers that will struggle to remain profitable.
Source: Investors Alley