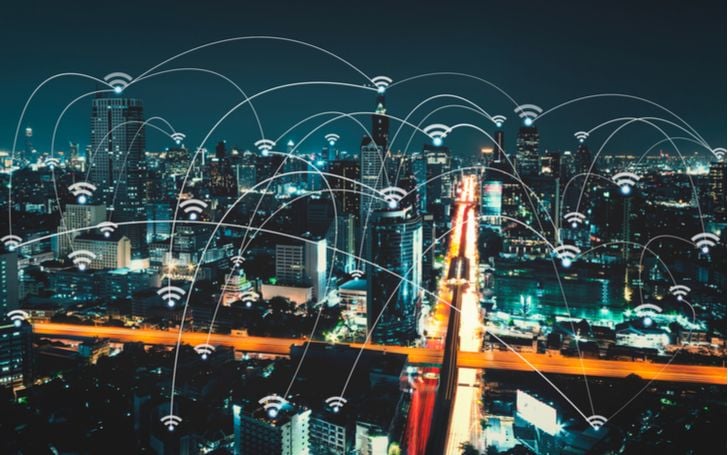 Looking over the last two to five years, the best wireless stock name jumps right out.
It's T-Mobile US (NASDAQ:TMUS). The company has continued to grab marketshare with its "Un-carrier" ads and CEO John Legere ditching his suit to dress like an aging hippie. But the game is changing. Since bidding to buy Sprint (NYSE:S), the two stocks have moved in near lock-step.
But more importantly, there's 5G to consider. The next mobile technology, which will make frequencies as high as 28 GHz usable by carriers, and offer speeds equivalent to wired broadband, will also cost billions of dollars to implement.
So which are the best wireless stocks to buy for the 5G rollout?
5G Wireless Stocks to Buy: T-Mobile Sprint
T-Mobile should still be on your list of mobile stocks to buy, especially if they win approval of the Sprint deal, which is not yet certain. Over the last three months the performance difference between the two stocks has widened again, as uncertainty over the merger's future has grown.
The uncertainty is thanks to the Administration's on-again, off-again merger policy, which still seeks to keep AT&T (NYSE:T) from buying Time Warner (even after it has done so), is stopping all Chinese money at the border, and appears inconsistent to critics.
T-Mobile says it's already deploying 5G, across all the spectrum it owns, and that the merger will increase competition  because the combined company will be as big as AT&T and Verizon Communications (NYSE:VZ).
Sprint has claimed its 5G plans will deliver speeds 15 times greater than present 4G technology. The company believes new 128-radio Massive Input Massive Output (MIMO) gear will get it to market faster than competitors, using existing 2.5 GHz spectrum, targeting service next year. The merger with T-Mobile should help Sprint keep these promises.
5G Wireless Stocks to Buy: AT&T
I own AT&T. I've been disappointed with the stock, but it remains a good investment for you because it's dirt cheap.
The company's 50 cent per share quarterly dividend now yields over 6%, it has a price to earnings multiple of 6.4, and it has earnings to cover that dividend. The struggle with the Justice Department over Time Warner will eventually end, the balance sheet shows it has assets to afford 5G deployment, and it is already rolling out the technology in major markets.
The 5G data signals run so quickly that fiber is often needed for backhaul to get the full effect, and the company has been rolling out fiber for years.  Its purchase of FiberTower was controversial… because it might give AT&T an unfair advantage when it comes to 5G rollout frequency.
AT&T dominated 4G and is ready for 5G.
5G Wireless Stocks to Buy: Google
Your best bet for 5G profits is a speculative surprise.
It's Alphabet (NASDAQ:GOOGL), also known as Google.
Google laid fiber cable behind my house a few years ago but didn't light it because the per-house cost of running the wire was prohibitive.
With 5G, that problem goes away. Google says it wants more frequencies to be shared, the way WiFi is shared, and thinks sales of spectrum slow innovation, but the government still plans to start auctioning 24 GHz and 28 GHz spectrum in November, and Google is the only potential bidder with a crying need.
High frequency spectrum would let Google deliver its Fiber service to consumers with radios, rather than running wires, and make that profitable. Gaining spectrum wouldn't just let it deliver fixed broadband but make it a true wireless carrier.  No wireless company can compete with Google's balance sheet, with $4 billion in debt on nearly $200 billion in assets.
I had shares of Google, but got out when it crossed $1,000, and that was a mistake. Google's price to earnings multiple of 52 makes is super-expensive right now, but the next stock market correction is likely to hit it hard, and when it does I'll be a buyer.
Get up to 14 dividend paychecks per month from safe, reliable stocks with The Monthly Dividend Paycheck Calendar, an easy-to-use system that shows you which dividend stocks to pick, when to buy them, when you get paid your dividends, and how much.  All you have to do is buy the stocks you like and tell them where to send your dividend payments.
For more information Click Here.
Source:
Investor Place