My 36 Month Accelerated Income Plan is a guide for individuals who see retirement looming in a few short years and who want to build up their retirement savings as much as possible. The plan provides a systematic approach that can be started at any time and does not require timing the market. A recent subscriber question about picking three stocks to start her 36 Month Accelerated Income Plan was the catalyst for this article.
The plan is based on using dividend reinvestment of high yield stocks. After a decade of very low interest rates from most types of income assets, the investing world has lost touch with the power of compound growth when the yields are high enough. The 36 Month Accelerated Income Plan uses high yield stocks and automatic reinvestment of dividends to quickly grow the income potential of money you have set aside for income in your retirement years.
One example used in the 36 Month Accelerated Income Plan shows how a $150,000 starting amount could be producing a monthly income of $3,300 after just three years. That's $39,600 in annual income. Here are some of the success factors that you need to keep in mind and employ.
Higher yield is better. Compound growth is powered by yield. For example, $10,000 compounds to $11,600 in three years at 5%. It grows to $13,450 at 10%, a 115% gain in growth.
The dividend payments from the selected stocks must be expected to continue for the three years and longer. This is the hard part of the strategy, and you may need to change stocks if individual company business results change.
The plan focuses on compounding the income stream, not the account value. This means that temporary share price drops are a good thing, allowing you to buy more shares with the reinvested dividends when share prices are down, boosting your income at an even rate.
The focus will be on the dividend income growth, which will become retirement income in the future. That income will compound even faster than your account value will grow.
You can boost your retirement results by making regular added investments to your high-yield stock holdings.
To help you get started, here are three stocks with yields greater than 10% and a current positive outlook that the dividend rates will continue.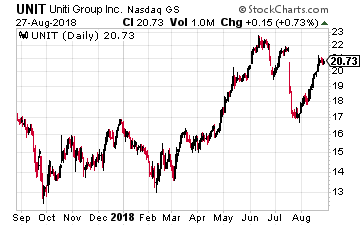 Uniti Group Inc. (Nasdaq: UNIT) is a real estate investment trust (REIT) that owns telecommunications network assets. The company was spun-off by Windstream (Nasdaq: WIN) in 2015 to own a large portion of WIN's fiber and copper wireline network.
Since its IPO, UNIT has grown through the acquisition of additional fiber networks and cell tower assets. Controversy around how Windstream spun-out UNIT has lead to the current low share price/high yield of UNIT. Those problems should not affect UNIT and the current dividend rate is well covered by distributable cash flow.
The shares currently yield 11.6%.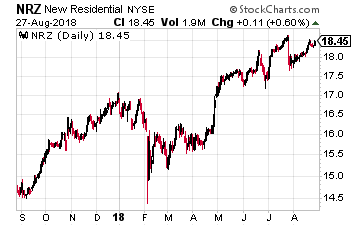 New Residential Investment Corp. (NYSE: NRZ) is a finance REIT that owns a diversified portfolio of residential mortgage related assets. This has been one of the great high-yield investments of the last five years.
The company invests at the edges of the mortgage business including mortgage servicing rights and mortgage backed securities call rights.
Over the last few years, New Residential has expanded its ability to become a full service mortgage origination and servicing companies. These new capabilities have not yet made a meaningful difference to the business results, but they will.
The NRZ dividend has grown slowly and steadily. The stock currently yields 10.9%.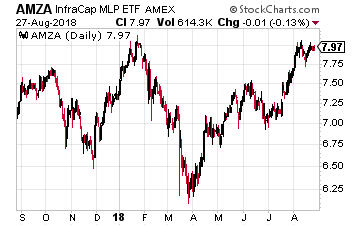 The InfraCap MLP ETF (NYSE: AMZA) is an exchange traded fund (ETF) that owns an actively managed portfolio of master limited partnerships (MLPs). The MLP sector is comprised of publicly traded partnerships that provide energy infrastructure services such as pipeline, storage terminals, export facilities and processing services.
AMZA boosts the already high yields of the MLP sector by selling call options on the fund's portfolio holdings. The returns of AMZA have been comparable to other MLP focused funds. Admittedly, the sector has been in a bear market since early 2016 and is just recently started to recovery. The options selling supported high yield boosts the effect of dividend reinvestment with this fund, leading to outperformance when using a reinvestment strategy.
AMZA currently yields 16%.
Pay Your Bills for LIFE with These Dividend Stocks
Get your hands on my most comprehensive, step-by-step dividend plan yet. In just a few minutes, you will have a 36-month road map that could generate $4,804 (or more!) per month for life. It's the perfect supplement to Social Security and works even if the stock market tanks. Over 6,500 retirement investors have already followed the recommendations I've laid out.
Click here for complete details to start your plan today
.