As investment strategist at CEF Insider, it's my job to tip you off to the best closed-end funds (CEFs) out there. But it's also my job to steer you away from those that are, well, terrible.
So today we're going to zero in on four CEFs whose massive dividends (up to 12.7%!) might tempt you to buy. But doing so will lock you into an ever-shrinking income stream while the share price crumbles beneath your feet.
The first red flag? All four of these funds are from Wells Fargo (WFC), a bank that's been at the center of various scandals for years now, starting with the 2016 fake-account fraud that took down Wells' CEO at the time.
Wells' Woeful Venture Into CEFs
Don't be surprised if you haven't heard that Wells offers CEFs; it does so through its tiny Wells Fargo Asset Management business. Its CEFs are the Wells Fargo Income Opportunities Fund (EAD), the Wells Fargo Multi-Sector Income Fund (ERC), the Wells Fargo Utilities & High Income Fund (ERH) and the Wells Fargo Global Dividend Opportunity Fund (EOD).
You should never buy any of these funds, despite their enticing yields: EOD pays a monster 12.7%, for example, with ERC's payout clocking in at 10.9%. (EAD and ERH yield 9.6% and 7.5%, respectively.)
Don't be tempted—because these seemingly attractive payouts are warning signs.
The Dividend Trap
While many CEFs have great, sustainable payouts upwards of 7%, in the case of all four of Wells's funds, high yields are masking awful news. To see what I mean, look at this chart:
Payouts in a Death Spiral

Since the recession, all of these funds' payouts have fallen, with only ERC's dividend (in orange) showing any signs of not going down the tubes. But if you're thinking of buying ERC for its 10.9% income stream, don't bother.
Massive Underperformance
One of the reasons I like some CEFs is that they've crushed the "dumb" index funds over a long period. ERC, however, is not one of these stout performers.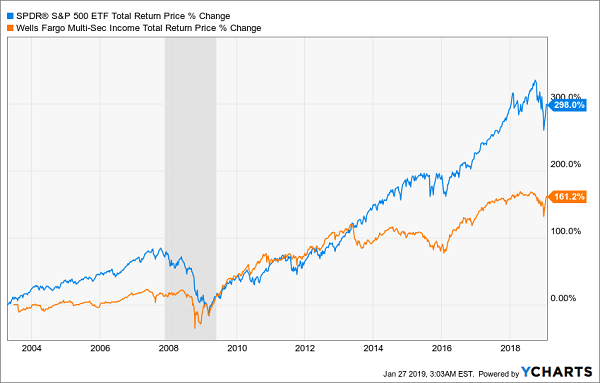 Lagging the Index

Since inception, ERC has returned slightly more than half of what the SPDR S&P 500 ETF (SPY), a low-cost index fund that simply tracks the S&P 500, would have given you. And ERC has underperformed almost all of its CEF peers in this time.
And this is the best CEF Wells can offer!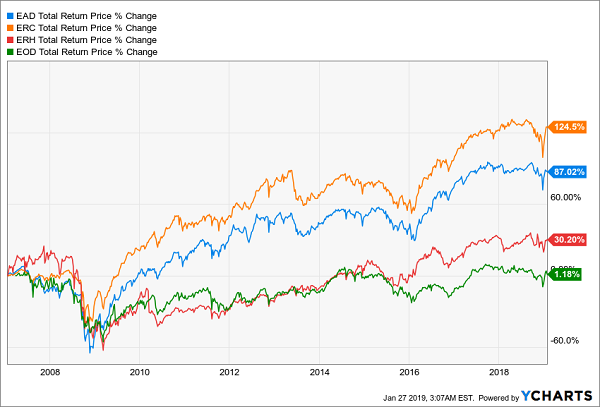 All Laggards

As you can see, not one of Wells Fargo's funds has managed to beat the fund that couldn't match the S&P 500. And EOD just recently went from a loss to a measly 1.2% return in total over the last decade! Such obscene underperformance doesn't deserve anyone's money. And it definitely doesn't deserve any fees.
High Fees—But for What?
All of Wells Fargo's CEFs charge fees, of course, but the scandalous thing is how high those fees are, particularly compared to SPY (which outperformed all of them, let's remember).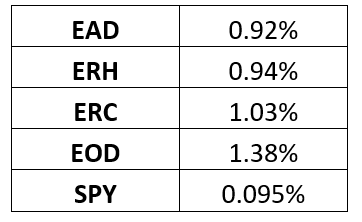 At the cheapest, EAD's fees are 9.7 times higher than those of SPY, while EOD's are over 14 times higher. I'm not averse to paying higher fees if they mean better performance—but not only do these funds lag SPY, they lag many other funds that invest in the same type of assets.
The Amazing Shrinking Funds
With that in mind, you should avoid these funds for another reason: as they shrink, Wells Fargo will have less motivation to properly oversee them, and you only have to look at the headlines to see what can happen when the bank takes its eye off the ball.
The following chart shows the net asset value of each of these funds, or the total value of each CEF's portfolio: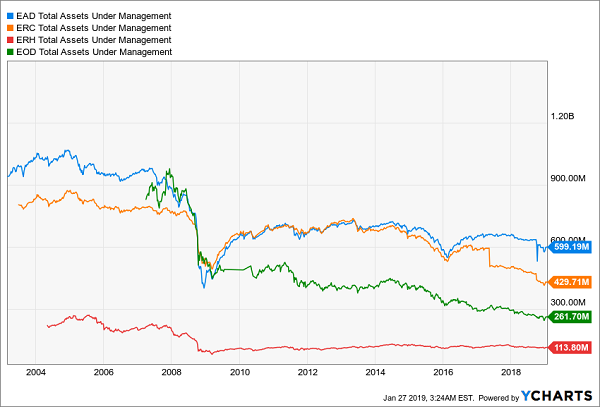 Wells' CEF Assets Evaporate

The $1 billion EAD once had has shrunk to less than $600 million, with no end in sight, while all of Wells Fargo's other CEFs continue to shrink. As these funds become a smaller part of Wells Fargo, whose net income was over $20 billion for 2018, the bank could wind end up shutting them down—only after their value and income streams have further melted away.
Your 2019 Action Plan: Beat Wall Street With These 5 Safe 8% Dividends
I don't know about you, but I'm sick of big Wall Street names like Wells locking in billions in profits while offering us subpar investments like these four funds.
It's an outrage! Especially when you consider that Wells could easily afford to hire top talent to run these CEFs and deliver a proper return to their investors.
The worst part is that dud funds like these mask the fact that there are many amazing CEFs out there throwing off safe 8%+ cash dividends.
Better yet, many of these top-quality funds are trading at incredible discounts right now, thanks to the recent selloff.
But you won't hear from them from your advisor—and especially not from big banks like Wells, which are 100% focused on selling their own products, which all too often are unacceptable funds like the ones I just showed you.
Source: Contrarian Outlook