For the most part, initial public offerings are a sucker's game.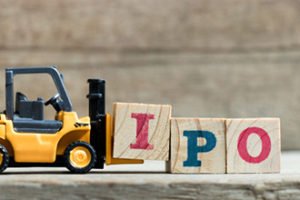 IPOs, especially for name-brand tech companies, generate lots of hype. And even if the company is solid, it often can't justify its debut stock price – let alone any surges in its first few days on the market.
But that doesn't mean you can't get in on some of the most exciting upcoming IPOs – like Uber, Lyft, Slack, Pinterest, or Airbnb – and still limit your risk.
In fact, we've got a pick today that gives you some of the hottest IPOs while taking all the guesswork (and grunt work) out of trying to pick winners.
Plus, we'll also give you the opportunity to grab multiple upcoming IPO picks in a red-hot industry that are ready to hit the market in 2019. Each of these is capable of unleashing millions of dollars into the market, so you won't want to miss these opportunities.
But first up, one of best ways to approach the IPO market – especially if you don't have the time or patience to research every new offering individually – is through a well-managed ETF.
Well-managed doesn't just mean selecting the most promising public offerings. It also means holding onto the ones that still have room to grow. That way you both minimize your risk and maximize your gains.
That's why we like one particular ETF that gives you access to the broad IPO market while blending both new offerings and older ones.
Have 28 Seconds? You could make $2,353 – and you won't need to buy a single share of stock up front to collect this cash, or spend a nickel on anything. Click here to learn more…
And before you worry that an ETF is going to dilute your gains too much, keep in mind that this pick has beaten the S&P 500 by more than 50% over the last two years.
So if you've always wanted to get into the IPO game but were (rightly) concerned about volatility and overhyped offerings, this is your ticket to cutting edge of the stock market.
And you can get there without sweating endlessly over a new offering's financials…
Your Quickest, Easiest Entry Point into Venture Capitalism
First Trust US Equity Opportunities ETF Fund (NYSE: FPX) is an ETF with roughly 100 holdings. These include some of the biggest companies to go public in the last few years. They include Match Group Inc. (NASDAQ: MTCH), Coupa Software Inc. (NASDAQ: COUP), and Wayfair Inc. (NYSE: W).
Because most of the stocks in FPX only make up about 1% each of the portfolio, no one stock is going to sink the fund. And First Trust balances out those young startups with some big names that have been around for a while, like Hewlett Packard Enterprise Co. (NYSE: HPE), Tyson Foods Inc. (NYSE: TSN), and Kraft Heinz Co. (NASDAQ: KHC), which provide an extra layer of protection.
The principle in play here is that it's foolish to invest in IPOs and then drop them once they're no longer new. So FPX holds on to select stocks for the long haul. That way the fund doesn't get burned by selling stocks before the initial volatility has settled down.
Just Revealed: The Secret to Potentially Growing Incredibly Wealthy Buying Straight-Up Stocks
One great feature of FPX is how diversified it is. It's not just grabbing tech stocks – though there are certainly plenty of them – but includes offerings across the finance, auto, retail, and energy industries.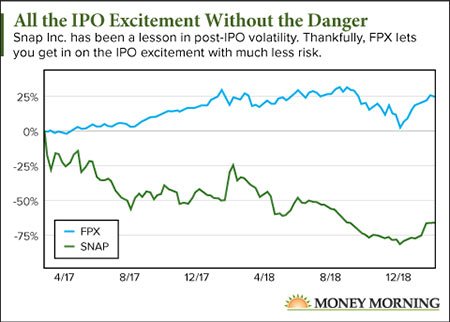 And because the fund's managers are researching every IPO before they decide to include it in the fund, you can rest assured that your money isn't going into every overhyped offering that hits the market.
Let's take a look at some of the winners this fund has chosen over the years…
That said, if you want to up your game and grab a potential rocket stock on the IPO market, we've got an opportunity – a whole series of opportunities, in fact – you won't want to miss.
Source: Money Morning