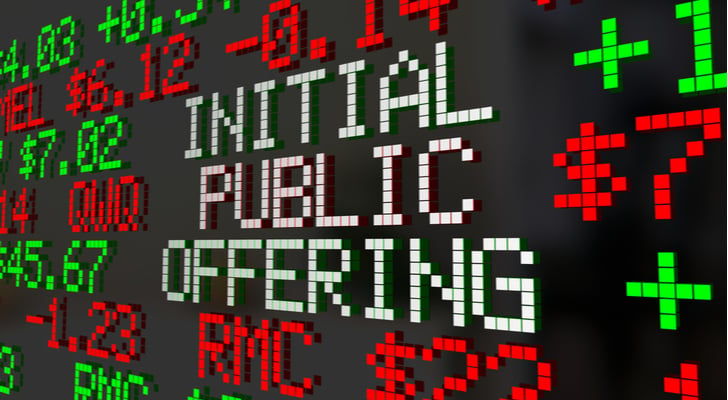 You can't buy them … at least not yet. Possibly soon, however.
What's that? Initial public offerings that are in the works, but not quite yet ready for the market. There's an interesting list of names investors have been eyeing for a while now, waiting for the day they'd complete their respective IPOs and become publicly traded entities.
Yes, this list includes outfits like the oft-ballyhooed ride-sharing service Uber, though it also includes organizations like the more obscure Acquia, which provides cloud-based business software. Just like their already-trading brethren, there's a little bit of everything in the next round of public offerings.
That being said, seven of these potential publicly traded stocks are more interesting than the rest. Here's a preview of those companies, should they actually go through with their suggested IPO plans.
In no particular order…
Hot IPOs to Come: Uber
Truth be told, a bunch of investors are surprised ride-hailing organization Uber hasn't gone public yet; the idea has been floating around for a couple of years now.
On the other hand, in light of the company's public stumbles of late, perhaps Uber knows it would be a "tough sell" to prospective investors. Namely, now-former CEO Travis Kalanick was indirectly implicated in sexual harassment allegations, but was also at the helm at a time when the company hired drivers with criminal records.
For an organization that is not yet profitable (and which may never actually become profitable), asking investors for more funding now might not work very well this soon. Later this year or early next year, however, investors will likely have forgiven and forgotten.
Hot IPOs to Come: Ancestry.com
You know the company. Ancestry.com not only sells access to a platform that lets people track down their ancestors, but now also offers DNA testing that will help identify where an individual's ancestors came from, in terms of geography. It has been a hot business for a while now, and the market only continues to grow.
That's why the company almost went public in the latter half of last year, starting to talk with investment banks that would take care of the underwriting. At the proverbial eleventh hour, though, then-CEO Tim Sullivan stepped down, prompting the postponement of the initial public offering.
There's some speculation he resigned and the company delayed the IPO because growth was slowing; a corporation generally wants to seek funding while it's firing on all cylinders. Its former growth pace may well re-materialize before the end of the year.
Hot IPOs to Come: Pinterest
Conceptually speaking, the idea of a website that simply lets you collect digital images of things you're interested in and pin them to a virtual bulletin board seems silly. There are 175 million regular users of the Pinterest platform, however, that seem to have become addicted. More are added all the time.
What has not quite happened yet is the degree of monetization the organization was hoping for. It set a target of $500 million in revenue for last year, but when it came up short it reportedly prompted the company to postpone the public offering it had planned for 2018.
Those plans may be accelerated, however, if the hiring of the company's first-ever COO is any indication. Former Square Inc (NYSE:SQ) and Alphabet Inc (NASDAQ:GOOG, NASDAQ:GOOGL) executive Francoise Brougher may inject just the discipline Pinterest needs to get over its fiscal hurdles.
Hot IPOs to Come: BuzzFeed
BuzzFeed, the news (and sometimes not-so-newsy) website is near the top 200 visited sites in the world, and in the top 100 in the United States. That's enough to generate roughly $300 million in revenue last year, most of it coming from ad sales. In fact, the company was prepping an IPO last year for this year.
That work was halted, however, when BuzzFeed fell short of its 2017 revenue goal that would have made it an easier sell to investors. The idea didn't go away though. In fact, the Wall Street Journalreported in November "One person close to BuzzFeed said the performance reflects a more general malaise this year in ad-supported media businesses and isn't particular to the company."
In the meantime, note that revenue is actually still growing for the company, even if not as much as hoped.  If the web's traffic undertow perks up again, BuzzFeed is apt to strike while the proverbial iron is hot.

Hot IPOs to Come: Xiaomi
Ironically, though Xiaomi is probably the least familiar name of potential public offerings for U.S. investors to keep on their radar, it's arguably the most compelling growth prospect of the bunch.
Xiaomi is, among other things, a smartphone maker. Its wares are still a little bit tough to buy in the U.S., though that's slowly changing.
In the meantime, its phones, cameras, televisions and fitness bands are all become popular in China thanks to their high-quality at a low price. During the fourth quarter of last year, its share of the worldwide smartphone market nearly doubled from 3.6% to 6.9%.
That's still relatively small compared to the likes of the iPhone from Apple Inc. (NASDAQ:AAPL) and comparable smartphones from Samsung Electronics (OTCMKTS:SSNLF). Growth opportunities are relative though, and this young-ish Chinese company is starting to make waves that could bode well for an IPO many people say is coming this year.
Hot IPOs to Come: 23andMe
Even if you only watch a little bit of television, you know this company as well as you know Ancestry. 23andMe offers genetic testing that lets you identify you're cultural and geographic heritage.
It's not just a matter of satisfying curiosity though — 23andMe also offers an analysis of your DNA that will help determine your genetic predisposition to certain health problems. There's not always something that can be done to completely prevent those diseases and illnesses, but knowing is half the battle.
More important to investors, the whispers that the company is coming to a public-trading exchange near you are circulating again.
That hasn't always been the case. In September of last year the company raised $200 million in private funding, implying a company value of $1.5 billion. The usual next step, however, is a public offering that ultimately allows initial investors a chance to 'cash out' of their stake by creating a market of retail investors.

Hot IPOs to Come: Acquia
Last but not least, add Acquia to your IPO watchlist.
The average consumer/investor won't be familiar with it. Acquia offers a cloud-based platform that lets companies offload the headache of content management, app hosting and e-commerce.
It's not a bad business to be in, though it's a hyper-competitive one. That may be why it has not initiated a public offering yet — the company knows it has to decidedly differentiate itself, and its core website-building platform called Drupal is simply unpopular relative to the web's use of rival platform WordPress.
A relatively new CEO may be just the shake-up Acquia needs though. Michael Sullivan, who took the helm in November, has the right experience, and looks poised to turn the company into an outfit that's ready for the IPO that's been discussed as far back as 2015.
Buffett just went all-in on THIS new asset. Will you?
Buffett could see this new asset run 2,524% in 2018. And he's not the only one... Mark Cuban says "it's the most exciting thing I've ever seen." Mark Zuckerberg threw down $19 billion to get a piece... Bill Gates wagered $26 billion trying to control it...
What is it?
It's not gold, crypto or any mainstream investment. But these mega-billionaires have bet the farm it's about to be the most valuable asset on Earth. Wall Street and the financial media have no clue what's about to happen...And if you act fast, you could earn as much as 2,524% before the year is up.
Click here to find out what it is.

Source: Investor Place