The video gaming industry is extremely competitive, but can also be immensely profitable if a developer hits big on a certain game or franchise. Success stories in video games range from relatively simple mobile apps to massive projects with huge development costs.
Much like a movie, production costs for video games are mostly upfront. A popular game can scale very efficiently and generate very high margins. However, as I mentioned before, there's also a ton of competition in the space and relatively low barriers to entry.
Popularity of video games goes in phases, like many other aspects of pop culture. A certain game or type of game may capture the crowd's attention for a month or a year. Inevitably, copy cats of the most recent successful game or game type will start springing up. Some may even improve on the original concept, although many are just cash grabs.
The latest video game phenomenon is the so-called "battle royale" video game. This is a game where a set number of people (usually 100) are dropped onto an island with no gear. The players then have to run around and find weapons, shelter, etc. and it becomes a last man standing match. The popularity of this genre of game is at least in part because it's platform agnostic – that is, it's played about equally on game consoles, PCs, and even smartphones. (I've tried out a couple of the popular titles, and I have to admit, they are quite fun and engaging games.)
Here's the thing…
With the success of several new battle-royale games, it is no surprise that the heavyweights of the gaming industry have turned their attentions to developing new games in the genre. Most recently, Activision Blizzard (NASDAQ: ATVI) has announced its extremely popular Call of Duty series will have a battle-royale mode in the next edition of the game.
Call of Duty titles always sell well when they are released, and often break sales records whenever a new game comes out. Adding a battle-royale mode could move the needle even more significantly. Taking one of the industry's most popular titles and adding it to the most popular genre is obviously a strong move for ATVI.
The good news did not fall on deaf ears, as investors quickly jumped into ATVI stock. But, the real action was once again in the options market.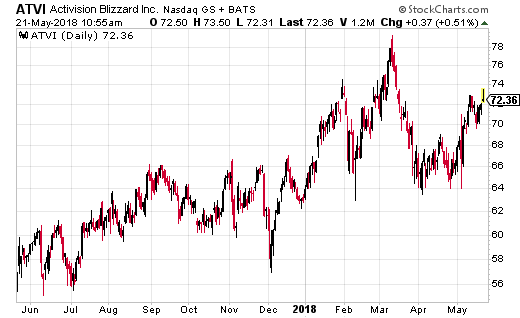 A size trader purchased 10,000 ATVI June 15th 75-77.5 call spreads for $0.44 with the stock at $71.40. The call spread involved the purchasing of the 75 calls while selling the same number of 77.5 calls. This strategy is done to reduce the cost of the trade, which subsequently reduces risk.
Total risk on this trade is simply the amount paid, or $440,000. Max gain on the other hand is $2.06 if ATVI goes to $77.50 or above by mid-June. In that case, the trade pulls in more than $2 million, or a flashy 468% in gains.
As you can guess, especially if you normally read my articles, this is the type of trade I love. It's low risk, high upside, and has a solid thesis behind it. Needless to say, I would definitely recommend this trade if you believe the company is going to have yet another huge hit on its hands with the next Call of Duty game.
[FREE REPORT] Options Income Blueprint: 3 Proven Strategies to Earn More Cash Today
Discover how to grab $577 to $2,175 every 7 days even if you have a small brokerage account or little experience... And it's as simple as using these 3 proven trading strategies for earning extra cash. They're revealed in my new ebook,
Options Income Blueprint: 3 Proven Strategies to Earn Extra Cash Today.
You can get it right now absolutely FREE.
Click here right now for your free copy and to start pulling in up to $2,175 in extra income every week.