The current U.S. corporate earnings season is the best seen since the third quarter of 2010. With just over half of the S&P 500 companies having reported, the largest U.S. companies are on course to post earnings per share growth of 23.2% from a year ago, according to FactSet.
But apparently, the best growth in seven years isn't good enough for Wall Street, which so far in 2018, has been 'selling the rip' instead of 'buying the dip'.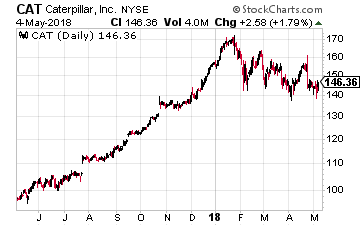 Despite spectacular gains in revenues and earnings, some companies' stocks have barely budged or even dropped. The worry is that rising borrowing costs (interest rates going to 4% or 5% and beyond) and inflation mean that a turn in the business cycle is close. These worries were intensified when Caterpillar (NYSE: CAT), which reported record quarterly profits, said rising input costs may mean that the first quarter would be the "high watermark for the year."
Other worriers point to the threat from cash investments. Putting your money into a three-month Treasury bill with a return of around 1.85% isn't bad considering the trailing 12-month dividend on the S&P 500 is 1.97%.
The most serious of all these worries is that we've seen the peak in corporate earnings and that a recession is coming soon. But as it usually does, I believe Wall Street is over-reacting. Yes, a recession is coming… eventually. But I believe it will not arrive until late 2020 or even 2021 and it will be caused, as usual, by the Federal Reserve raising interest rates too steeply.
But what if the doom-and-gloom crowd are finally right and a recession is just around the corner? Here are three stocks that will do well even if the U.S. economy goes into a recession.
Just Netflix and… 
If the economy slides into recession, many Americans will cut out certain expenses. A vacation may be canceled or a major new purchase will be delayed. They may spend more time hanging around the house or apartment.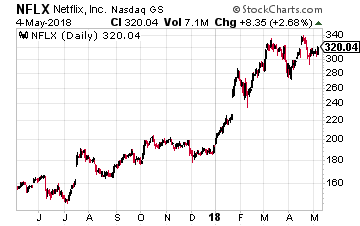 But these Americans will need something to keep them entertained… and what is better than Netflix (Nasdaq: NFLX)?
The company is growing gangbusters, both here in the U.S. and overseas. In the first quarter, Netflix posted net additional subscribers of 7.4 million, compared with about 5 million that most analysts were expecting, to reach a total of 125 million members. In the U.S., the company added more than two million subscribers – the largest sequential add in two years – to reach 55 million subscribers.
Revenues were up 40% to $3.7 billion, the fastest quarterly year-on-year increase it recorded since introducing its online streaming service in 2007. And its revenue outlook for the second quarter was above Wall Street's previous estimates at $3.9 billion. Netflix said international streaming revenues will hit $1.94 billion in the second quarter, compared with $1.9 billion for the U.S.
Netflix's CEO Reed Hastings points to the further opportunity to grow for the company, with the 700 million households that pay for television and fixed-line broadband around the world (excluding China) and the 2 billion people that use YouTube.
Despite the negative cash flow – largely due to spending on content – the Netflix business model is working. So it will keep growing and rewarding shareholders.
Pizza Anyone?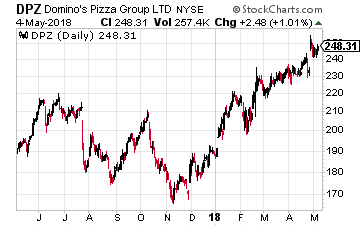 And what else goes better with binge watching than eating pizza? The pizza business is one of the most recession-resistant businesses I can think of and the best company in this niche sector is Domino's Pizza (NYSE: DPZ).
The reason that it is the leading player in the sector is because Domino's is, as outgoing CEO Patrick Doyle calls it, a tech company that happens to sell pizzas.
One example of its tech savvy is its implementation of automated phone orders via the artificial intelligence assistant DOM. The use of AI will likely grow its digital ordering business beyond the current 65% of total orders. That is good news since more digital sales translates often into bigger orders and better operational efficiency. According to research from analysts at BTIG, traditional orders over the phone or at the counter cost at least a dollar's worth of an employee's time, while each digital order costs only about 25 cents.
Domino's mobile app has been a huge success over the past few years. It has totaled over 10 million installs from the Google Play store and the iOS App Store. In addition to traditional addresses, the app now offers the ability to deliver pizza to 200,000 outdoor hotspots — like beaches and parks. As incoming CEO Richard Allison says, "It's our path to being a 100 percent digital company."
The technology infrastructure supporting Domino's has led to 20 consecutive quarters of positive comparable sales, with the latest quarter blowing away Wall Street estimates by $100 million. And comparable U.S. store sales rose 8.3%, far surpassing Wall Street estimates of 4.7%.

I expect this trend to continue, despite the change in CEOs, thanks to Domino's technology edge over the competition. That's the story Wall Street missed when it sold off the stock earlier this year on the announcement of the change in leadership.
And if a recession hits, a pizza will be one of the small pleasures people will be able to afford.
Dollar Shopping
The final beneficiary of bad economic times is a retailer that thrives in a poor economic environment.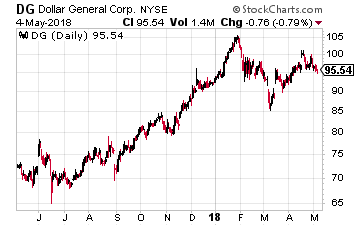 While retailers around the country are closing stores in droves, Dollar General (NYSE: DG) is doing exactly the opposite. The discount store has opened more stores than ever before, with over 5,000 new locations across the U.S. since 2010. Dollar General now has more than 14,000 stores in the country — or just about as many as McDonald's. And it plans to add another 900 stores in 2018.
For their expansion, Dollar General targeted parts of the country that have been slow to rebound from the prior recession — low-income, rural communities that larger retailers won't touch. And it is making a boatload of money doing it. So even if a new recession is far into the future, Dollar General is thriving because poorer Americans can't afford to shop anywhere but the dollar stores.
Morgan Stanley analysts talked about a 'Goldilocks' scenario where low-end consumer health does improve, but not enough to trade-up to other stores. As Dollar General CEO Todd Vasos told the Wall Street Journal, "The economy continues to create more of our core customer." The company's target shopper household earns less than $40,000 a year.
If you look at the company's financials, it is impressive, with fiscal 2017 being the 28th consecutive year of comparable-store sales growth. Dollar General management is not standing still either. In order to increase store traffic, Dollar General is focusing on both the consumables and discretionary categories, and on items ranging between $1 and $5. The company is expanding its cooler facilities to enhance the sale of perishable items and is rolling out a DG digital coupon program too.
These initiatives led the company to provide a robust outlook for 2018. Management anticipates net sales for fiscal 2018 to increase by 9% year on year, with same store sales continuing their long-term uptrend. Earnings for the fiscal year are forecast to be in the range of $5.95-$6.15, which was well above Wall Street estimates.
And if the economy does worsen, business will pick-up even more for Dollar General.
Warren Buffett Went All-in With a Sector He Swore He'd Never Touch. Will you?
Buffett could see this new asset run 2,524% in 2018. And he's not the only one…
-> Shark Tank Personality Mark Cuban says "it's the most exciting thing I've ever seen."
-> Facebook CEO Mark Zuckerberg threw down $19 billion to get a piece…
-> Microsoft Founder Bill Gates wagered $26 billion trying to control it…
What is it? It's not gold, crypto or any mainstream investment.
But these mega-billionaires have bet the farm it's about to become the most valuable asset on Earth. And if you act fast, you could earn as much as 2,524% before the year is up.
Buffett just went all-in on THIS new asset. Will you?
Buffett could see this new asset run 2,524% in 2018. And he's not the only one... Mark Cuban says "it's the most exciting thing I've ever seen." Mark Zuckerberg threw down $19 billion to get a piece... Bill Gates wagered $26 billion trying to control it...
What is it?
It's not gold, crypto or any mainstream investment. But these mega-billionaires have bet the farm it's about to be the most valuable asset on Earth. Wall Street and the financial media have no clue what's about to happen...And if you act fast, you could earn as much as 2,524% before the year is up.
Click here to find out what it is.

Source: Investors Alley