From the Las Vegas MoneyShow, Paris Hotel.
This week the Investors Alley editorial team is at the annual Las Vegas MoneyShow. As I have for the past several years I will be making presentations covering a diverse set of dividend stock investment strategies. This is a good time to share my stock picks for the show's annual Top Picks feature.
I greatly enjoy attending and participating in the Las Vegas MoneyShow each May. It is a great event for investors and traders looking for top notch education and exposure to new ideas and strategies. I personally feel like I learn as much from my interactions with individual investors as they get from my presentation. OK, maybe not quite as much, since I humbly submit my presentations are very good and usually are in front of a packed room.
As a regular contributor to MoneyShow as a presenter and writer, for the last several years I have been asked to participate in their annual Top Picks survey released at the beginning of each year. For the survey I submit two stocks, one is a conservative pick and the other is an aggressive pick.
Since I am a dividend focused analyst, my picks are always dividend income stocks. The list selections from the writers and analysts invited to participate in the MoneyShow survey are published over the first several weeks of the year. Since I am here at the MoneyShow, I thought it would be a good time to see how well my picks have done through the first one-third of 2018.
My 2018 Conservative Income Stock Pick: MGM Growth Properties LLC (NYSE: MGP)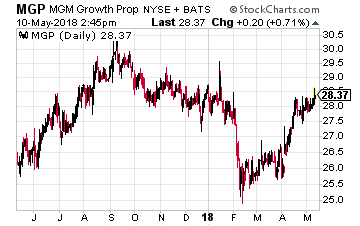 In April 2016, hotel and gaming company MGM Resorts International (NYSE: MGM) spun off about two-thirds of its hotel properties into a new real estate investment trust (REIT) IPO. MGM structured the new company, called MGM Growth Properties LLC (NYSE: MGP), to have a high level of cash flow safety to pay the planned dividend and with the potential for future growth.
At the IPO, MGM Growth Properties received seven properties on the Las Vegas Strip: Mandalay Bay, The Mirage, Monte Carlo, New York-New York, Luxor, and Excalibur. Outside of Nevada, at the IPO the REIT owned the MGM Grand in Detroit, the Gold Strike in Tunica, Mississippi and the Beau Rivage in Mississippi. Since the IPO, the REIT has purchased interest in one additional property from MGM and made one non-MGM property purchase bringing the current portfolio total to 14.
All properties are being leased by subsidiaries of MGM under a single, triple-net Master Lease. The Base Rent has a 2% annual escalator. The Percentage Rent is fixed for six years, and after that will be a percentage of revenue generated by the properties. The Master Lease has an initial lease term of ten years with the potential to extend the term for four additional five-year terms at the option of the tenant. The lease has a triple-net structure, which requires the tenant MGM subsidiary to pay substantially all costs associated with each property, including real estate taxes, insurance, utilities and routine maintenance.
In 2017, the business operations of the properties to be owned by MGP generated earnings before interest, taxes, depreciation and amortization (EBITDA) to provide 4.1 times rent coverage. Since the great recession, EBITDA has varied, but has been at least 2.2 times the lease annual rental rate. The master net lease plus the high level of EBITDA to rent coverage is what makes MGP a conservative income stock.
So far in 2018, the MGP share price is down 2.1%. Two $0.42 dividends have been paid, bringing the total return to 0.83%. I forecast the MGP dividend will be increased by 8% to 10% this year, which will propel the stock to a low double-digit return for the full year.
Current yield for MGP is 5.9%.
My 2018 Aggressive Income Stock Pick: Energy Transfer Partners LP (NYSE: ETP)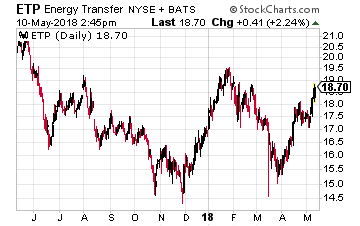 At the end of 2017 I forecast that the energy midstream/infrastructure sector would return to valuation growth in 2018 providing lots of upside potential in the group. Through 2017 MLP sector market values declined sharply even as business fundamentals continued to improve. 2018 should be the year when investors realize very attractive returns from the quality companies in the sector.
Energy Transfer Partners LP (NYSE: ETP) is one of the largest MLPs, with a $21.6 billion market cap. The company owns and operates an extensive network of natural gas and crude oil pipelines, terminals and processing facilities. Energy Transfer Partners owns assets in all the major oil and gas energy plays. Those assets allow for commercial synergies across entire midstream value chain, including gas, crude and natural gas liquids (NGLs).
In recent years the company has invested heavily in new growth projects and will have $10 billion worth of those projects coming on line between mid-2017 and the end of 2019. As the projects start to earn revenues, the Energy Transfer Partners distributions will be covered by free cash flow and continue to grow.
Market participants are primarily worried about ETP's large debt load, which has grown to fund the growth capex and currently stands at over $34 billion. Management has stated that they will not need to access the capital markets in 2018. With new projects coming on line, EBITDA growth will quickly bring down the debt/EBITDA ratio.
With a 13% yield at the end of last year, the market was pricing ETP with the expectation of a dividend reduction. Management is determined to continue and even grow the current distribution rate. Once investors see the current payout is stable and well covered by cash flow, the ETP share price will rise to bring the yield down to as low as 8%. To get the yield down to that level, the share price would need go close to double.
Currently, ETP continues to yield 12.5% and has paid two dividends so far this year. Total return to date is 9.75%. I see strong potential for this stock to add another 20% to that total by the end of this year.
Get up to 14 dividend paychecks per month from safe, reliable stocks with The Monthly Dividend Paycheck Calendar, an easy-to-use system that shows you which dividend stocks to pick, when to buy them, when you get paid your dividends, and how much.  All you have to do is buy the stocks you like and tell them where to send your dividend payments.
For more information Click Here.
Source:
Investors Alley