There is no other company like Amazon.com (Nasdaq: AMZN), whose presence is becoming ubiquitous in so many segments of the U.S. economy. It's almost easier to enumerate the sectors it is not getting into than the ones it is.
One such sector is the financial sector, where I shared with you in March that Amazon was in talks with potential partners about offering a checking account-like product. This would not be Amazon's first foray into the financial sector. In a very low-key launch in 2011, Amazon began offering loans to the small businesses that operate on its Marketplace platform. Amazon said last June that it had made $3 billion worth of loans to these businesses.
The e-commerce giant also offers a pseudo-debit card, Amazon Cash. It lets consumers add cash to an Amazon wallet and purchase items online without a credit card. And in 2017, Amazon dipped its toe into the deposit business with Prime Reload. This gives customers a 2% bonus when they use their debit card to move funds from a bank account to their Amazon account for use for transactions on the website. This lowered the fees Amazon paid to credit card networks like Visa (NYSE: V) and Mastercard (NYSE: MA).  
The goal here is to disrupt the decades-old credit card payment system – the entire swipe-fee system is a $90 billion a year industry. This includes not only the aforementioned payment networks, Visa and Mastercard, but also payments processing companies such as First Data (NYSE: FDC) that collect 2% on every credit card transaction and 24 cents on most debit card transactions.
Now, Amazon has placed greater emphasis on targeting of companies involved in payments.
Amazon Offers Discounts to Adopt Its System
The company is now offering the discounts it receives on credit card fees to other retailers if they use its online payment system, Amazon Pay. This service, which was revived in 2013, has attracted more than 30 million users.
This latest move by Amazon is a very real threat to not only the credit card-issuing banks, but also payment processors like the aforementioned First Data and other online payments firms such as PayPal Holdings (Nasdaq: PYPL) and Square (NYSE: SQ).
Paypal is the current leader in streamlined online payment methods with 237 million accounts globally. Taking aim at them is Visa and MasterCard, which have teamed up to offer a one-button online checkout feature later this year that will replace their separate Visa Checkout and Masterpass initiatives. Other credit card companies – American Express and Discover – have announced they will also join in the project.
And now, looking to disrupt all of them, is Amazon and its Amazon Pay…
Previously, online merchants using Amazon's service have paid about 2.9% of each credit-card transaction plus 30 cents. This in turn was divvied up among Amazon, the card issuers and the payment networks. But now, Amazon is offering to negotiate lower fees with merchants that make long-term commitments to use Amazon Pay.
Amazon is able to export the rates it has negotiated with banks and payment networks because, like PayPal, it is acting as a so-called payments facilitator. That means it aggregates smaller merchants to help them lower their cost for accepting electronic payments.
This move from Amazon here in the U.S. reminds me of what China's technology giants, Alibaba Group Holding (NYSE: BABA) and Tencent Holdings (OTC: TCEHY) have done with Alipay and WeChat Pay in China. Alipay, for example, has a stand-alone valuation in excess of $80 billion.
Related: Add These Two Stocks to Your Portfolio as the Tech Rally Goes Global
And there's no reason that Amazon cannot be just as successful. . . . .
Another Win for Amazon?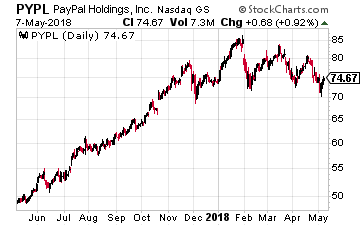 It has had a history of being a successful disruptor. And it will enter the payments space with several distinct advantages. These include a network of more than two million merchants, 100 million Amazon Prime users and those 30 million users already of Amazon Pay.
And importantly, people trust Amazon. A survey from the consultancy Bain on whether people were willing to try a financial product from a technology company showed that Amazon was at the top of the list of those most-trusted tech firms.
The list of firms that will be affected by Amazon's new emphasis on the payments sector is long, but there are two firms perhaps most at risk – the two high-flyers in the sector, PayPal and Square. Both stocks fell sharply on the day the story on Amazon's intentions hit the newswire.
PayPal is little changed year-to-date and is actually down slightly over the past three months. And while its stock didn't crater after the latest earnings report, as it did after the prior report, it is still down in price from the earnings report date.
This relatively poor performance is likely due to the fact that it has become the target of not only Amazon, but also all the major credit card firms. And it lost eBay as a major customer earlier this year.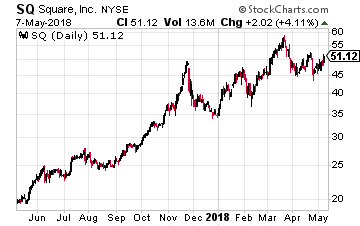 Square is still up solidly for the year, but that is largely due to Bitcoin hype. Famed short-seller Andrew Left said recently that the stock was rising solely due to Bitcoin mania from investors and that Square was a "collection of yawn businesses."
The company has been incurring losses for several years now. It reported net losses of $212 million, $171.6 million and $62.8 million in 2015, 2016 and 2017, respectively. At the end of 2017, Square had an accumulated deficit of $842.7 million. And with the company continuing to invest heavily, there is no obvious path to profitability in the foreseeable future.
So once again, Amazon looks to be a likely winner, with Paypal and Square to be the long-term losers in this battle.
Buffett just went all-in on THIS new asset. Will you?
Buffett could see this new asset run 2,524% in 2018. And he's not the only one... Mark Cuban says "it's the most exciting thing I've ever seen." Mark Zuckerberg threw down $19 billion to get a piece... Bill Gates wagered $26 billion trying to control it...
What is it?
It's not gold, crypto or any mainstream investment. But these mega-billionaires have bet the farm it's about to be the most valuable asset on Earth. Wall Street and the financial media have no clue what's about to happen...And if you act fast, you could earn as much as 2,524% before the year is up.
Click here to find out what it is.

Source: Investors Alley