Last week the Federal Reserve Board increased its Fed Funds Target rate for the second time this year, to 1.75%. The Fed Funds rate controls yields on the short end of the yield curve. Rate increases typically push fear-driven investors to sell the income stock categories like REITs and Utilities. Informed investors use these sell-offs as opportunities to buy dividend paying stocks for what will likely be market beating total returns.
I grabbed this important piece of data from a recent article from investment management company Neuberger Berman:
"Our research indicates that while, in the short term, REIT share prices have been influenced by the direction of interest rates, when measured over longer time periods, REIT total returns historically have not tended to be correlated to interest rates. In the current period, REITs' underlying fundamentals and access to capital have not declined. Furthermore, many REITs have used low borrowing costs and the capital markets to strengthen their balance sheets… during periods when 10-year Treasury yields rose sharply, REIT total returns generally underperformed broader equity market returns in the short term, but generally outperformed after the initial period of weakness."
I have seen other research that confirms in periods of rising interest rates REITs have, on average, outperformed the broader stock market. The reason is that rising rates indicate a strong economy and it is likely that commercial property values and rental rates are also increasing. If you are looking for individual REITs that specifically will do well in a rising rate environment, think about those commercial property sectors that have the shortest contract periods. With short term leases, these REITs will be able to more quickly increase the prices they charge to renters.
Hotels have the shortest lease periods – one night. Hotels operators change their rates daily based on demand and occupancy levels. Historically, hotel results mirror economic growth. A strong economy will lead to growing profits and share prices for the hotel REITs.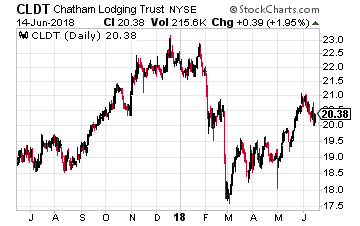 Chatham Lodging Trust (NYSE: CLDT) is a lodging/hotel REIT which owns 40 hotels in 15 states. The portfolio consists of premium branded upscale extended stay and select service hotels. The hotel REIT sector peaked in January 2015 and then went into a steep bear market which bottomed one year later. Over the last two and a half years, share prices have been volatile without a definite up or down trend.
Since its 2010 IPO, Chatham Lodging has steadily increased its dividend rate, with the last increase in March 2016. Chatham pays monthly dividends and is currently paying out just 62% of funds from operations (FFO) per share. This is a conservatively managed, attractive income yield stock that gives exposure to the lodging sector.
CLDT currently yields 6.4%.
Self-storage companies have rental rates that renew each year. There is a lot of turnover in a self-storage facility, which allows the operator to quickly adjust rates to changing economic conditions. Over the last 15 years, self-storage has been one of the best performing commercial property sectors.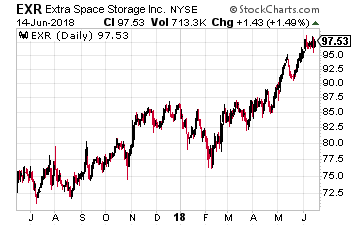 Extra Space Storage (NYSE: EXR) is a large-cap, self-storage REIT with a best in class track record. The company owns 851 storage facilities. It has interests in another 216 through joint ventures and provides the management services for an additional 456 properties. The self-storage business provides strong same store revenue growth with low expenses and capital spending requirements.
Of the four major self-storage REITs, Extra Space is the historic leader for revenue, net operating income, and FFO growth. The company's dividend has increased by 244% since 2012, including a 10.3% boost this year. This company is the class of the self-storage sector.
EXR currently yields 3.5%.
Rental rates paid for living quarters are usually reset annually. There are several economic factors that continue to push apartment and single family home rental rates higher. The REITs in this sector will be able to increase rental rates faster than the rate of increase in the Fed Funds rate.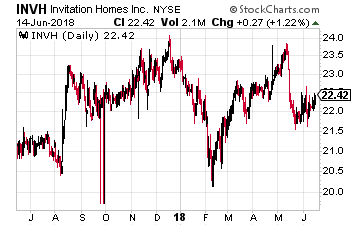 Invitation Homes (NYSE: INVH) is one of the small number of REITs focused on owning single-family rental homes as opposed to apartment complexes. These REITs are the result of the institutional buying of distressed homes during the housing make crash of 2009-2011.Thousands of homes were bought at low prices, rehabilitated and turned into rental properties.
In the current economy the number of families that prefer renting to owning remains high. At the same time, millennials are forming families and want to get away from the apartment life into single family homes.
Invitation Homes owns 82,500 homes, with an average of 4,800 in each of the metropolitan areas where it has ownership. This large scale operation provides economy of ownership similar to apartments. The company forecasts to generate 5% to 6% same store net operating income growth. This is the highest growth rate among the different REIT sectors.
INVH is generating FFO of $1.15 per share against a current annual dividend of $0.44. When the company starts to grow the dividend the share price will take off.
Current yield is 2.0%.
Get up to 14 dividend paychecks per month from safe, reliable stocks with The Monthly Dividend Paycheck Calendar, an easy-to-use system that shows you which dividend stocks to pick, when to buy them, when you get paid your dividends, and how much.  All you have to do is buy the stocks you like and tell them where to send your dividend payments.
For more information Click Here.
Source:
Investors Alley