The only thing certain when it comes to trading in 2018 is that this year has been far less predictable than previous years. While the last few years were marked by low volatility and a mostly bullish stock market, it's obvious that 2018 is an entirely different animal.
So far, 2018 has been characterized by significantly more volatility than we've seen in recent times. While it wasn't reasonable to assume low volatility would last forever (and it did feel that way for a time), the extreme moves in market volatility have caught many traders off guard.
The biggest source of market volatility has been the US administration, particularly the administration's position on tariffs and international trade. In a nutshell, the US is levying new tariffs on international goods, and it's slowly leading to a trade war. Whatever your opinion on trade wars and tariffs, it's very clear the stock market doesn't like the idea (based on substantial downturns in stock prices whenever a new tariffs is mentioned in the news).
Tariffs can be used to tax all sorts of trade goods, but are often levied on commodities and raw materials. The first ones used this year were on steel and aluminum imports, for example. These sorts of tariffs can wreak havoc on the commodities markets as well as stocks that are involved with the affected goods.
On the other hand, the global economy has been quite strong lately, and is showing no signs of abating anytime soon. So how do you weigh the pro and cons of investing in certain commodities? What do you do with an important trade good such as copper? The widely-followed industrial metal tends to perform well when the economy is growing, but also could feel the sting from a trade war.
As always, I like to look at the options markets for clues on traders' sentiments. Options action can give insight into investing trends in all sorts of assets and products.
One very bullish case for copper came in the form a massive call spread in Freeport-McMoRan (NYSE: FCX). FCX generates revenues from several products, including copper, gold, and oil. However, roughly 60% of the company's revenues come from copper, and it's the largest copper company in the world. As such, the stock price tends be very sensitive to the price of copper.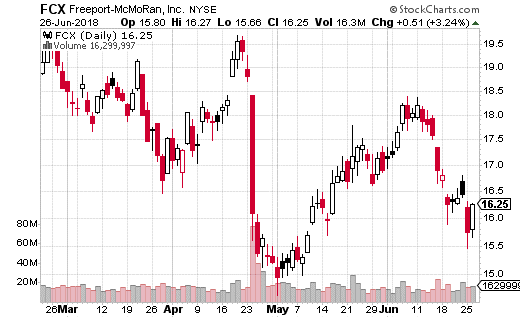 This week, a size trader made a very big bet that FCX (and thus copper) is going to be climbing this summer. The particular trade was the August 17th 17-20 call spread (buying the 17 call, selling the 20 call) for $0.41. The stock was around $15.50 at the time of the trade, and breakeven is $17.41.
The trade was executed 19,500 times, which means the trader is risking $800,000 on the strategy. That's no small sum, so he or she must be pretty confident that copper has some upside. What's more, the trade can make $2.59 in profit should FCX go to $20 or above by mid-August. That's over $5 million in profit or 650% gains!
This is exactly the sort of long options trade that I would recommend. You aren't risking too much in capital, and the returns are outsized if you get it right. Plus, you are buying a decent amount of time for your thesis to work out. If you think copper has a bullish future (though this summer), you'll be hard pressed to find a more efficient trade than this one.
[FREE REPORT] Options Income Blueprint: 3 Proven Strategies to Earn More Cash Today
Discover how to grab $577 to $2,175 every 7 days even if you have a small brokerage account or little experience... And it's as simple as using these 3 proven trading strategies for earning extra cash. They're revealed in my new ebook,
Options Income Blueprint: 3 Proven Strategies to Earn Extra Cash Today.
You can get it right now absolutely FREE.
Click here right now for your free copy and to start pulling in up to $2,175 in extra income every week.