If you like a good war, you're living in the right era.
You don't have to look far before you hear about a war on something.
War on crime. War on drugs. And outright war itself.
Now we're facing another one.
News that the United States will slap a 25% tariff on steel imports and 10% on aluminum imports has triggered fears of a global trade war.
European Commission President Jean-Claude Juncker set the tone by saying that the EU will be forced to retaliate to the "stupid process" by imposing tariffs of its own on exported U.S. goods. "We can also do stupid. We have to be this stupid," as he put it.
Adding duty to such crucial raw materials from abroad should bode well for U.S. steel and aluminum manufacturers – and their respective workforces. But it will also reduce global supplies and consequently push up prices for end users. In turn, those costs will be passed down to consumers.
When you think of the amount of steel and aluminum used in products, many sectors and industries will suffer. Chief among them are ones like construction and transportation.
Indeed, the auto industry accounted for over one-quarter of U.S. steel demand last year, according to Statista. And the American International Automobile Dealers Association has already said the tariffs will result in higher car prices and lower sales.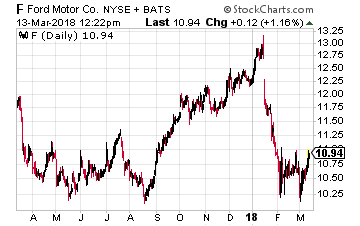 That's bad news for big, multinational U.S. automakers like Ford Motor Co. (NYSE: F).
Speed Bumps Ahead for Ford
Right off the bat, the stock is down 11.3% year-to-date. But the losses extend further back than that. Since July 2014, shares have tumbled steadily, falling 39%.
Other recent developments don't bode well, either.
Sales Down: Nationwide, total auto sales fell by 2% in 2017. And while overall year-over-year sales were up 1% in January, Ford didn't join the party, with sales down 6.6%. The climate got worse in February, with total nationwide sales dropping by 2% and Ford's sales slumping by 6.8%. A 12.3% plunge in higher-end SUV sales marked the fall. Some analysts feel auto sales peaked in 2017. The fact that Ford's shares still didn't rise as a result back then – and its sales are now lagging significantly – is an ominous sign.
Interest Up: Another red flag is the fact that the price of a new car rose by 2% in February, to $35,444, according to Kelley Blue Book. Not only that, interest rates on car payments (both new purchases and leases) are rising, too. Edmunds says the APR averaged 5.2% in February – up from 4.9% a year ago and from 4.4% in February 2013. They're now at the highest levels since 2010. Rising car prices and interest rates aren't exactly a good combination for automobile manufacturers trying to boost sales numbers.
As if this climate weren't challenging enough, Ford and other conventional automakers are also facing pressure from the increasing shift towards ride-sharing and electric cars.
And now, in addition to these headwinds, is the specter of trade tariffs. UBS says higher raw materials prices could cost Ford an extra $300 million this year, with Goldman Sachs warning it could hit the company's operating profit by $1 billion. Keep in mind, Ford's operating margin isn't great anyway – just 4.3%.
Add it all up, and you've got a nasty cocktail for Ford: Falling auto sales, higher sales prices, rising interest rates on car payments that's deterring consumers from new purchases, the shift towards ride-sharing and electric cars, plus steel and aluminum tariffs adding to retail prices.
Oh, and a stock that's gone nowhere but down for almost four years now.
Give Ford a wide berth.
Buffett just went all-in on THIS new asset. Will you?
Buffett could see this new asset run 2,524% in 2018. And he's not the only one... Mark Cuban says "it's the most exciting thing I've ever seen." Mark Zuckerberg threw down $19 billion to get a piece... Bill Gates wagered $26 billion trying to control it...
What is it?
It's not gold, crypto or any mainstream investment. But these mega-billionaires have bet the farm it's about to be the most valuable asset on Earth. Wall Street and the financial media have no clue what's about to happen...And if you act fast, you could earn as much as 2,524% before the year is up.
Click here to find out what it is.

Source: Investors Alley