The imposition of a 25% tariff on imported steel by President Trump has certainly been a headline grabber. But it obscures the long-term problems faced by the U.S. steel industry.
And it only addresses one side of the classic economic equation for any commodity – supply and the industry's struggle against cheap imports. The share of the U.S. steel market taken by imports was only 26.9% in 2017, up slightly from 2016's level of 25.4%.
The other part of the equation is demand and that remains a sore spot. There is a genuine long-term weakness in domestic demand for steel. The only bright spots on that front are the auto and the shale oil and gas industries.
Related: Trump's Trade War Set to Cost This Automaker $1 Billion: Sell Now
The decline in U.S. steel output since the 1970s is clearly seen in this graph. 2017 estimated steel use in the U.S. was 110 million metric tons, which was far below the 136 million ton level in 2006, before the financial crisis. U.S. steel production was up 3% in 2017, but capacity utilization remains low at 74%. In other words, there is still overcapacity in the U.S. steel industry based on current demand.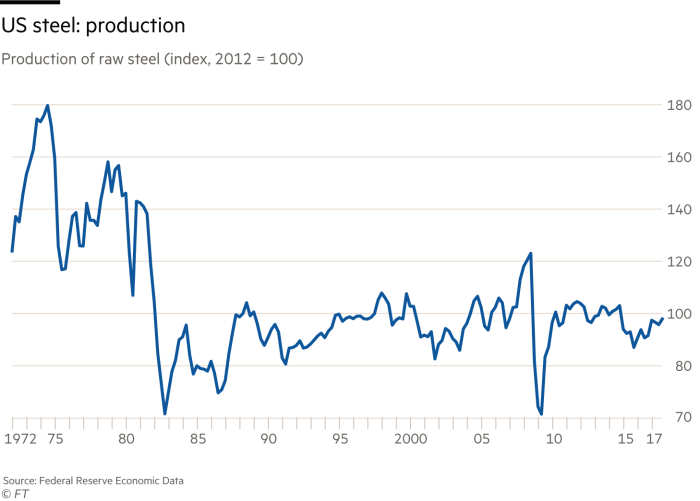 And the situation could get worse. . . . .
Higher Prices = Lower Demand
A basic economic principle is that higher prices lead to lower demand. And the steel tariffs mean higher prices for manufacturers in the United States that use steel. So unless US steel-using manufacturers are also protected from imports by tariffs, they will end up being losers on the global stage because the higher steel cost will make them uncompetitive. That's the slippery slope you get on when you begin imposing tariffs – you have to end up shielding more and more industries.
Before Trump acted to impose tariffs on steel, forecasters had been predicting a decent year for the steelmakers. Growth in steel demand, as forecast by the consultancy Wood Mackenzie and others, was expected to be in the 7% range. But if higher costs start pricing US manufacturers out of world markets, that expected rise in demand will quickly disappear and jobs could even be lost.
The solution – instead of tariffs – would have been to begin moving forward on President Trump's dream of rebuilding America's deteriorating infrastructure. For example, there are more than 54,000 bridges in the United States that need to be repaired or replaced, according to the American Road and Transportation Builders Association. Just think about how much steel would be needed to just tackle that problem.
And there's a whole lot more in infrastructure that needs to be done… that's why the American Society of Civil Engineers most recent report card gave U.S. infrastructure an overall grade of D+. The report also said that if our country's investment gap is not addressed by 2025, the U.S. economy will lose nearly $4 trillion in GDP.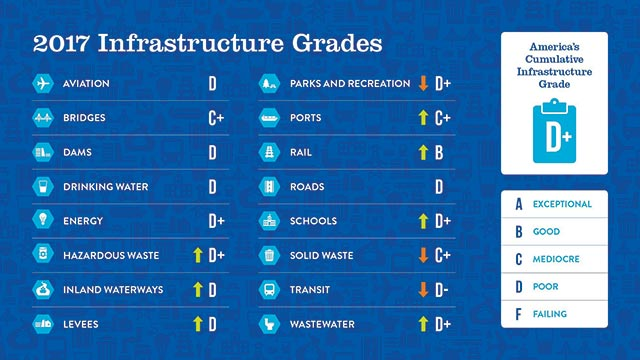 In simple terms, if you want to be competitive globally in the 21st century, you need a 21st century infrastructure and not one a hundred years old.
Stay Away From Steel Stocks
I do not expect the United States to seriously address its infrastructure problem. Therefore, I do not see additional demand coming online any time soon for U.S. steelmakers. And there is a related problem the U.S. steel companies have…
That is, some of their mills are simply inefficient and uncompetitive. This has been a decades-long problem for the U.S. steel industry, even going back to just after World War II. U.S. steel producers held on stubbornly to old technology – the so-called 'open hearth' steel production method. Meantime, the Europeans and everyone else adopted the more efficient 'basic oxygen' process.
Of course, other newer steelmaking technologies are in use today, but the roots of the decline of the American industry began then. By the time the U.S. steel industry modernized (after begging for protection against those darn foreigners), it had already lost its spot as the world's steel kingpin.
As the famous quote attributed to Mark Twain says, "History doesn't repeat itself, but it often rhymes."
Therefore, I expect the benefits of the tariffs to the steel companies to disappear as quickly as a morning fog on a hot summer day.
This makes the stocks of the steel companies un-investable or, if you have a high risk tolerance, outright shorts. Especially at these elevated price levels, which seemed to have all the possible good news already factored in.
Related: Here's Why You Need to Buy These 3 Metals Stocks Today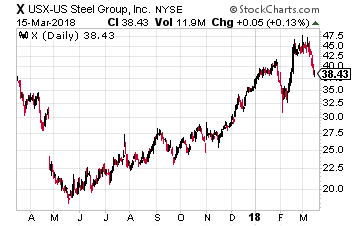 At the top of the list of steel stocks to avoid is U.S. Steel (NYSE: X), which saddens me because my grandfather used to work for the company.
Vertical Research Group analyst Gordon Johnson recently said on CNBC that the operating costs for the company are up, meaning the tariffs will offer little benefit.  Johnson specifically pointed to the soon-to-be-reopened Granite City mill in Illinois as "one of the least efficient steel mills in the world".
U.S. Steel is also facing operational issues in its flat-rolled division with increased outage and plant maintenance costs rising. The company sees higher plant-related spending as it accelerates its efforts to revitalize this unit. Maintenance and outage expenses for the flat-rolled unit for 2017 increased by $341 million on a year over year basis. The company expects maintenance and outage spending for 2018 to be similar to 2017.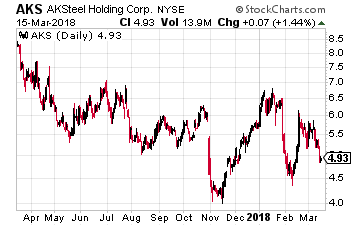 The second stock on the no-touch list is AK Steel Holding (NYSE: AKS). Like U.S. Steel, it faces planned maintenance outages in some facilities, affecting production. The company recorded outage costs of $85 million in 2017 and in 2018, it expects expenses associated with planned outages to be about $50 million.
But there are other, bigger problems for AK Steel. AK Steel's cost structure is higher than its peers due to its greater reliance on external supplies of raw materials. It pays nearly double for iron ore pellets compared to its integrated competitors, who consume their own pellets. The company saw higher year over year costs for raw materials such as iron ore and other alloys in the fourth quarter and raw material cost inflation is expected to continue throughout the year.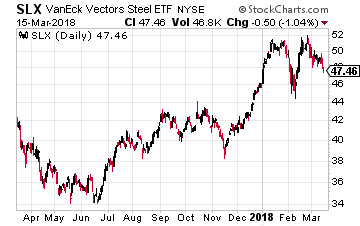 Finally, a broad way to play the chronic overcapacity in the global steel industry is through an exchange traded fund – the VanEck Vectors Steel ETF (NYSE: SLX).
The top positions in the fund (27 stocks make up the fund) are the mining firms that produce the aforementioned raw materials needed for steel production like iron ore. However, it is still loaded with steel-producing companies from all over the world. About half the stocks in the portfolio are U.S. steel industry companies.
It would not surprise me to see this ETF slide from its current price near $50 into the $30s or even $20s.
Get Your Hands on Stocks Growing Revenues (and Stock Prices!) Faster than Google and Apple
I'd like to reveal to you the blue chip stocks – one in particular – that could literally be worth millions of dollars to you over the next decade.
Revenue for one firm in particular is growing faster than that of Google and Apple, the darlings of Wall Street. Investors have watched the stock price shoot up over 100% this past year and we're just getting started.
You need to get in this stock before April 1st (it's closer than you think!).
Get up to 14 dividend paychecks per month from safe, reliable stocks with The Monthly Dividend Paycheck Calendar, an easy-to-use system that shows you which dividend stocks to pick, when to buy them, when you get paid your dividends, and how much.  All you have to do is buy the stocks you like and tell them where to send your dividend payments.
For more information Click Here.
Source:
Investors Alley