Recent good news out of the energy sector has been masked by the stock market pullback and a not-so-great earnings report from Exxon Mobil (NYSE: XOM). However, beneath the noise exists some attractive total return potential for dividend investors in energy infrastructure services companies.
Here are some of the details about the current state of U.S. energy production.
Last week the Energy Information Agency (EIA) announced the U.S. had surpassed 10 million barrels per day of crude oil production. Production had not been at the 10 million bpd level since 1970. This is double the crude production 10 years ago.
Net imports of 2.5 million bpd are at the lowest level since 1973 and 7.5 million bpd lower than a decade ago.
S. natural gas production has grown by 37% over the last decade. Liquid natural gas (LNG) exports started in 2016 and are rapidly ramping up.
Polyethylene, the basic material of plastics, production uses natural gas as its raw material. Domestic and foreign chemical companies are building new polyethylene production plants in the U.S. to source inexpensive natural gas. By 2021, Texas will be the largest producer of ethylene by steam cracking in the world. Louisiana is also a hot bed for new production plants.
The growth in both upstream production and downstream demand for crude oil and natural gas puts energy midstream infrastructure companies in a very good position for growth and profits. These are the companies that provide the gathering, processing and transport of energy commodities from the production plays to the end users.
Related: Getting Paid 15% in Monthly Dividends From The Growing Energy Sector
Another beneficial change for many investors is a reduction in the use of the master limited partnership (MLP) structure by a number of energy midstream companies. The challenges of the previous three years pushed these companies back into the corporate structure. This means investors can buy higher yield energy midstream stocks and earn regular dividends. With these companies investors receive IRS Forms 1099 and not the unpopular Schedules K-1.
Here are three energy infrastructure companies that have restructured in recent years and are now poised to grow revenues, cash flow and dividends.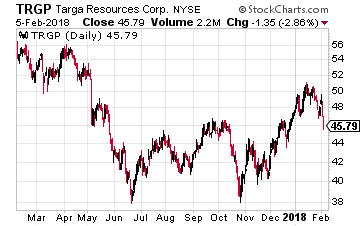 At the time of its 2010 IPO, Targa Resources Corp (NYSE: TRGP) owned the general partner interests in the midstream MLP, Targa Resources Partners LP (NYSE: NGLS). When energy prices crashed in 2015, the separate general partner and MLP business arrangement was an expense drag on the companies. In early 2016 TRGP completed the purchase of all NGLS units, which eliminated the general partner expenses. Currently Targa Resources operates four business units providing the following services:
Gathering, compressing, treating, processing, and selling natural gas.
Storing, fractionating, treating, transporting, and selling NGLs and NGL products, including services to LPG exporters.
Gathering, storing, terminaling and selling crude oil.
Storing, terminaling, and selling refined petroleum products.
TRGP yields 7.7% and has paid the current $0.91 per share dividend since the 2015 third quarter. I forecast that dividend growth will resume in late 2018 or early 2019.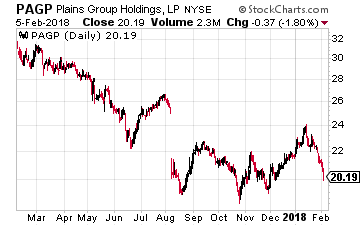 Plains GP Holdings LP (NYSE: PAGP) was also a general partner interests company, owning GP rights from large cap MLP Plains All American Pipeline, LP (NYSE: PAA). Last year, the companies restructured, eliminating the GP interests and expenses. Now each PAGP share is backed by one PAA unit. PAA is a K-1 reporting company and PAGP reports tax info on a Form 1099. In all other respects, they are shares of the same company with the same dividend rates.
Plains owns the largest independent network of crude oil and natural gas liquids pipelines and storage facilities. The company handles more than 5 million barrels of oil per day. The dividend rate was reduced twice in the past two years as the company struggled to cope with the crash in crude oil prices. The business finances are now very secure, and I expect the dividends to start growing again in 2019. PAGP yields 5.9%.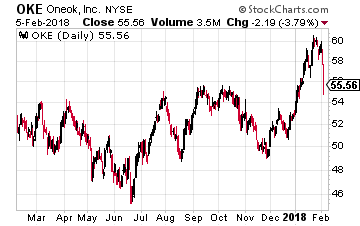 ONEOK, Inc. (NYSE: OKE) is another former general partner company that bought in its controlled MLP, ONEOK Partners LP. ONEOK completed the roll-up transaction in June 2017. This midstream company focuses on providing natural gas infrastructure services. Operations include a 38,000-mile integrated network of NGL and natural gas pipelines, processing plants, fractionators and storage facilities in the Mid-Continent, Williston, Permian and Rocky Mountain regions.
After the ONEOK Partners merger was completed, ONEOK increased its dividend by 21%. In January this year, the company again boosted the payout, increasing the dividend by 3.4%. Company EBITDA is forecast to increase by 20% in 2018 compared to last year. Management has given dividend growth guidance of 9% to 11% per year through 2021. OKE yields 5.3%.
Get up to 14 dividend paychecks per month from safe, reliable stocks with The Monthly Dividend Paycheck Calendar, an easy-to-use system that shows you which dividend stocks to pick, when to buy them, when you get paid your dividends, and how much.  All you have to do is buy the stocks you like and tell them where to send your dividend payments.
For more information Click Here.