While the advancement of electric trucks is the headline grabber, the real news in the sector is that the U.S. trucking industry is enjoying a period of prosperity it hasn't seen in years. Let me explain…
As I have written about many times, the U.S. economy has joined with nearly every other economy around the globe in a period of synchronized economic growth that the world has not seen in over a decade.
That is great news for a number of sectors and for us as investors. It makes even a supposedly boring industry like trucking filled with excitement over the growth opportunities.
U.S. Trucking Boom
We just experienced a robust Christmas season for retailers. In fact, it was the best since 2011. When you add in that manufacturers are also shipping more cargo – industrial production recently experienced the largest year-over-year gain since 2010 – it makes it a great time to be in the trucking industry.
We saw the ratio of loads in need of movement to trucks available in December hit the highest level on record. Then, in early January, just one truck was available for every 12 loads needing to be delivered according to online freight marketplace DAT Solutions LLC. That was the most unbalanced marketplace since the aftermath of Hurricane Katrina in October 2005. Moving into late January, that number only dropped to one truck for every 10 loads.
Related: Top 3 Electric Vehicle Stocks to Buy Instead of Tesla
This is significant since January is typically a quiet month for the industry. Yet this year, the national average spot truckload rates have been higher than during the peak season in 2007.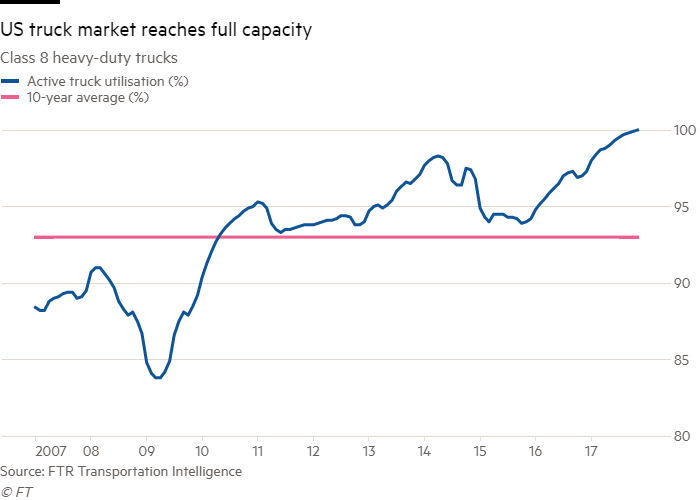 That has led to rising costs to get something shipped. The spot rate to hire a 53-foot tractor trailer has risen by 24% over the past year to over $2 per mile. Of course, many companies are being forced to pay a lot more than that if they want to jump to the front of the line and definitely have their goods delivered on time.Not surprising then that the consultancy FTR said the rate of active truck utilization stood at 100%, versus a 10-year average of 93%. In other words, there was no excess capacity in the system.
The situation is likely to get worse in April when produce shipments pick up. And this year we have a special factor – the full enforcement by the federal government of the ELD rules kicks in. An ELD is an electronic logging device in truck cabs that will monitor whether truck drivers are getting the amount of rest required by law. Truckers will be limited to driving only 11 hours per day. Trucks without the devices may be removed from the road.
All of these factors add up to great news for the stocks of companies involved in trucking and logistics. One such company is XPO Logistics (NYSE: XPO), which I will discuss in a moment. But there is also another obvious beneficiary of this boom.
Truck Manufacturers Also Booming
That beneficiary happens to be the companies that manufacture heavy-duty trucks. December saw the most Class 8 trucks (that most commonly used on long-hauls) ordered in three years. According to ACT Research, there were 37,500 such vehicles ordered, a rise of 76% from a year earlier.
And January was even a better month for the truck manufacturers! There were 48,700 heavy-duty trucks ordered. That is double the year-ago level and is the most big rigs ordered in 12 years.
The top truck manufacturing companies include: Daimler AG (OTC: DDAIY), Navistar International (NYSE: NAV), and a company that I've spoken about before with regard to electric trucks, Volvo AB (OTC: VOLVY), which is the world's second-largest truck manufacturer.
On January 31, Volvo raised its forecast for the U.S. truck market saying that it expected deliveries to rise 7%. It said this would bring the company much closer to its goal of lifting operating profit consistently above 10% of revenue.
As I said, Volvo is a leader in the electric truck segment too. It is testing a hybrid powertrain for long-haul heavy-duty trucks that is all part of its Super Truck project working in conjunction with the U.S. Department of Energy. Here are some of its features:
It recovers energy when driving downhill on slopes steeper than 1%, or when braking. The recovered energy is stored in the vehicle's batteries and used to power the truck in electric mode on flat roads or low gradients.
It also has an enhanced version of Volvo Trucks' driver support system I-See, which has been developed specially for the hybrid powertrain, which analyzes the upcoming topography using information from GPS and the electronic map.
For long hauls, it is estimated that the hybrid powertrain will allow the combustion engine to be shut off for up to 30% of driving time.
Two U.S. Trucking Opportunities
Two U.S.-based firms that I like as beneficiaries of this ongoing trucking boom (which I can expect to last into 2019) are the aforementioned XPO Logistics and Navistar International. Here are some details on these two companies for you…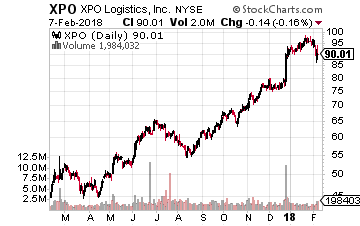 XPO Logistics is a top ten global logistics firm with operations in both logistics and transportation in 32 countries. Customers trust XPO with an average of 160,000 shipments and over seven billion inventory units every day.
It currently generates about $15 billion in annual revenue, with about 60% of that coming from the U.S. The breakdown between its two segments shows that roughly 63% of revenue comes from transportation (trucking and brokerage), with the remaining 37% from logistics. The logistics segment includes e-commerce fulfillment and warehousing operations.
XPO actually owns 16,000 tractors; 39,000 trailers; 10,000 53-feet intermodal boxes, and 5,200 chassis.11,000 trucks are contracted via independent operators and it brokers more than one million trucks. XPO also owns 440 cross-docks and 767 contract logistics facilities.
It is also an innovator in the industry with the use of advanced robotics and automation and leading -edge software and cloud-based platform. These innovations helped XPO to be named the top-performing U.S. company by Forbes on its 2017 Global 2000 list.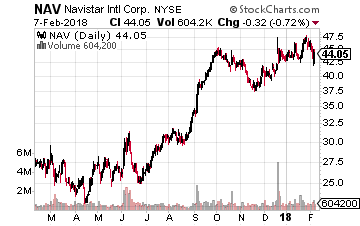 Navistar International manufactures International brand commercial and military trucks, school and commercial buses as well as diesel engines. Trucks make up most of its revenues, generating 67.8% of the total in 2017. The company has issued positive guidance for 2018 saying it expects revenues to be in the range of $9 to $9.5 billion versus $8.6 billion in fiscal 2017.
The company should benefit from the launch of new products. In order to strengthen the Class 8 lineup, the company introduced a new 12.4 liter engine – A26 – in February 2017. This new lighter-weight engine will provide a competitive entry to the company in the 13 liter segment, which constitutes about 50% of the Class 8 market. Navistar also started delivering new International brand vehicles with A26 engines. On the electric truck front, by 2019, Navistar plans to unveil an electric medium-duty truck in conjunction with Volkswagen.
A year ago (February 2017), Navistar unveiled a strategic alliance with Volkswagen's truck division. Volkswagen purchased a 16.6% stake in Navistar for $256 million. This alliance should definitely broaden the company's technology options and widen its range of products and services.
The lesson here is that you don't have to limit your investments, if you're looking for growth, to just sectors like technology or healthcare. Sometimes you can find growth opportunities in places you'd least expect.
Buffett just went all-in on THIS new asset. Will you?
Buffett could see this new asset run 2,524% in 2018. And he's not the only one... Mark Cuban says "it's the most exciting thing I've ever seen." Mark Zuckerberg threw down $19 billion to get a piece... Bill Gates wagered $26 billion trying to control it...
What is it?
It's not gold, crypto or any mainstream investment. But these mega-billionaires have bet the farm it's about to be the most valuable asset on Earth. Wall Street and the financial media have no clue what's about to happen...And if you act fast, you could earn as much as 2,524% before the year is up.
Click here to find out what it is.

Source: Investors Alley