2018 was supposed to be the year that Mark Zuckerberg said he would "fix Facebook". But it's only three months into the new year and his task looks a lot tougher after the company went through one of the worst periods in its history in recent days with $75 billion wiped off its market value.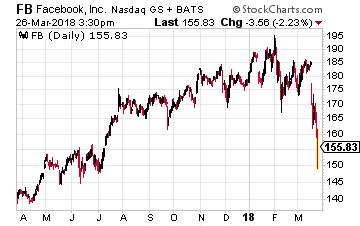 To be honest, I don't know which is worse. . .the fact that an analytics firm used by Donald Trump's presidential campaign improperly received data about 50 million users of the social network Facebook (Nasdaq: FB) or how poorly senior executives of the company handled the situation.
Natasha Lamb, managing partner at the impact investing firm Arjuna Capital, described what Facebook faces succinctly "[The revelations are] fundamentally troubling from the investor perspective, not only because the company has been so recalcitrant in its response. There are material risks here in terms of regulator risk, revenue risk and brand risk. There are also risks to our democracy."
Facebook Folly Fallout
The fallout is just beginning as some high-profile people have begun to publicly withdraw from Facebook. Elon Musk deleted the Facebook pages of his companies Tesla and SpaceX and several major firms 'temporarily' paused their advertising on the social media site.
In addition, two class action lawsuits have already been initiated against Facebook. But that will pale in comparison to the legal woes it will face from governments on both sides of the Atlantic.
Here in the U.S., the Federal Trade Commission is looking into whether Facebook violated a 2011 privacy settlement, while the attorneys-general in both New York and Massachusetts have opened investigations.
If Facebook is found to have violated the FTC settlement, it would be costly for the company. It could face fines of $40,000 per affected user if it violated its 2011 consent agreement with the FTC, in which it was ordered to be more upfront with users about how their data were being shared. If found guilty, we are talking about over a trillion dollars in fines, folks.
The 2011 order followed complaints from the Electronic Privacy Information Center (Epic) and other consumer groups that Facebook user data were being shared with developers even though the company's privacy settings said only friends would see the information. Interestingly, the president of Epic – Marc Rotenberg – said the recent revelations were "a clear violation" of the consent order and that the FTC should reopen its investigation (it subsequently has).
This only adds to the possible monetary penalties Facebook may face in the future. In May, the European Union will introduce stricter data protection rules that will put Facebook at risk of fines of up to 4% of global sales for violations. The EU is also considering an e-privacy directive, which if passed, would likely have an impact on Facebook's business (targeted advertising) because it would significantly restrict the tracking of users' behavior online.
Stay Away
So what does all of this mean for Facebook as an investment?
I know that most of the pundits on CNBC and elsewhere are telling you to buy it since it's now 'cheap'. And indeed the recent plunge has Facebook stock selling at the cheapest valuation since its IPO in 2012. Its one-year forward price-to-earnings ratio has fallen to just 18 times, its lowest ever as a public company and only slightly higher than that for the S&P 500 index.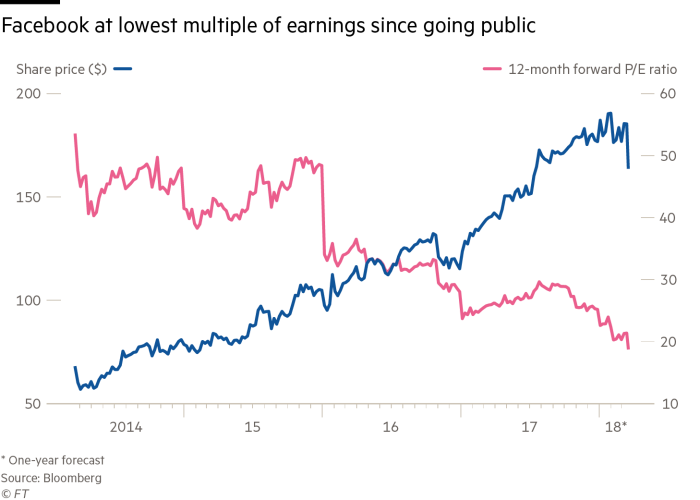 But what these pundits are doing is "talking their book". In other words, they already own it and are trying to entice others to buy Facebook.
I would stay far away. Even before its recent woes, Facebook was fighting against a poor public image – it wasn't nicknamed 'Fakebook' randomly. And as Brian Wieser of Pivotal Research said in a recent note to clients, "Facebook is exhibiting signs of systematic mismanagement."
And while this recent episode will lower trust among Facebook users, the company has already been losing the trust of advertisers. For example, in August 2016, it revealed that its metric for the average time users spent watching videos was overinflated by 60% to 80%.
However, Facebook's problems should not stop you from investing in other technology stocks outside the social media sector. As editor of Growth Stock Advisor, I continued to be excited about technology sectors including robotics, photonics, semiconductors and 'new energy'.
Earnings per share for the companies in the information technology sector of the S&P 500 grew 17% in 2017 over the previous year and are expected to rise 16% this year, according to FactSet. And among the larger names, there are quality companies like Microsoft, Intel and Amazon. These stocks are up 5.8%, 6.5% and 29% respectively year-to-date. So why bother with the problem child, Facebook?
Buffett just went all-in on THIS new asset. Will you?
Buffett could see this new asset run 2,524% in 2018. And he's not the only one... Mark Cuban says "it's the most exciting thing I've ever seen." Mark Zuckerberg threw down $19 billion to get a piece... Bill Gates wagered $26 billion trying to control it...
What is it?
It's not gold, crypto or any mainstream investment. But these mega-billionaires have bet the farm it's about to be the most valuable asset on Earth. Wall Street and the financial media have no clue what's about to happen...And if you act fast, you could earn as much as 2,524% before the year is up.
Click here to find out what it is.

Source: Investors Alley