There was good news recently for supporters of solar energy…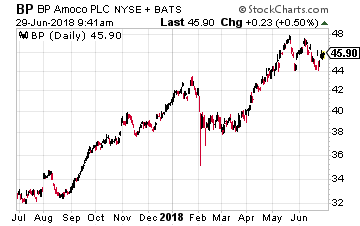 Despite tariffs imposed on imported solar panels, the United States installed more solar energy than any other source of electricity (accounting for 55% of all capacity installed) in the first quarter of 2018. According to a report from GTM Research, there were 2.5 gigawatts of solar power installed in the first quarter, a rise of 13% from the year earlier period.
This was part of the move globally toward renewable energy. In its annual review of world energy released in mid-June, BP (NYSE: BP) revealed a surprising fact – 17% of the world's energy growth in 2017 came from renewable energy sources. That was the largest increase on record and the equivalent of the energy consumed by Sweden and Denmark in a year.

Much of this progress is the result of falling prices for solar panels, thanks to overproduction from Chinese companies. The International Energy Agency (IEA) estimates that solar power will soon be the cheapest source of new electricity in a number of countries.
However, there is a dark cloud on the horizon. As prices for solar power come down, government policymakers are moving away from subsidies for solar power projects and shifting toward auction-based systems to reward the lowest-cost producers of renewable electricity.
China's Solar Eclipse
We saw such a move in the world's biggest solar power market, China, announced in early June. It accounted for two-thirds of solar installations worldwide in 2017, with a 55% surge in new solar installations. So it was a bit of a shock to the industry when China said it would eliminate subsidies for most new solar projects as well as reducing feed-in tariffs.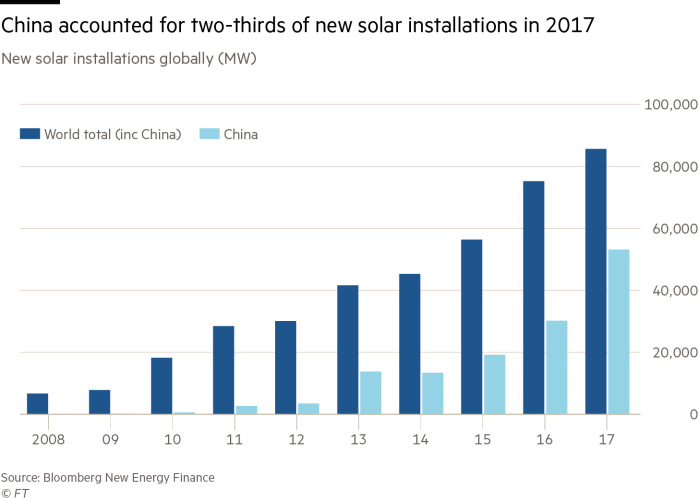 China's move was aimed at curbing runaway growth in the country's solar generation, which had boomed under its generous subsidies program. The massive subsidies created a deficit of $15.6 billion in a fund set up to pay for the higher feed-in tariffs. The energy consultancy Wood Mackenzie forecast that deficit would soar to nearly $40 billion by 2020 if China had left its policy unchanged.
In addition, much of the solar power installed in China in recent years is "curtailed", or unused, as provincial grid operators choose to use electricity from local coal-fired power plants instead. This practice is particularly prevalent in China's far western provinces. In Xinjiang, for example, curtailment stood at more than 20% at the end of 2017. This was actually an improvement about one-third of installed capacity that stood idle the year before.
The government's new policy sets a strict quota for solar installations and eliminates subsidies for any projects outside the quotas. And the quotas were so low that most of the quotas were already filled within the first five months of this year.
Because of China's actions, solar installations worldwide are now expected to drop and the sudden contraction will place even more pressure on solar panel prices and on the manufacturers, who in many cases were already struggling. Wood Mackenzie expects that 20 gigawatts will be shaved off China's solar installations this year as a result of the new policy.
That is equivalent to a fifth of last year's overall global demand! Or as Edurne Zoco, head of solar research at IHS Market, told the Financial Times "If China really clamps down, there is no market, no combination of markets in the rest of the world that can actually compensate for that."
The end result is that 2018 will likely be the first year in the short history of the industry that it will experience negative annual installation growth. And price-wise, Bloomberg New Energy Finance (BNEF) lowered their forecast for this year from a 25% price decline to a 34% drop for solar panels.
More on China: Buy This Export to China That Is Exempt From Tariffs
Investing in Solar
This is why you saw steep price declines of all solar power-related stocks in June. Is now a time then to look for bargains among the beaten-down solar stocks?
The answer is yes and no. Let me explain…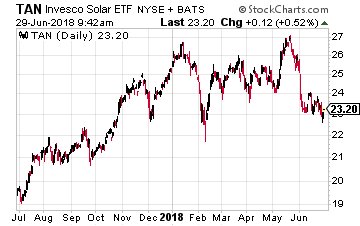 First of all, you must stay away from broad exposure to the industry through ETFs such as the Invesco Solar ETF (NYSE: TAN), which is down about 8.5% year-to-date. There are just too many of the lower-tier players in such a broad fund.
You will need to pick and choose, or as the old adage goes, 'separate the wheat from the chaff'. One way to do that is to go with the beneficiaries of lower solar panel prices (despite the tariffs), the companies that install solar power.
One such example is Sunrun (Nasdaq: RUN), which is the largest residential solar power company in the United States with a 15%  market share. Its stock has soared over 122% year-to-date and is up 90% over the past year.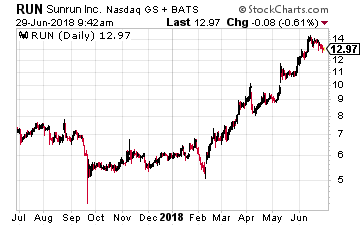 Since establishing its so-called 'solar as a service' model in 2007, Sunrun leads the industry in providing clean energy to homeowners with little to no upfront cost and at a savings to traditional electricity. The company designs, installs, finances, insures, monitors and maintains the solar panels on a homeowner's roof, while homeowners receive predictable electricity pricing for 20 years or more.
Another factor in its favor is the fact that California passed a law that will require the installation of solar power generation of all new homes, beginning in 2020. The state's largest solar system installer is Sunrun.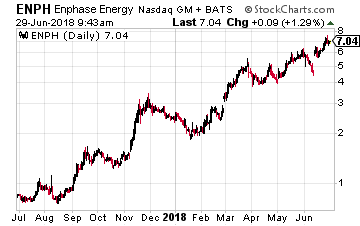 Another company to look at is one that was once considered 'dead' – Enphase Energy (Nasdaq: ENPH). Its semiconductor-based microinverter system converts energy at the individual solar module level and brings a system-based high-technology approach to solar energy generation, storage, control and management.
It is interesting to note that as China pulls back on solar, India is going ahead full steam. And Enphase is installing a 4.5 gigawatt solar power plant in India that will send power to Bangalore. When completed, it will be the company's largest microinverter-based solar plant installation.
Its stock has seen a Lazarus-like comeback, soaring over 700% in the past year and it is up more than 182% year-to-date.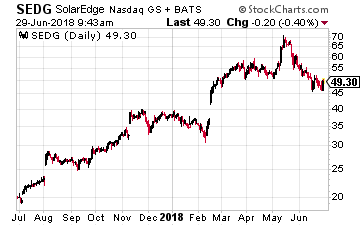 Finally, there is my favorite and a member of the Growth Stock Advisor portfolio, SolarEdge Technologies (Nasdaq: SEDG).
The company has invented an intelligent inverter solution that has changed the way power is harvested and managed in a solar photovoltaic (PV) system. The SolarEdge DC optimized inverter system maximizes power generation at the individual PV module-level while lowering the cost of energy produced by the solar PV system. Since beginning commercial shipments in 2010, SolarEdge has shipped over 6.7 Gigawatts of its DC optimized inverter systems and its products have been installed in solar PV systems in 120 countries.
I believe its DC voltage optimizer strategy will win more and more market share versus the more expensive micro-inverter strategy used by their rivals. Despite its recent pullback, the stock is still up 25% year-to-date and 129% over the past year.
Stocks like these three will likely survive and even thrive, despite tariffs and China's cutbacks on its subsidies for solar, as the number of competitors dwindle.