In my focus area of high yield stocks, I am regularly reminded how committed to losing money are many high-yield stock investors. Any whiff of bad news has them running for the exits, which drives down share price, which causes more fear based selling, which further drives down the share price. You get the picture. Investors who buy high yield stocks are often new to owning stocks, or less well informed on how stock prices fluctuate. To avoid being a money-losing, fear-based seller of dividend stocks, an investor needs to understand the difference between real and fake news that moves stock prices.
Real news about publicly traded companies is primarily quarterly earnings results and the associated management comments about business operations. Press releases directly from the individual companies count as real news. You may notice that these items come out just once to a few times per calendar quarter for most stocks. This is the information on which buy and sell decisions should be made.
Related: Separating Real News from Fake News in the Stock Market
However, the financial news media is hungry for items to fill websites and financial news networks' broadcast time. The information from these news outlets come from Wall Street analysts and financial writers who share their opinions and try to predict the future. They have no deeper insight that what an investor can get from the information released directly by the companies.
Predicting future results are really just estimates or guesses. I refer to these forecasts as "fake news" because they do not add any real information to my knowledge about individual companies. When a "fake news" item results in a steep share price drop, I review the real news I know about a company and often recommend using the price decline as a buying opportunity. Here are two stocks that recently were affected this way.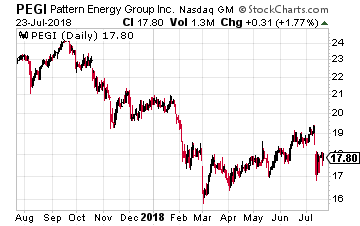 Pattern Energy Group (Nasdaq: PEGI) recently experienced a 12.5% decline when the province of Ontario announced it was cancelling over 750 renewable energy contracts. While Pattern Energy was not singled out, the company has a significant presence with several projects under development in Ontario.
A few days after the big drop, a follow up report noted that none of Pattern Energy's projects would be affected. However, even though the original cause of the decline has been proven to not affect the company, less than half of the steep drop has been recaptured.
This makes PEGI an attractive purchase now with its stable and growing dividend and 9.6% yield.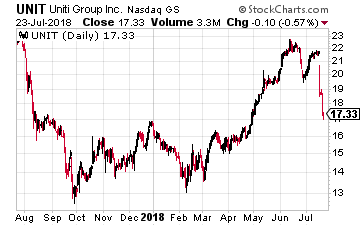 Over the course of just one week, the share price of Uniti Group (Nasdaq: UNIT) declined by 20%. The drop was almost entirely due to a Wall Street analyst putting a sell recommendation on the stock with a $15 price target.
The real facts are that UNIT at $17.40 per share is the same company with the same prospects as it was when the share price was $4 higher. The big dividend is not at risk, and this is a company that is growing and diversifying its business operations. UNIT now yields almost 14%. It is likely that the Q2 earnings release in early August will give a boost to the share price.
Get up to 14 dividend paychecks per month from safe, reliable stocks with The Monthly Dividend Paycheck Calendar, an easy-to-use system that shows you which dividend stocks to pick, when to buy them, when you get paid your dividends, and how much.  All you have to do is buy the stocks you like and tell them where to send your dividend payments.
For more information Click Here.