Many investors continue to think of blockchain as merely the technology that Bitcoin is based on. But it is rapidly becoming a lot more than that. . . . .
In this next article in my series on blockchain technology, I look at the ever-expanding uses some of the leading companies in the world are finding for the use of blockchain. Here is just a small sample I want to bring to your attention, emphasizing the practicality of blockchain in all sorts of businesses.
Fixing the Opioid Epidemic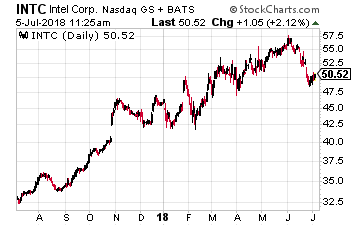 One novel use for blockchain technology is being undertaken by Intel (Nasdaq: INTC) and the pharmaceutical industry – tackling the opioid epidemic.
Intel's idea is to use blockchain to pinpoint where drugs "leak" out of the drug supply chain. The test began this spring when Johnson & Johnson and McKesson among others entered simulated data into new digital ledgers. The experiment will see how easy it is to track drugs as they travel from the manufacturer all the way to a patient's home.
The effort would include using sensors and scanners to ensure that information is entered accurately. After a pharmacy issues a drug and scans it, the record will immediately appear on the blockchain. Each bottle, and even each pill, would be traceable all the way through the supply chain. And any 'missing' drugs could then be investigated.
The hope is the tests will lead to a live pilot project and possibly even a limited deployment by year-end. The ultimate goal is for all drug-related companies and their suppliers worldwide to be on an online ledger that can't be erased. Then government agencies such as the FDA (Food and Drug Administration) could potentially plug into the blockchain and provide oversight.
It is hoped blockchain technology will also help detect "double doctoring", where an addicted patient takes out more than one prescription from multiple doctors. There is already software that sift through prescription records from 45 states that detects potential opioid abusers that cross state lines to get their prescriptions filled.
Related: Buy This Blockchain Stock Keeping Our Food Safe
Insurance Industry Adopting Blockchain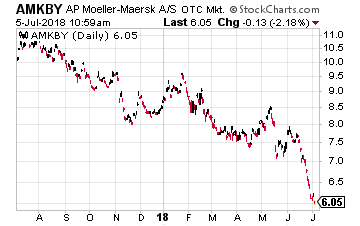 In my last article on Blockchain, I told you how the world's largest container shipping company, Moeller Maersk (OTC: AMKBY), was adopting blockchain to modernize global supply chains.
Maersk is also using blockchain to help decide how its ships will be insured if they are sailing through war zones. It has teamed up with the consultancy Ernst & Young, insurers XL Catlin and MS Amlin and the insurance broker Willis Towers Watson to create a system that Maersk hopes will lead to more efficient insurance policies that are more tailored to what it needs.
This  is just one of dozens of blockchain initiatives going right now in the insurance industry. The major insurance companies, including Axa, Allianz and AIG, are experimenting on how best to use blockchain. For example, one possible use of blockchain would be to store details of the possessions that policy holders want to insure.
The main benefit of blockchain adoption here would be to increase the efficiency of the insurance firms, making them more cost-efficient. That efficiency could take several forms. First, all parties to an insurance contract — from the insurer to the broker and the policyholder — will be able to see all of the documents in the same place, with changes being verified by all parties. That can save a lot of the time-consuming data re-entry that goes on across the insurance industry, and cut down on the risk of mistakes or misunderstandings in a contract. Blockchain could speed up the claims process too, especially if it is a straightforward claim.
Insurance is normally an industry very slow to change. But blockchain could be a real game changer for this staid industry.
Diamonds, Jewelry and Blockchain
This next industry that is adopting blockchain may be a surprise to you – it is the diamond industry. It is desperately in need of this, with such a murky supply chain that may include fakes, synthetic diamonds and so-called conflict diamonds getting into the mix.
The diamond mining giant De Beers said in May that it had successfully tracked its first diamonds all the way from its mines to jewelry retailers using its Tracr blockchain technology that it plans to roll out to the whole diamond industry later this year.
Tracr gives each diamond a unique ID that stores stones characteristics such as weight, color and clarity. To support the process, the system will also be using stone photos and planned outcome images. Its blockchain technology allows De Beers to show transactions to all participants, while keeping their identities and the values hidden. It is meant to give buyers confidence that the diamonds they are genuine and don't come from conflict zones.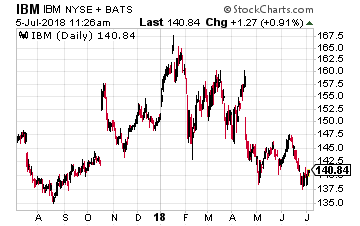 IBM (NYSE: IBM) is working on something similar (called TrustChain) for jewelry in general, following the supply chain from the mines to the jewelry store and that is based on its proprietary blockchain technology.
Supply chain verification for the jewelry industry is becoming increasingly essential because consumers are demanding transparency in the jewelry they buy. They want to be sure the diamond or precious metal in the jewelry was not mined by exploited labor and in a sustainable way. Research has found consumers are willing to pay more for such proof.
The goal is that, by next year, consumers will be able to pull a smartphone, scan a QR code on the diamond and see a visual of the entire supply chain right on their smartphone.
Blockchain Investment
I hope this look at some of the rapidly uses for blockchain brings home the point that it is a technology worth investing into. The only problem is that the highest-quality efforts in blockchain are just small parts of very large companies. Although IBM is probably the best play if you're looking for an individual stock to invest into.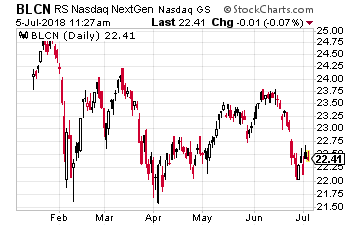 If you're looking for a broader approach, there are a number of blockchain-centered ETFs to choose from. The best of these is the Reality Shares Nasdaq NexGen Economy ETF (Nasdaq: BLCN), which is down 7% year-to-date.  Among its top 10 holdings are: IBM and Intel as well as Square, Microsoft and  AMD.
Free Gold-Plated Bitcoin to the First 100 Respondents
I've recently gotten my hands on 100 gold-plated commemorative Bitcoins like the one pictured below.
I'd like to send you one as part of my newly published research on investing in "Bitcoin Dividends"… one of the safest ways to profit from the Blockchain revolution.
It's a revolution that's moved beyond just Bitcoin and cryptos and into corporate boardrooms and IT departments at companies like Walmart, British Airways, FedEx, American Express and many more Fortune 500 companies.
And I discovered a way that you can collect dividends from this all without having to own or mine or even think about Bitcoin.
There are only a few of these coins left so if you're even remotely interested I suggest you check out my exclusive briefing on how to earn dividends from Bitcoin.
Buffett just went all-in on THIS new asset. Will you?
Buffett could see this new asset run 2,524% in 2018. And he's not the only one... Mark Cuban says "it's the most exciting thing I've ever seen." Mark Zuckerberg threw down $19 billion to get a piece... Bill Gates wagered $26 billion trying to control it...
What is it?
It's not gold, crypto or any mainstream investment. But these mega-billionaires have bet the farm it's about to be the most valuable asset on Earth. Wall Street and the financial media have no clue what's about to happen...And if you act fast, you could earn as much as 2,524% before the year is up.
Click here to find out what it is.

Source: Investors Alley